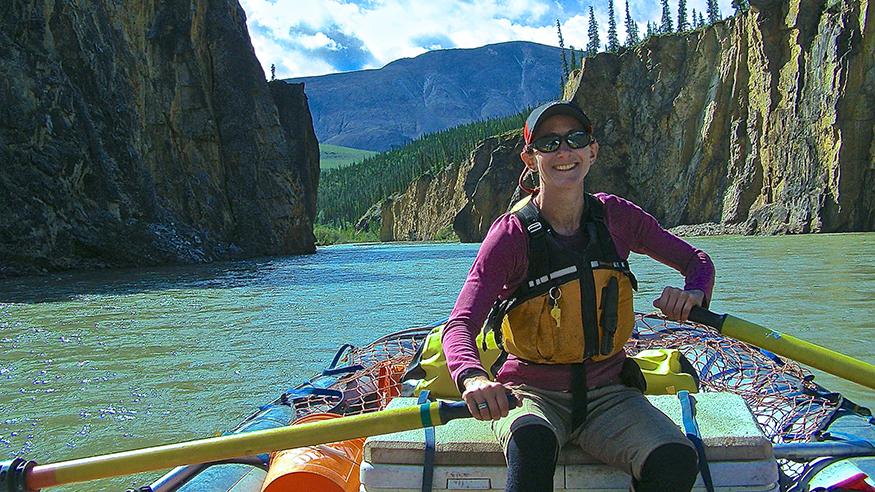 News
Remote learning
Have you ever sat around a campfire at the base of a mountain in the Alaskan wilderness and wondered how that mountain formed? Jenny Arkle has. 
While conducting research in Alaska for her master's degree, Jenny Arkle—who now teaches in environmental studies, geography and geology at Augustana—and a collaborator set their sights on an even more remote place to start research for her Ph.D. She wanted to answer the broader question of how earthquakes and mountains form in the interior of continents, away from tectonic plates. The National Geographic Society agreed, so they funded her research trip. 
Arkle and her collaborator picked one of the most remote spots on earth, with a feeling of remoteness akin to Antarctica, according to Arkle (and she would know; she's been there, too). Mackenzie Mountain range in the Northwest Territories of Canada was their target. The plan was to take research they had gathered in Alaska and test it in Canada. 
The trip began in Norman Wells, population 800, a village entirely supported by the hydrocarbon industry. There are no roads in or out, only a river that drains into the Beaufort Sea. From Norman Wells the crew needed to get up into the Mackenzie Mountains to collect rock samples, and the only way to get there was by float plane. So, Arkle and three colleagues stuffed two 18-foot rafts and everything they needed for a two-week expedition into two float planes. They landed in a small lake at the top of a mountain and it took two trips back and forth to get their gear to the Mountain River. 
"From there is where the fun started," Arkle said. 
Arkle didn't have a guide for this trip—she was the guide. She had spent 15 years as a whitewater rafting guide, and had been on the U.S. women's whitewater rafting team. 
"I was living the dream as a guide but I wanted to pursue my interests in the study of the physical earth," Arkle said. So she found a way to mix her passion with science—rafting was just the vehicle to do the work, she explained.
Arkle was specifically looking for samples from the bottom of river canyons. They collected 600 pounds of rocks along the way, replacing food with rocks in their storage bins. Two people per raft rowed 2 tons of gear and rocks down the river, on days that stretched well beyond midnight that time of year. 
What they found was a pulsive of uplift early in the development of the mountain. The team hypothesized that 30 million years ago the opening of the Atlantic Ocean was so violent the stress transferred over 2,000 miles to the west and drove the rise of the mountains. 
Taking students to the extremes
This research was done using thermochronology—a method of geologic dating that's now available to Augustana students, thanks to Arkle. She set up a lab on campus that allows students to study how landscapes evolve through time. They can work on their own research, or they can continue the research begun by Arkle. 
She plans to continue her work in the Northwest Territories and Mackenzie Mountains. However, she's also doing work concurrently in the Caribbean to study tectonic plates in that region. During Augustana's first J-term in January 2020, Arkle and her geology colleagues Dr. Kelsey Arkle and Dr. Mike Wolf will lead a class on the tropical island of Bonaire.
You would have thought that between Alaska, Northern Canada and Antarctica, Arkle is a snowbird. But wherever there are mountains to study, on land or below the sea, Jenny Arkle will be there.