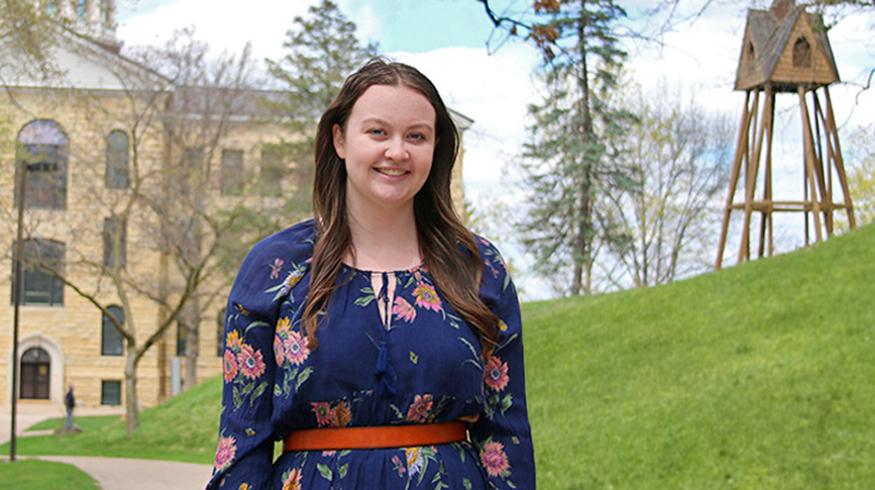 News
Hasselmo winner to explore where religion, environmentalism intersect
Annelisa Burns '22 is this year's winner of the Nils Hasselmo Award for Academic Pursuit. A triple major in religion, English and German studies, Burns was nominated for the $5,000 award by not just one professor but the entire religion department.
The annual Hasselmo Award is given to a student who has demonstrated academic excellence and expresses an intent to pursue higher education teaching and/or research as a vocation.
Burns is drawn to interdisciplinary research and is particularly interested in the intersection of religion and environmentalism: How can religion, especially Christianity, be harmful or helpful to an environmental ethic? How have Christians understood their role in questions of colonialism and environmental degradation, and how can we move forward in a way that Christians fight for eco justice, in practical and theological terms?
"As a student and young scholar, she is very well positioned to research, write and eventually teach about the role of religious belief and practice in building sustainable communities and flourishing as creatures," said Dr. Jason Mahn, professor of religion.
"The quality of her academic writing is so striking that when I needed someone to respond to an early draft of my own book, I reached out to Annelisa."
Not just a scholar, but a teaching scholar
Looking ahead, Burns envisions herself becoming a professor of religion and/or a professional writer and editor.
"My work as a tutor in the Reading/Writing Center has shaped my desire to become not just a scholar, but a teaching scholar," she said. "I feel called to help others improve their writing and have developed valuable communication skills through this work."
Lucas Street, Reading/Writing Center director, said Burns' teaching skills are on full display in every tutoring session, as she takes seriously the charge to be fully present — even in a hybrid or online setting.
"To Annelisa, teaching and writing are more than a job: They're a vocation," Street said. "I predict this passion for learning will take her far."
Besides working in the Reading/Writing Center, another meaningful experience for Burns occurred last summer, when she collaborated with Dr. Mahn on a manuscript. 
"The quality of her academic writing is so striking that when I needed someone to respond to an early draft of my own book, I reached out to Annelisa, who offered the kinds of insightful observations and suggestions that I would expect from an advanced graduate student or colleague," Dr. Mahn said.
For Burns, it was an opportunity to see how a professor also can contribute as a writer, and for her to wrestle with questions of vocation, suffering and community, some of the major themes in Dr. Mahn's book.
Expected and unexpected opportunities
Burns didn't anticipate working with a professor on a book when she chose to attend Augustana, although she did feel Augustana would present opportunities to help her succeed academically and personally.
"There was no other place where I could focus on academics, be involved in music ensembles as a non-music major and participate in clubs like the Equestrian Club," she said.
Like most incoming students, Burns had no clue what to major in when she arrived.
"I knew I wanted to study English and German, but I didn't intend to major in them," she said. "Religion came as a surprise. I unintentionally ended up in a religion class about superheroes at the same time I was taking a first-year honors class with a religion professor, and I fell in love with the discipline."
Today, there's no mistake where Burns' passion lies. Now it's just a matter of finding the graduate school program that will give her space to grow big ideas and empower her to become the best version of herself — as Augustana did.
That's what the Hasselmo Award can help make happen.
"The prize money will be helpful for studying for and taking the GRE, paying application fees, visiting schools, and attending conferences that will help me network and find the programs that would be a good fit for me," she said.