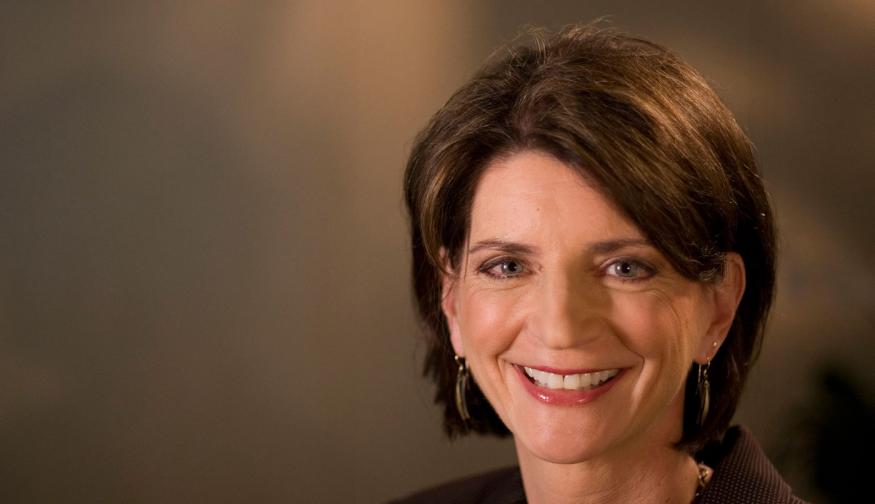 News
Former Sara Lee CEO and alumna Brenda Barnes dies at 63
Augustana alumna Brenda Czajka '75 Barnes, who became one of the highest-ranking women in corporate America, died Tuesday after suffering a stroke. She was 63.
"Brenda Barnes was a friend, role model and mentor," said President Steven C. Bahls. "As chair of the Augustana College Board of Trustees, she hired me as president in 2003. She was an inspiration and hero to all of us at Augustana. I will miss her greatly."
Throughout her life, Barnes generously shared her time, talents and gifts with the college to ensure that Augustana students have the same transforming experience she had. She served 16 years as a college trustee, including five years as the board chair.
"I credit Augie for so much of what I have," she said in a 2012 interview with Augustana College Magazine. "I give back what I can to a place that gave so much to me."
Barnes' unrivaled work ethic took her from business manager at Wilson Sporting Goods in 1976 to president and CEO of Pepsi-Cola North America 20 years later. She was the first woman to hold the position.
In 1997, she made headlines when she resigned as president and CEO to be at home with her children, who were 10, 8 and 7 at the time. The Wall Street Journal broke the news, and the overwhelming media attention shocked Barnes. "I'm the only person who became famous for quitting my job," she said.
In 2004, Sara Lee offered her the position of chief operating officer. In less than a year, she was promoted to president and CEO of Sara Lee, and then chairman a few months later.
Barnes was now in charge of the largest female-run Fortune 500 company. Forbes magazine described her as "the most oft-cited example in the business press of a woman who ditched her corporate career to spend time with her family, only to regain corporate power."
Despite such success, Barnes made herself available to students at Augustana, whom she described as being just like her when she was a student.
In 2010, Barnes was ranked 10th on Fortune's Most Powerful Women list when she suffered a stroke. She resigned from Sara Lee a few weeks later, and began a long recovery with the help of her loving family and friends. When she was ready, she again returned to campus to advise Augustana students interested in the business world.
"What surprised me the most was how down-to-earth and real Brenda is," said Courtney Grob '12, after a mentoring lunch with Barnes. "She is one of the most powerful and respected women in the world, yet when I was with her, she made me feel very comfortable, and I could tell she genuinely cares about the future of Augustana students."