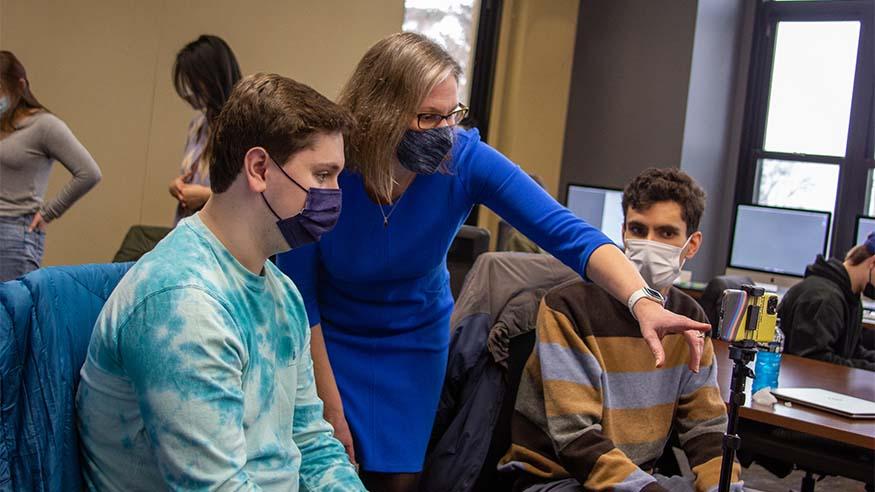 News
Five Questions: Dr. Carolyn Yaschur
Five questions is a series of profiles of people at Augustana College. Contact sharenews@augustana.edu if you know someone you'd like to see featured.
Dr. Carolyn Yaschur is an associate professor of multimedia journalism mass communication in the communication studies department at Augustana. 
Favorite class to teach?
Oh man, that is tough! I love teaching the multimedia skills, but I teach a race, gender and media class that's just magical. It's a small, seminar-style class, capped at 14 students. Every time I've taught it something magical happens. I don't know how to describe it. The connections and growth that happen in the class are amazing.
We talk about a lot of sensitive subjects, and the students really let down their guard, are real with each other, and are so open and honest. I'm always taken aback by the things they share with each other and the support that comes out of the class. It's been different every time I've taught it.
In 2020, one of the students was quarantined, and the class decided we'd go sit outside their residence hall window so they could still be part of class.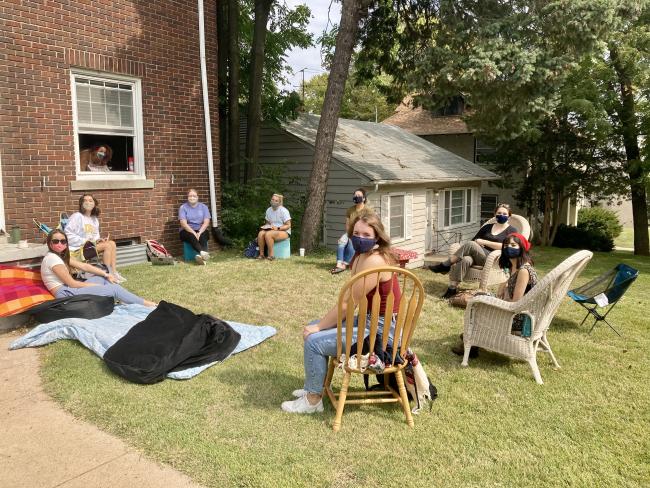 The Augustana advantage?
We are one of the very few liberal arts schools, I know of, that teaches journalism. For my graduate degrees, I went to two, very large, well-respected journalism schools. The difference here is: our students are not a number.
Dave Schwartz and I teach every single one of them, multiple times before they graduate. We know them. They know us. So we can really personalize our advising for them, and they get to be a big fish in a little pond.
There are so many opportunities for students to intern and work on campus and in the Quad Cities to gain professional experience and improve their media skills.
One of them is the Augustana Observer. It's a learning laboratory. It's student-led, student-run, and all majors are welcome! Anyone can write, shoot or edit for the Observer — MJMC doesn't have to be your major. It's a great, paid, learning experience.
How do you prepare students for a changing world?
At Augie we teach the fundamentals. We teach students how to be storytellers. The foundation and ethics of journalism are not going to change. The tools and platforms you use will change. We teach them the foundation so they know what they have to do, while also instilling the idea that they have to be adaptable as well.
We give them a toolbox and practice in writing for the web, newspapers, photo, video and more. We teach them to anticipate the technology changes and how to evolve to use those tools in different ways.
But, being a storyteller, knowing how to tell those stories and deciding which platform will tell the story the best, won't change. These skills will serve them in whatever field they go into — whether it be journalism, marketing, public relations or something totally different. Those skills are transferable. 
What does the future of your department look like?
We're rolling with how the industry is changing, and I'd love to see us expand and offer more specialized classes. I'd also love to get study abroad trips going through our department.
Of course we have great relationships with local media and companies for our students' internships, but continuing to expand those connections and making new connections for our students is always top of mind.
Cool communication experience?
We were able to send three students to cover the 2017 presidential inauguration and four additional students to cover the Women's March in Washington, D.C., for the Observer. 
It was pulled together with lightning speed, and everyone here at Augie worked together to make it happen. Whenever I asked about funding for the trip from all levels of the college, I always got back: "how can we make this happen?" Everybody, faculty and administration, whether they knew these students or not, wanted to make this experience a reality for them.
It was really exciting for me, as a newer faculty member at the time, to feel supported and be able to support the students. At a bigger school, students would've had to find their own way out there and figure it out by themselves.
Here, they had the idea, and we were able to help orchestrate it with them and get them there. It was an amazing experience for them to cover these national events.