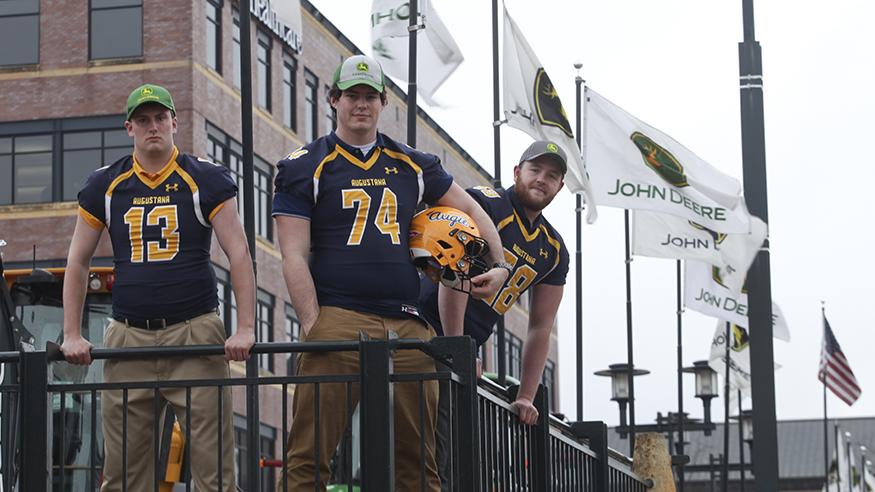 News
Deere and Augie team up to prepare students for careers
Traditions at Augustana run deep. The tradition of athletic excellence is symbolized by top-notch facilities, student success in the classroom and on the field, and countless teammates who become lifelong friends. Connections to Deere & Company, the Fortune 500 company with world headquarters based in neighboring Moline, have produced valued traditions, too—including internships and careers for Augie students and alumni.
So when three Augustana football players end up as Deere interns at the same time, is it a coincidence?—or is a matter of time and tradition?
According to Associate Head Coach Dave Ragone, about 80% of Augustana football players will have internships during summer of their junior year. "But to have three players at Deere all at once is impressive. The fact the all three are in different departments or disciplines is outstanding."
Andrew Anderson '20 has an accounting internship at the John Deere store. An accounting and business administration-marketing major and offensive lineman at Augustana, Anderson's coaches describe him as "very dependable, insightful and mature."
Anderson chose Augie for the "fantastic academic environment." He knew "coaches were willing to go the extra mile for their players, and the facilities were unmatched."
Vikings football helped him with his internship interview, he said. "Because of my experience, I was able to explain to Deere how playing football has helped my time management skills, and increased my determination and my work ethic."
When he was a student at Marengo Community High School (Marengo, Ill.), Anderson was a starter on both the offensive and defensive line. He has both career and football advice for high school students: "Use any interview and career preparation services available to you, because they help," and also, "I would say enjoy every day [of football] because it goes by faster than you think.
That balance of academics with life outside class is another deep tradition at Augustana. It is one of the strongest elements in the foundation for success that student-athletes find here.
Jacob Wehr '20 is a quarterback, a transfer student and a business administration major focusing on finance and management. Praised by coaches for his time management skills, at Deere he'll be in the Cylinder Works.
Wehr said this internship will give him "a leg up on other college graduates looking for entry-level positions." And he agrees that experience on the football field can prepare you for the workplace.
"Being a student-athlete at Augustana gave me confidence in the interview process. I was able to provide examples of leadership experience during my interview, to show that I could be a successful employee at John Deere," he said. 
A graduate of Bettendorf High School (Bettendorf, Iowa), where his team was a state semi-finalist, Wehr wants high school athletes to know that "choosing to be a student-athlete is the best decision about your future that you can make. As a member of the football team at Augustana, I know that I have a family of more than 100 guys who have my back."
Engineering physics major Chaz Willams '20 is an offensive lineman who plays left tackle. His specific role at John Deere is yet to be determined, but considered by his coaches to be a "smart, analytical and hard worker," he's sure to meet with success. 
Williams had All-State honors at Princeton High School (Princeton, Ill.), and he chose Augustana because "it felt the most natural home to, compared to everywhere else I looked." Now he feels prepared for life after college, saying Augustana prepared him "to manage my time between everything else going on in life, and by helping me know what to expect in the job and interviewing process." 
That balance of academics with life outside class is another deep tradition at Augustana. It is one of the strongest elements in the foundation for success that student-athletes find here. 
Head Coach Steve Bell would agree. "We look for men of character that are driven to succeed in the classroom, in the workforce and on the athletic field," he said. "Augustana and the Quad Cities offer student-athletes the opportunity to be great—both on and off the field."