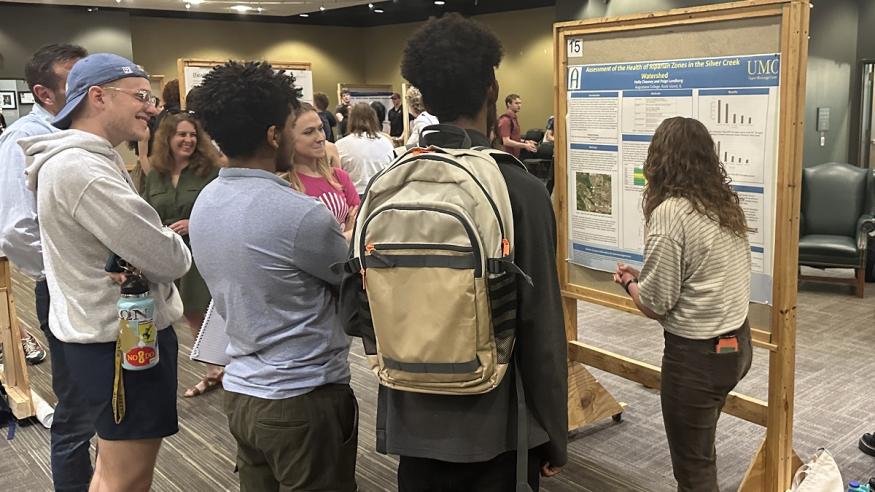 News
Celebration of Learning showcases student research
The 2023 Celebration of Learning featured helpful horses, a toolkit to help parents better understand their children's well-being, machine learning and every subject in between. 
The Augustana community gathered on May 10 to honor the research and creative achievements of students, alumni and faculty from all majors and disciplines. The annual event provides an excellent opportunity for participants to share knowledge and discoveries with the wider community.
This year's featured presentations included Augustana's Dr. Carolyn Yaschur and Sarah Walton '23 on their teaching experience in Nepal; alumni Angie Mitchum  '08 Sharp and Jordan Delp '09 on finding careers to match their passions; and first-year students Madi Greenwood, Graham Hunt, Emmet Johnson and Hannah McKoon on their research experiences in the Mojave Desert and Ecuador.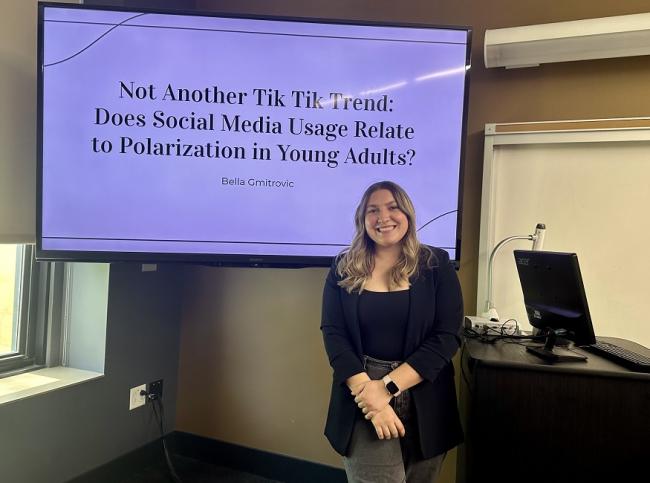 Isabella Gmitrovic '23
Political science and communication studies
"Augustana College as a Microcosm: A Study of how Social Media Usage is Related to Political Polarization in Young Adults"
"Social media has rapidly become a part of everyday life in America and across the globe," said senior Isabella Gmitrovic, a political science and communications studies double major, who focused her research on how social media usage is related to political polarization in young adults. 
Specifically, her project analyzed a survey of current Augustana students to identify whether there is a correlation between increased social media usage and political polarization of specific public policy issues and how negative polarization is impacted.
In this digital age, news organizations and political actors use social media sites to spread their messages, Gmitrovic said. However, with the abundance of information available, it's easy to fall victim to echo chambers and misinformation.
As a result, she said, social media can often reinforce pre-existing beliefs and biases, making it difficult to have meaningful conversations and challenge perspectives, especially around politics. 
Her research took a deeper dive into how social media and politics interact with one another and the effects that they have on young adults' political decisions.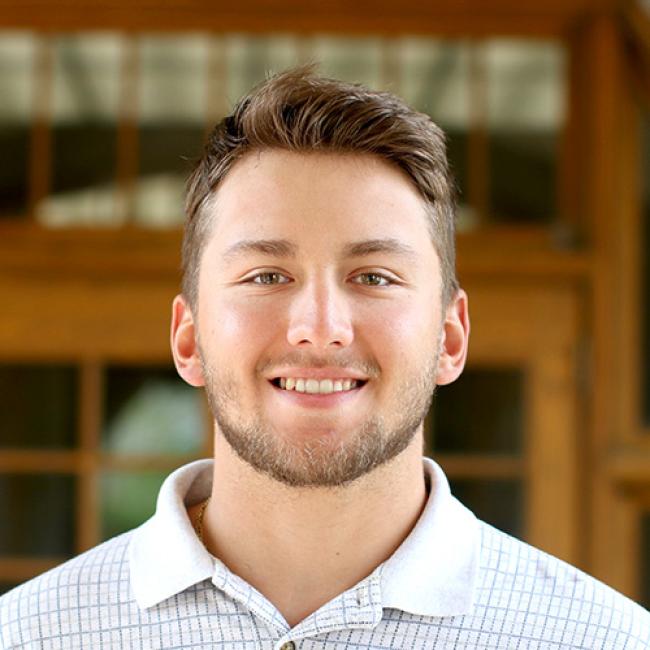 Joe Marcucci '23
Political science and economics
"Improving the Human Capital of Developing Countries with the Help of A.I."
Senior Joe Marcucci, a political science and economics double major, focused his poster presentation on how artificial intelligence can bolster the capacity of labor in developing countries. His research studied the three tenets of the United Nations Human Development Index: a long and healthy life, knowledge in terms of years of schooling and improved quality of living.  
"The longer-lasting and more healthy a population is, they are able to then provide more efficiently for the general economy," he said.
Marcucci said an exorbitant amount of aid is sent to developing countries. By focusing on more sustainable development and directly targeting areas where a country's economy is weak, the country can experience improved gains, increased overall productivity and an improved standard of living for individuals.
As one example, he said, many classrooms in developing countries have limited resources and professors are stretched thin. A.I. could be deployed to automate grading and organizational tasks, resulting in higher quality one-on-one education for students. 
In Africa, cobalt and manganese mines are major drivers of gross domestic product. Marcucci said harnessing automation can mean workers spend less time digging to more effectively reach these resources. In Uganda, a new product is being used to pinpoint the start of crop disease to allow for full-capacity harvests.
 
"A.I. has the potential to effectively go in, reduce missed opportunity and increase potential output," he said.
Embracing technology and adjusting how aid is delivered to developing countries can help meet the 21st century needs of today, he said. 
Noor Ul Ain '23
Psychology and women, gender, and sexuality studies
"Research on NGOs in Pakistan"
"Even the most successful nonprofits have the hardest journeys," noted senior Noor Ul Ain, a psychology and women, gender, and sexuality studies double major.
Ul Ain took a faculty-supported trip to Pakistan last summer, where she interviewed leaders and staff members at non-governmental organizations (NGOs) in Islamabad and Rawalpindi. Though ongoing COVID restrictions and occasional hesitation from participants posed some roadblocks for her research, she was able to interview members of six organizations:
Sahil, which provides legal aid for survivors of child abuse.
SACHET, which offers health care and educational opportunities for women.
Aurat, which supports legal rights for women.
Darakhshan, which helps women with disabilities find rehabilitation and vocational training resources.
Pakistan Foundation Fighting Blindness and Rawalpindi Eye Donor Organization, which support people with visual impairments.
In her research, Ul Ain learned the challenges of non-governmental charitable work in the region: "Establishing an NGO in Pakistan, especially to fight for women's rights, is one of the hardest things in the world," she said.
This is due to governmental suspicions that such organizations will either be ineffective (collecting funds without producing results) or will defy the cultural and religious values of the country; however, real-life instances of either concern are extremely rare.
Despite these challenges, the employees interviewed loved their work and spoke highly of the impact they make.
Eventually, Ul Ain hopes to establish her own NGO to provide shelter and job opportunities to Pakistani women. This research provided a foundation for those plans.
"To sit with these staff members, talk with them and hear that they find meaning in this work was very rewarding," she said.