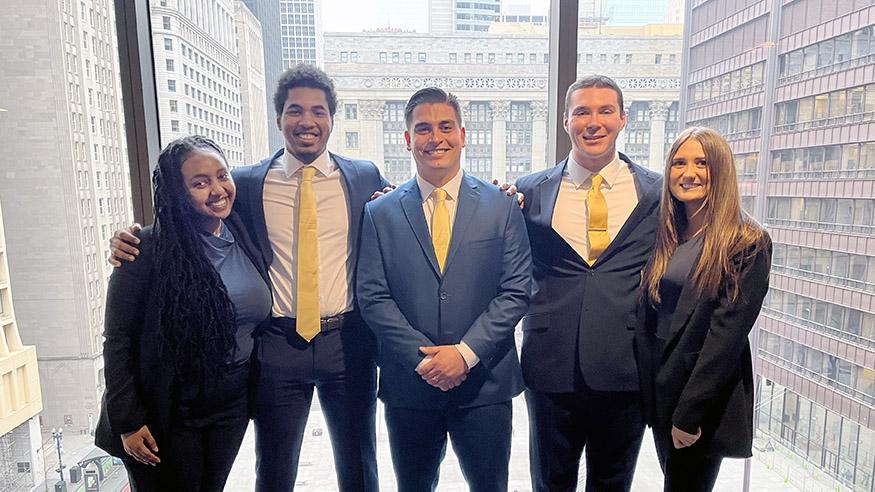 News
Augie sends two teams to CFA Challenge finals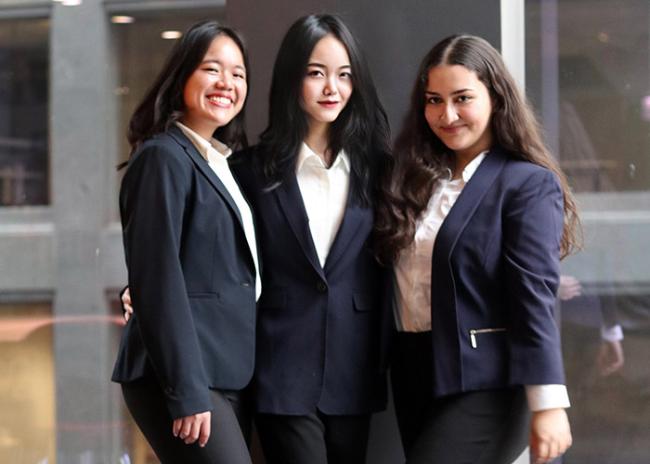 Augustana's two CFA Institute Research Challenge teams presented their research at Morningstar, Inc., hosted by the CFA Society Chicago in early March. Out of 16 teams, seven advanced as finalists, including Augustana's two teams.
The CFA (Chartered Financial Analyst) Challenge invites undergraduate and graduate students to compete in teams to produce an equity research report on a publicly traded company, which was Steelcase (NYSE:SCS) this year. Teams are judged on the thoroughness of their analysis, knowledge of the company and their presentation.
"The competition was fierce, and the bar gets higher and higher every year," said Dr. Lina Zhou, faculty advisor for Augustana's teams.
Overall rankings are based 50% on research and 50% on presentation. 
The Augustana team of Ghita Belaid  '23 (captain), Rabat, Morocco; Van Bui  '24, Madison, Miss.; and Celine Pham  '23, Hanoi, Vietnam, was ranked: report 3, presentation 5, and overall 5. 
The team of Abdou Allah Camara  '23, Menomonee Falls, Wis.; Gage Humphreys  '24 (captain), Milan, Ill.; Michaela Magee  '23, Overland Park, Kan.; Blake Oliver  '24, Carol Stream, Ill.; and Hildana Teklegiorgis  '24, Addis Ababa, Ethiopia, was ranked: report 7, presentation 4, and overall 7. 
"Augustana's combination of the liberal arts and business training makes our students stand out," Dr. Zhou said. "Our students are strong critical thinkers. They collect and analyze mostly original data rather than compiling data from the data service companies large universities have access to."
Dr. Zhou sees the competition as a valuable learning opportunity.
"Students gain experience with the best practices in equity research, learn to improve teamwork and time management skills," she said. They also benefit from one-on-one time with top professionals in the industry, gaining experience and connections they can take with them into their careers.
"The biggest thing I learned from the CFA Research Challenge was how much I could accomplish — whether talking to important people or just plain old workload," said Blake Oliver, majoring in accounting, business administration-finance and data analytics. "This will benefit me after I graduate because I will be less afraid to talk to executives and other high-ranking officials to gather data for projects I am working on."
Team member Ghita Belaid is majoring in applied mathematics, business administration-finance and data analytics. For her, participating in the Challenge was "a difficult but rewarding experience! I got to meet and work with great people. The memories my team and I have created and knowledge we have acquired during our collaboration are priceless to me. I am forever grateful to my team and Dr. Zhou for one of my most memorable college experiences!"
Other institutions participating in this year's CFA Challenge included Northwestern, DePaul and the University of Illinois at Urbana-Champaign.
"This experience is highly regarded and well accepted in the investment/financial world," Dr. Zhou added. "It can put you on the fast track to a career in finance."
Team member Celine Pham  '23 became interested in financial engineering as a result of her participation in this year's CFA Challenge. She will attend Duke University this fall to pursue a Master of Engineering in Financial Technology. 
Huy (Henry) Nghiem  '22 competed on Augustana's second-place CFA Challenge team in 2020. He joined the Boston Consulting Group, which is known to hire graduates from top universities, immediately after graduation.
Are you a student interested in participating in the CFA Research Institute Challenge next year? Contact Dr. Zhou at linazhou@augustana.edu.