News
Alumni mix Sloughfest experience into new music company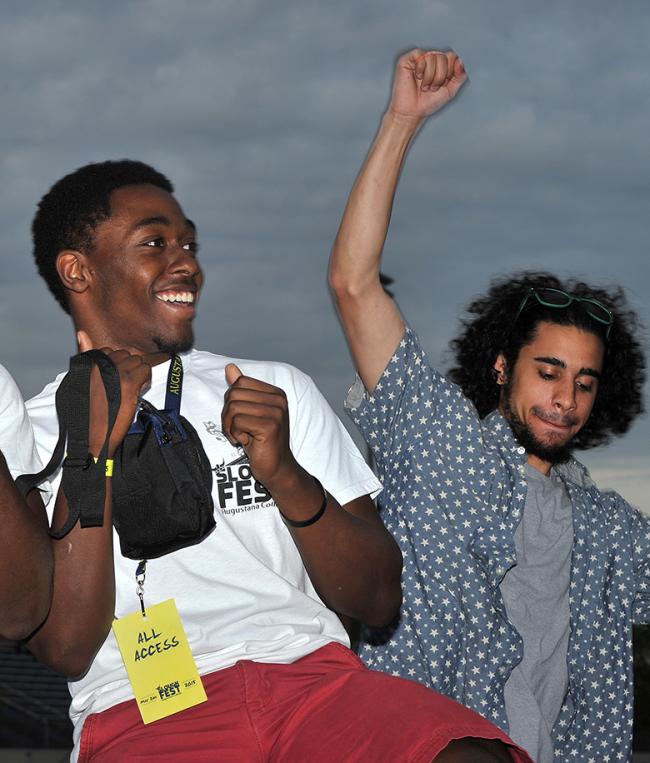 In 2015, Justin Bishop '17 and Daniel Watson '17 teamed up with friends to organize the first Sloughfest — Augustana's free, on-campus music festival that, in recent years, featured artists including Marc E. Bassy, Quinn XCII and Bryce Vine.
"We wanted to create something for the students, by the students," Bishop said.
Now, Bishop and Watson are using that experience to start their own music artist management and consulting company, GoodAdvice Management LLC.
"Post-graduate," said Bishop, "we were trying to find some balance between staying creative and taking our degrees [business and accounting] ... and building something." 
Bishop relocated to Los Angeles to gain experience in the music industry with artist Marc E. Bassy, and eventually came to Watson with the idea for GoodAdvice.
"It was our way of taking what we learned and what we know and building something we can say is ours," Bishop said.
How Sloughfest began
GoodAdvice Management is a natural extension of the friends' work in creating Sloughfest. "It stemmed from having that creative control and the creative ability in putting together Sloughfest," Bishop said.
Watson said the music festival was born in a dorm room their freshman year while talking with friends about "what could really make our Augustana experience the best it could be."
After finding they shared a passion for local music festivals in the Midwest, the students proposed an on-campus festival to a mutual friend, Marvin Agyeben '17, who was working in Office of Student Life (OSL). Agyeben brought it to OSL director Ken Brill.
What came next? A warm reception, Bishop said. "Everyone loved the idea. President Bahls, he fell in love with it ... and from there, it was almost too good to be true. Everybody signed off and we ended up working for OSL to do Sloughfest." 
As football players, Watson and Bishop were already connected to a group of 100+ teammates. This large network and familiarity with other Augustana students who came to watch their team play helped Watson and Bishop shape an event "that could attract the whole student body."
"We were taking what we were learning in classes and bringing it to our meetings. It made us better students ... because we were applying what we were learning."
Students in the inaugural Sloughfest team were different majors, including business management, international business, finance, accounting, advertising and marketing, even biology (pre-pharmacy).
This diversity of experience was valuable. "We were taking what we were learning in classes and bringing it to our meetings," Bishop said. "It made us better students ... because we were applying what we were learning." 
The team also utilized campus resources, such as the Entrepreneurial Center (EDGE) for technology training. "We were able to use those resources to benefit Sloughfest, but also benefit our future," Watson said. "It gave us a very real sense of the real world before the real world."
Giving back with GoodAdvice
Now in the "real world," Watson works as a credit commercial analyst while Bishop is busy as a manager at a talent management company representing artists and bands — careers the duo are busy folding into the development of GoodAdvice Management.
"What we try to strive to do is provide good advice for good talent," Bishop said. "Everyone that we work with, we see the vision, we understand what they're trying to do. It's bigger than the music or the talent that they're trying to monetize. It's about helping individuals be the best human beings they can be."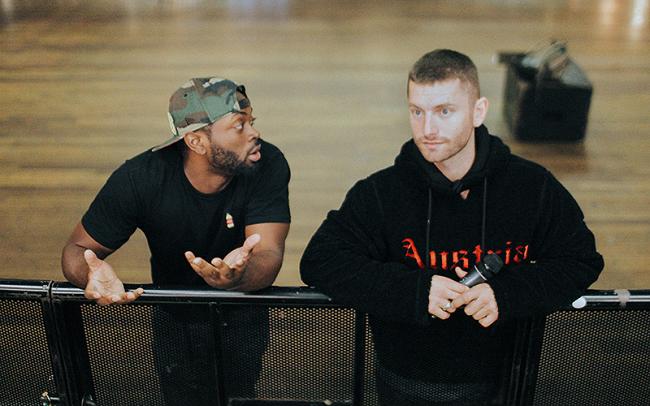 The business partners are adamant about GoodAdvice being more than a talent agency.
Bishop noted that they've raised more than $1,000 for COVID-19 first responders and given close to another $1,000 toward the George Floyd NAACP Legal Defense Fund.
"We want to have a hand in the community and making the world a better place," he continued, "but also giving people opportunities they may never have had."
Part of this opportunity-making, said Watson, is a GoodAdvice podcast titled "Good Talk with Good People" (available on Spotify and Apple Music) dedicated to interviewing industry professionals.
Still connected to Sloughfest
Watson and Bishop are still just getting started. GoodAdvice was born during the pandemic. Now they have their sights set on building their brand and increasing the financial support of their clients, in addition to tapping into the entertainment industry as a whole, Bishop said, in areas such as sports and social media influencers.
Even with their careers and GoodAdvice, Watson and Bishop have made time to continue working with Augustana students and Sloughfest organizers since they graduated. They've been impressed with the students' enthusiasm to learn and drive to succeed, especially during the pandemic.
Because in their mind, the success of Sloughfest was "a collective," and they thank everyone from the Class of 2015 up to present day who continue to make Sloughfest happen.
"I definitely want to emphasize that," Watson said, adding that it all happened at "Augustana, one of the greatest — if not the greatest — colleges in America."
By Jack Harris '20