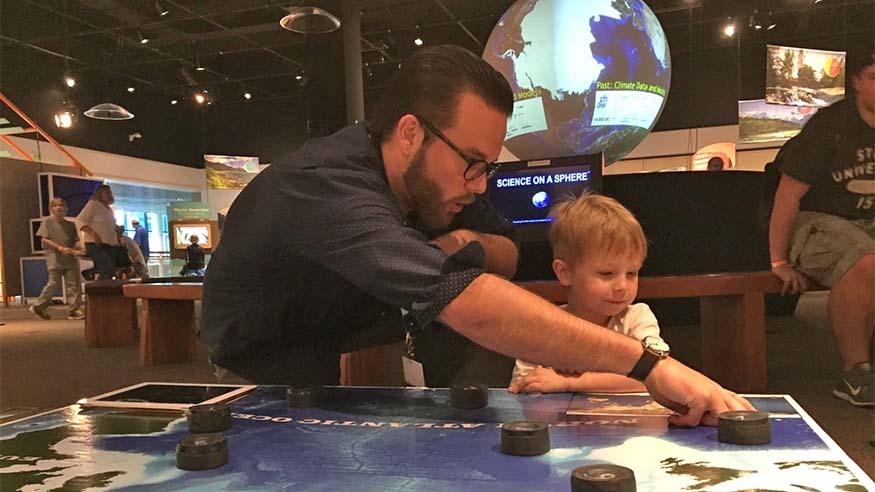 In 2011, we asked faculty which graduating seniors had taken advantage of all Augustana has to offer — who had grown academically and personally. We then asked the students to reflect on their time here, and the frequent answer was that the experience was "More than I imagined."
A decade later, we're catching up with some of them.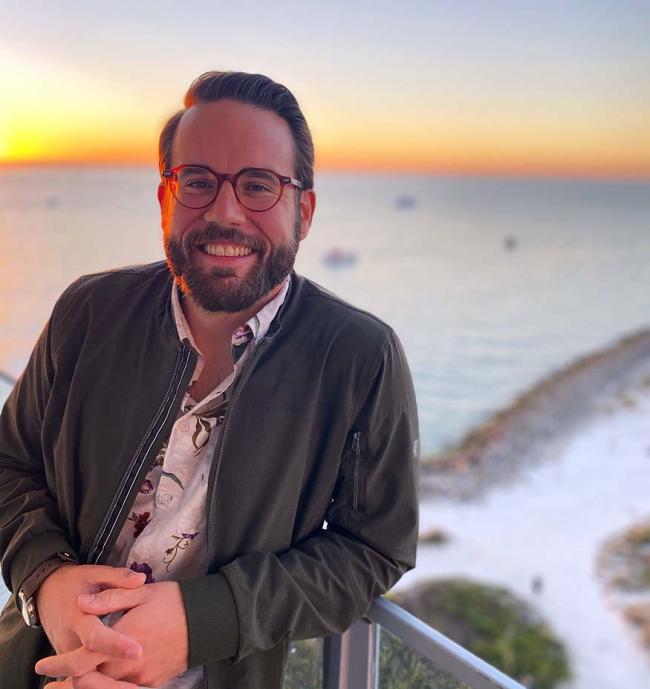 Jeremy Hoffman, Ph.D.
B.A., Geology, Augustana College
Ph.D., Geology – Paleoclimatology, Oregon State University
Dr. Hoffman is the chief scientist at the Science Museum of Virginia, and affiliate faculty member at the L. Douglas Wilder School of Government and Public Affairs and the Center for Environmental Studies at Virginia Commonwealth University, Richmond. 
Are you where you thought you might be 10 years ago?
According to my More Than I Imagined answers from 10 years ago, I think I'm mostly where I thought I might be. I earned a Ph.D. from Oregon State, I studied paleoclimatology, but there's no way I would have known the plot twists that led me to my career at a science museum. 
Some of the evidence was there even 10 years ago, however. I loved giving presentations in my Augie classes and learned to give academic talks as a senior in the geology department, but I especially relished the opportunities I had to take complicated topics and distill them down into understandable tidbits. That's basically what I do now every day as chief scientist at the Science Museum of Virginia.
Has your path to where you are today been more of a straight line or a zigzag?
There was a relatively long, straight line that has been punctuated by a substantial zigzag. I thought I'd want to stay in a university/academic job forever when I started my Ph.D., but by discovering my passion for public science engagement while serving as a science communication fellow at the Oregon Museum of Science and Industry, I found a new, yet parallel, path to take. 
I found that helping others discover the wonders of science was more important to me than discovering new wonders of science on my own in a lab. So, instead of focusing my time on creating new knowledge (which I can still do to a lesser degree), I now seek ways of sharing knowledge more effectively.
What do you like most about what you do?
I like that I rarely have the same day twice in a row. One day, I may be working on an interactive exhibit about how many 16.9 oz. bottles of water you'd need to make a hamburger patty, and the next, I'm working with a remote-controlled drone to assess surface infrared temperature signatures of native plant gardens on our museum's campus.
Plus, I get to center public communication and engagement with science as the driving force behind all of my work. In essence, I work for the marketing agency for science. I think that is such a worthwhile pursuit.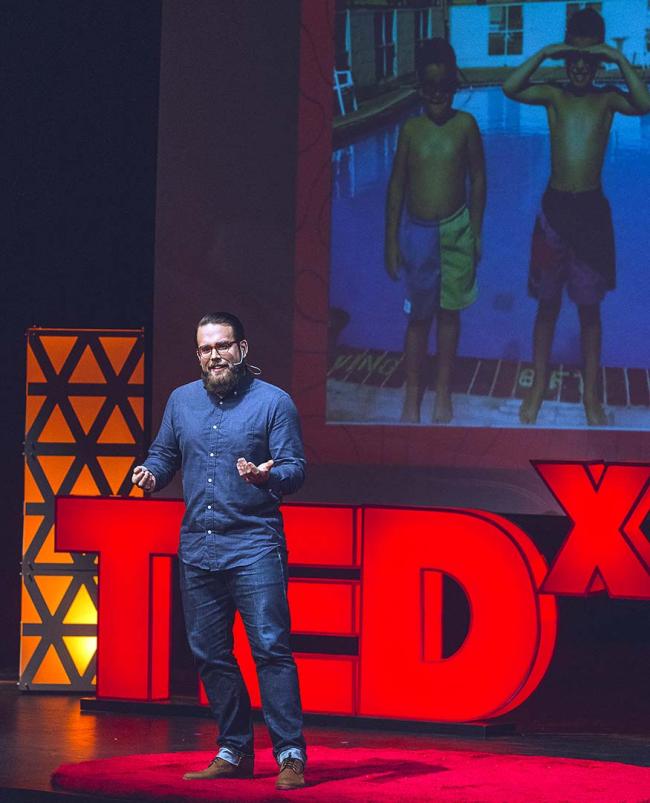 Why is this a good fit for you?
It engages all of the skills I've worked to develop over the years, from scientific analyses of data to public-facing presentations to interactive exhibit design. This dynamic mix of mental stimulation and challenge is the perfect fit for the kid who was in Augie Choir, Heywire Improv Troupe, Geology Club, theatre productions, winner of the Last Comic Standing 2010, and Delta Omega Nu while at Augustana.
What makes you proud of your work?
I am proud that my work has highlighted the intersectionality between community public health, infrastructure, racial equity and climate change. I am also proud that I've been able to mentor some spectacular students over the years on projects that overlap many of these categories, giving them an experience that they might not otherwise get in a standard university laboratory or research group.
I think, ultimately, I'm proud that my work is extremely applied, seeking to improve the lives of everyone in the City of Richmond and around the country.
What opportunities have you had to lead? Or to be a trailblazer?
In 2017, I won my first post-Ph.D. research grant to lead a community science campaign to measure the City of Richmond's urban heat island effect with university, governmental and nonprofit collaborators. Because city landscapes raise air temperatures relative to more natural landscapes, particular parts of cities can experience heat waves that are more intense than just a few miles away, threatening residents' health, raising energy bills and leaving residents exposed to climate change.
We used a novel methodology and volunteers to discover a 16°F difference between the warmest/coolest spots at the same time—and our innovative model has been scaled up to more than 20 U.S. cities. Some of this work has been published in NPR, National Geographic, and The New York Times.
How have you stayed in touch with classmates or any members of the campus community?
I've visited friends in person, held phone and video calls and group chats, and always sent memes to one another personally. I return to campus every so often to see the faculty who had the biggest impact on my time at Augie and to be an active alumnus in the geoscience department.
I also try to connect with President Bahls whenever he's passing through the region (happy retirement!). We had a lovely breakfast at The Daily, one of the great brunch spots in Richmond, a couple of years ago. I always look forward to catching up with folks from Augustana!
Do you have a story or anecdote you'd like to share that illustrates something about your life since Augie?
Looking back on the time since Augustana, I'm realizing more and more that being open to new experiences and taking on bigger challenges have actually taught me more about what I *do not* want out of my life, career and relationships more than it has taught me what I *do* want! I now tell students and interns that all the time. I think it's a useful way to see your 20s as a time for taking chances and learning how to prioritize your effort and examining your identity.