2018-2019 exhibitions and events
All events take place in the Centennial Hall Galleries. Museum admission and events are free.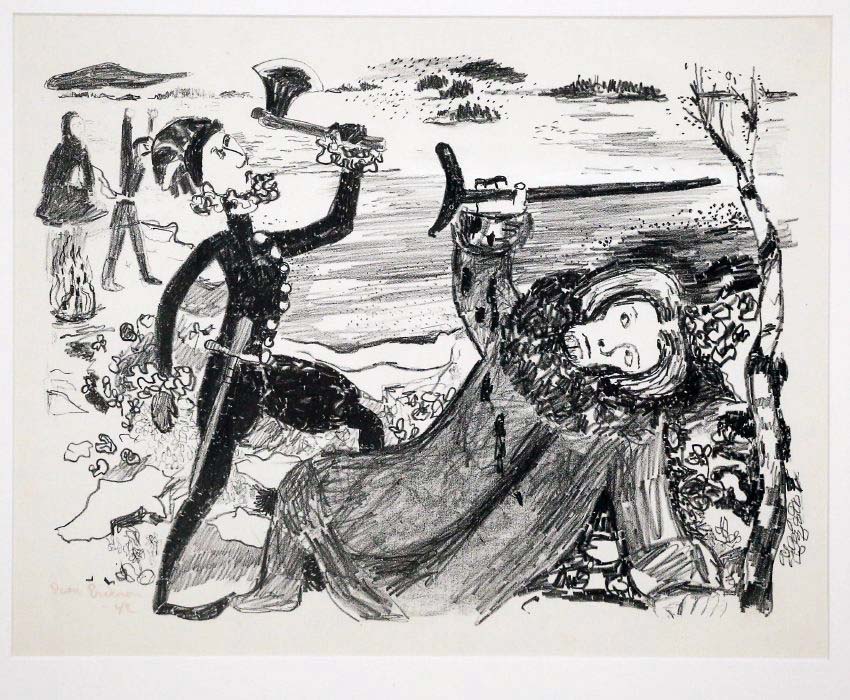 Världen är liten/The World is Small. Modern Swedish and Swedish American Works
Nov. 16-March 30
This exhibition, which has been extended past its original closing in Feburary, highlights works in the collections by Swedish and Swedish-American artists whose practice brought them into conversation with Parisian Modernism.
The exhibit is in partnership with the Figge Art Museum's exhibition of "French Moderns: Monet to Matisse, 1850-1950," and is supported, in part, by a grant from the Swedish Council of America. 
Currently on view in the Augustana Teaching Museum of Art's Centennial Hall galleries is Världen är liten/The World is Small, an exhibition that consists of modern landscapes and figural works created by Swedish and Swedish-American artists in dialogue with Parisian Modernism between the years of 1850-1950, including works by Birger Sandzén, Anders Zorn, Maria Fröberg, and Charles Haag. Contemporary artist Marcos Valella's project Interlay interrupts the viewer's experience of the gallery space by infusing some of the counters — the area of a letter that is entirely enclosed by a letter form — with color. A filter of colored counters is interlaid over all of the exhibition text labels, wall didactics, interpretive text, posters, and all related digital materials. (More)
Artist dialogue: Marcos Valella
7 p.m., Wednesday, March 27
Marcos Valella and Claire Kovacs, director of the Augustana Teaching Museum of Art,  will discuss Valella's work, including Interlay, his current project at the museum.
D.Y. Begay: Evolution of a Weaver
7 p.m., Wednesday, March 20, 2019
Weaver D.Y. Begay will discuss the evolution of her weaving practice and elaborate on her extensive work with museum exhibitions.
Begay is a Navajo, born to the Totsoni' (Big Water) Clan and born for the Tachinii' (Red Running into Earth) Clan people.  D.Y. is a fourth-generation weaver; her unique Navajo weaving style has been handed down through the weavers in her family. Her tapestries reflect the beauty and colors of  Tselani, Ariz., in the Four Corners region of the Navajo Reservation.
Begay has exhibited in many museums including the National Museum of the American Indian Smithsonian Institute, New York City; Wheelwright Museum of the American Indian, Santa Fe; Kennedy Museum of Art, Athens, OH; C.N. Gorman Museum, Davis, Calif.; and Peabody Essex Museum, Salem, Mass.
Her lecture is supported by the Olson-Brandelle North American Indian Art Collection.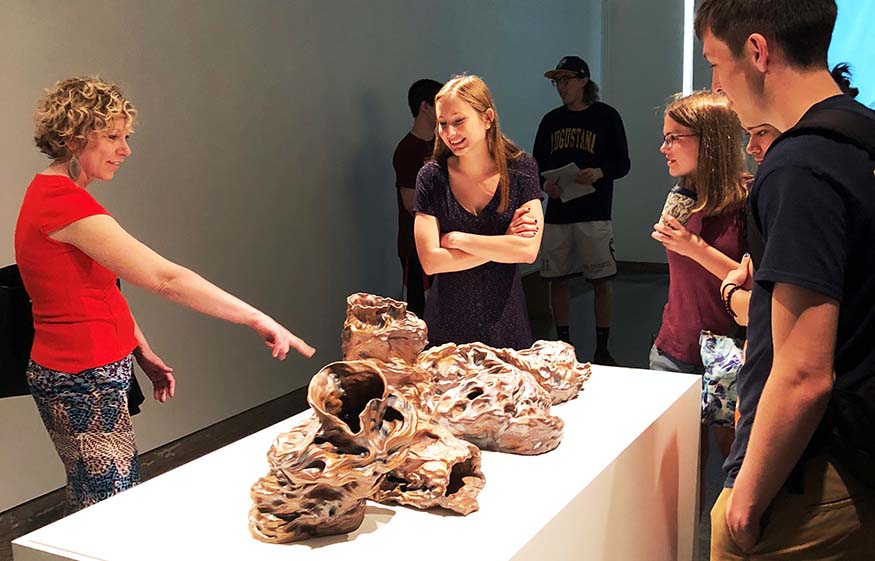 2019 Senior Art Exhibition
April 12-May 11
This exhibition features the Senior Inquiry projects of the Class of 2019 graphic design and studio art majors.
A closing reception will be held from 11:45 a.m.-1 p.m May 19.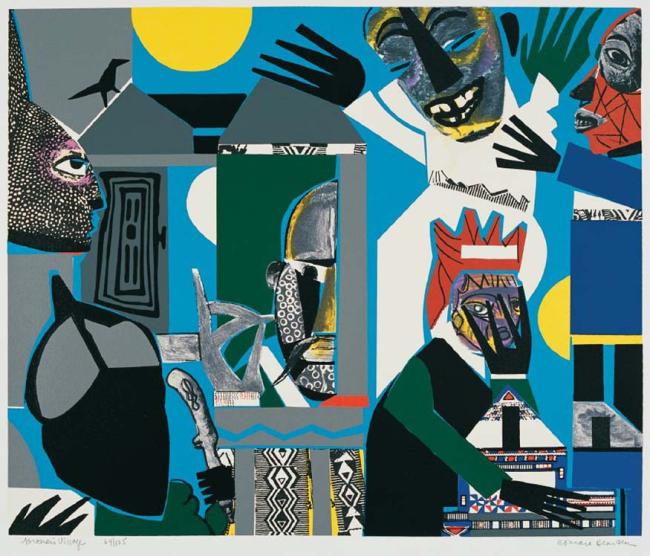 Ongoing: Permanent Collection Gallery
The Permanent Collection Gallery on the lower level of Centennial Hall will be open throughout 2018-2019 academic year, featuring works from the museum's collections chosen by the faculty to deepen student learning. 
Previous exhibitions
Five Alumni: Continuing to Create
Aug. 24-Oct. 27, 2018
This exhibition features recent work by five alumni artists invited by the art department. The artists are Audrey Brown '92, Mark Hansen '00, justin carl hurty '05, Drew Starenko '83, and John Vande Walle '06.
Three free events will be held in conjunction with the exhibition in Centennial Hall.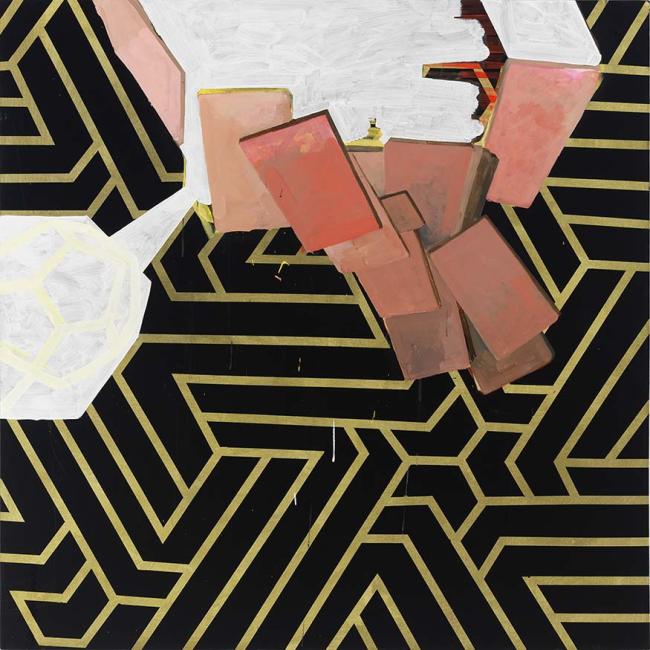 An opening reception will be held from 5-7 p.m. Aug. 24. There will be a reception and artists' roundtable at 6:30 p.m. Oct. 1. And at 7 p.m. Oct. 2, hurty will offer a performance.
"Viewing the work these artists have created in the years since graduating offers an invaluable learning opportunity for our current art, art history, and graphic design students," said Rowen Schusshem-Anderson, professor of art and graphic design at Augustana.
"The range and reach of these visual artists, and their diverse viewpoints, will reveal a distinctive body of work that represents some of the most innovative art in the region and beyond."
Hours
During the academic year, noon-4 p.m. Fridays and Saturdays, except by appointment.
Call 309-794-7400 or email for more information.
Location
3703 7th Ave.
Rock Island, IL 61201
United States
Google Maps