College modifies J-term, spring semester calendars
Oct. 12, 2020
In an effort to continue to ensure the health and safety of the campus and community, Augustana College will modify its academic calendar for January term and spring semester. 
Campus briefing Oct. 14
Campus leaders will talk about testing, continued rules for limiting the spread of COVID-19, and details associated with the J-term and spring semester calendar changes. Live on YouTube at 12:30 p.m.
The college is making this announcement now to give adequate time for students, faculty and staff to make necessary plans. These suggested changes will be submitted for approval to the Department of Education.
The beginning of J-term will be delayed one week and classes will begin on Monday, Jan. 11, 2021. Return to campus housing will be by appointment on Saturday, Jan. 9, and Sunday, Jan. 10. J-term classes will conclude on Tuesday, Feb. 2.
The start of spring semester also will be delayed one week and will begin on Wednesday, Feb. 10, 2021, and conclude on May 14 with Exam Week May 17-21. Commencement tentatively is scheduled for Sunday, May 23. However, this date is subject to change pending health and safety considerations and limitations presented by the pandemic.
Spring break will not be held. The goal of canceling spring break is to mitigate the risk of spreading COVID-19.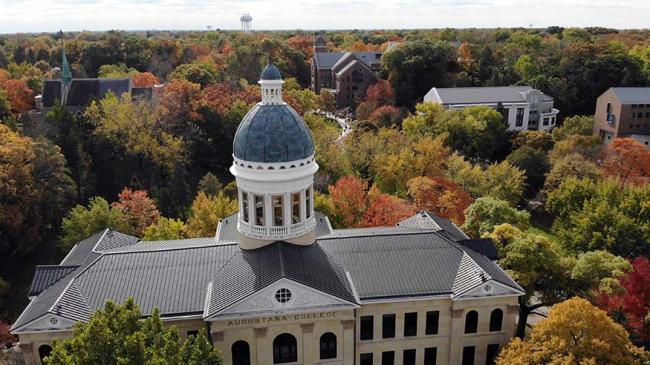 Duration of instruction unchanged
The later start date and additional modifications to the calendar will accommodate continued planning to keep the Augustana College community safe. These modifications also will allow faculty to prepare their courses for both in-person and distance learning, which is expected to continue in some fashion through the academic year.
All accommodations made to the academic calendar preserve the same number of days and weeks of instruction and student learning, which is essential to maintaining academic rigor and the academic expectations the college has for all students.
The college expects that spring classes will continue to be delivered in a format that again provides students the option of learning in-person or as distance learners. An application for distance learning for the spring semester 2021 soon will be available.
Students who choose distance learning will not be able to return to campus to visit during the spring semester, as the college will continue to limit visitors to campus.
Current distance learners can opt to return to campus by completing the distance learner application, but must do so by Nov. 10.
Changes to the calendar will impact information previously shared with new first-year, transfer and returning distance learners; please see the information below for important updates.
Returning distance learners: Current students who are distance learners who wish to return to in-person, on-campus instruction may return to campus for the spring semester. The application for on-campus housing will be available beginning Monday, Nov. 2, and must be submitted by 11:59 p.m. on Sunday, Dec. 13.
Current international students who are distance learners for fall of 2020 should plan travel around a 14-day quarantine, which means arrival on campus should be no later than Wednesday, Jan. 27, 2021. 
Current first-year distance learners for the fall of 2020 should plan to move in on Sunday, Feb. 7, 2021, for a modified Welcome to Augustana experience. 
Current international, first-year, distance learners for the fall of 2020 should plan to arrive between Jan. 20-21, 2021, to accommodate quarantine and participate in International Student Welcome activities.
New first-year domestic students: New first-year students for spring 2021 will move in on Saturday, Feb. 6, and Sunday, Feb. 7, by appointment, and will participate in Welcome to Augustana activities Feb. 8-9.
New international students: New international students for spring 2021 should arrive Jan. 20-21 to accommodate a 14-day quarantine period. They will move in on Feb. 4-5. International student orientation activities will be held Feb. 6-9.
New transfer students: New transfer students for spring 2021 will move in by appointment on Feb. 6 and 7 and will participate in the Transfer Student Welcome Feb. 8-9.
Important dates
Nov. 2: Application for on-campus housing available
Nov. 10: Deadline for current distance learners to opt to return to campus
Dec. 13: Application for on-campus housing due by 11:59 p.m.
Jan. 9-10, 2021: Students return to campus housing
Jan. 11: J-term classes begin
Feb. 2: J-term classes end
Feb. 4-5: New international students move-in 
Feb. 6-7: New first-year and transfer students move-in
Feb. 6-9: New international students orientation
Feb. 8-9: New first-year and transfer students welcome 
Feb. 10: Spring semester classes begin
May 14: Spring semester classes end
May 17-21: Exam Week
May 23: Commencement