Building on a team approach
What's happening inside the buildings is key to plans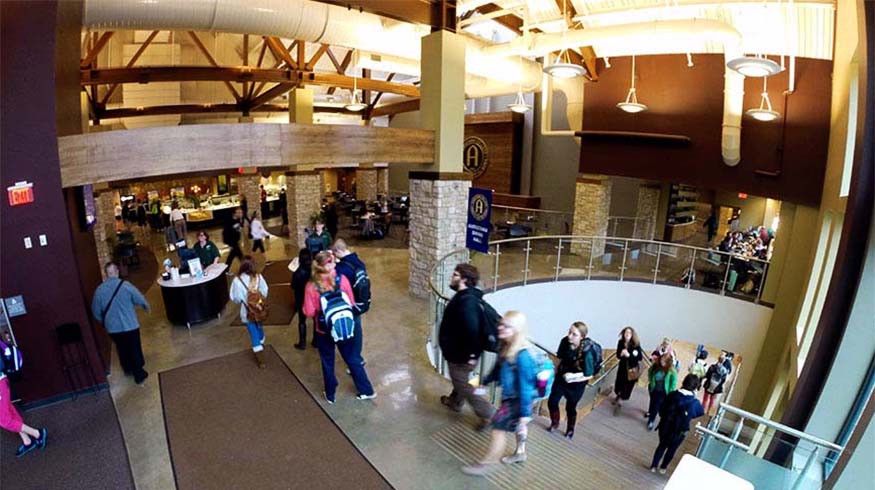 Carla Tracy, former director of the Tredway Library, will always remember the afternoon in February 2010 when President Steve Bahls stopped by her office.
 "Although I did not fully realize it at that moment, he pressed a fast-forward button that started our trip to the leading edge of library transformation," she said.
President Bahls talked with Tracy about Augustana's recent, unsuccessful plan to find the right location for a new student center and the college's almost desperate need for a new dining facility.
Then he described a trustee's visit to the library. The trustee pulled a book from the stacks and noted that it had not been checked out in 20 years. He — and now President Bahls — asked: Couldn't we clear some of these unused books from the library and repurpose at least one floor?
Tracy points out a key word here: "asked."
"I can't tell you how many horror stories I've heard about administrators coming to library directors and telling them they were moving the career center, or something, into the library," Tracy said.
"This is 180 degrees opposite from the way Steve and Kent [Barnds] handled this project. This was not top-down; it was collaborative from day one."
No one says it was easy or without stumbles, but the renovation of the library's fourth floor and seamless connection to a new dining center resulted in a must-see stop on admissions tours. Completed in 2013, The Gerber Center showcases the creative integration of learning, dining and student activities.
The center has become the meeting place for students, with a synergy reflecting a 16-hour-day, seven-day-a-week residential campus.
"It was a wonderful challenge that I regarded as absolutely the right thing to do," Tracy said. "The library was listened to and trusted during the entire project. It was one of the peak experiences of my life."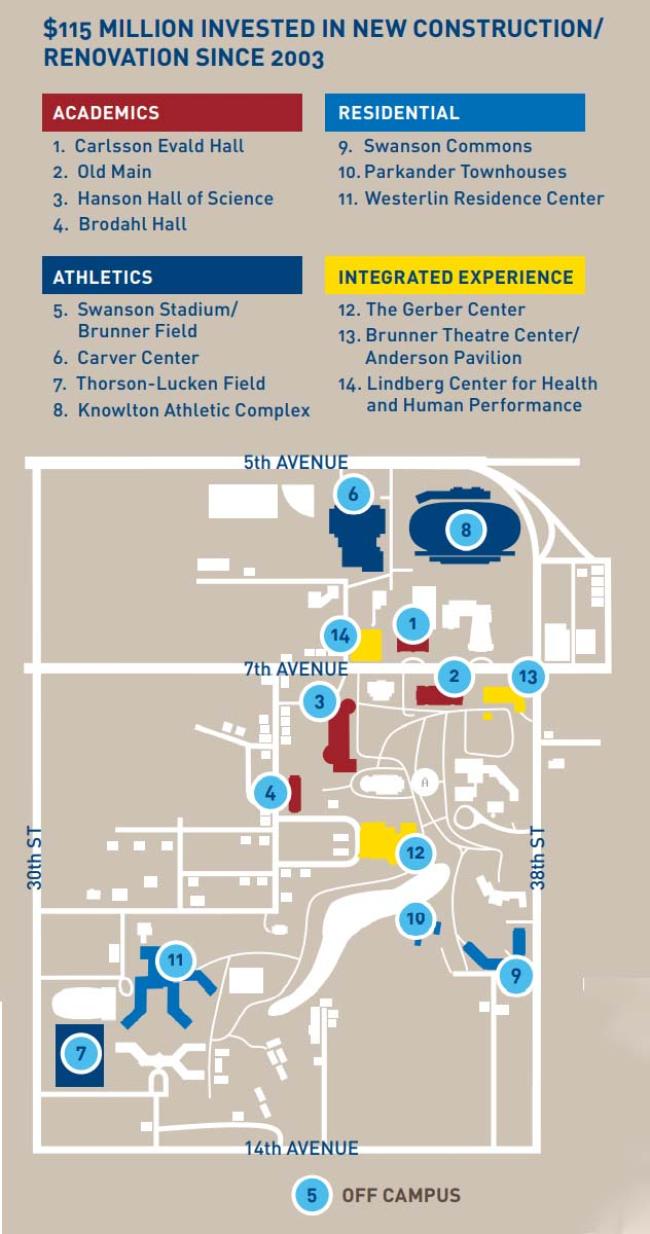 Working the playbook
Both the Authentically Augustana and Augustana 2020 strategic plans led by President Bahls emphasized campus improvements as essential to achieving goals for academic excellence and student growth.
The Gerber Center is one of several multimillion-dollar projects completed during the past 18 years. The total investment of nearly $115 million in physical plant development impacted all corners of campus and different aspects of the student experience: academics, athletics, the arts, residential, dining and more.
"Steve's campus master plan has served as a great playbook to stretch our imagination to combine and integrate in- and out-of-classroom learning in ways that can only happen on a campus that genuinely values the residential liberal art environment," said Kent Barnds, executive vice president for external relations.
Augustana's new, expanded and often recreated facilities represent more than bigger spaces with fresh paint and new carpeting. It's what's happening inside that lives at the heart of the college's strategic plans. The purposeful design of the buildings and the classrooms/open spaces within accommodates changing learning and teaching styles; builds community; instills pride; and more. For example:
• Dr. Greg Domski '03 appreciates the studio-style, flexible seating in the third-floor classroom in the new addition to the Hanson Hall of Science. Transitioning his organic chemistry students from lecture to group work is now physically and psychologically barrier-less, much different from the stadium-style lecture hall in which he taught for nearly a decade.
• When Carlsson Evald Hall reopened as an academic building, faculty from several departments couldn't wait to pack up their Sorensen offices and move closer to the middle of campus. Education professor Dr. Michael Schroeder says the interior is perfectly designed for building community, most notably the attractive spaces for students to study and socialize, and the office layout that invites communication and collaboration among faculty.
• Dr. Kathy Jakielski says her heart sings with appreciation when she walks into the expanded and renovated Brodahl Hall. "Our new space represents the college's ongoing trust and faith in, and support of, the communication sciences and disorders department. The best thing about it is the message of how deeply our work is valued."
Winning with offense
Augustana's highly anticipated Peter J. Lindberg, M.D., Center for Health and Human Performance is scheduled to open in mid-May. This integrated academic/athletics
facility will be home to the kinesiology and public health programs, as well as the Vikings swimming/diving and new water polo teams.
Faculty, coaches, students, administrators, donors and community members, as well as consultants, were involved in the planning of the Lindberg Center. Similar to the
experience of Carla Tracy and others interviewed for this story, the Vikings swimming/diving coach, Dan Lloyd, was invited to take a lead in the project's development.
"I was brought on from the very beginning and involved in every aspect of the (natatorium) design process," Lloyd said. "For me, this has truly been an opportunity of a lifetime."
The number of campus improvement projects during President Bahls' 18 years bears out what Eric Lindberg, chief investment officer of the Knowlton Foundation, said when plans for the Lindberg Center were announced: "While many schools are in retreat, Augustana is playing offense and constantly seeking new initiatives to better serve future generations of students and the campus and Quad-City communities."
And with that, President Bahls' team approach to making these initiatives winners also provides members of the campus community with opportunities to leave their own mark on Augustana.
Cornerstone Society
Donors whose cumulative lifetime giving of $10 million or more has helped shape the campus landscape:
• Roy J. Carver Charitable Trust
• Cindy and Murry '75 Gerber/Cindy and Murry Gerber Foundation
• Patricia K. and Robert A. '48 Hanson
• State of Illinois
• Austin E. Knowlton/Austin E. Knowlton Foundation