October 2017
Behind the scenes with the semester transition coordinators
Some of us don't spend our waking hours pondering the stages of the college's transition from trimesters to semesters, don't make it to the full faculty meetings or to the Friday Conversations focused on how our academic calendar should or shouldn't, might or must change. Yet we may still wonder what's being decided, when, how and by whom. And the decisions made will affect nearly all of us.
Two people are in charge of making sure everyone gets heard, and at the right times and in the right places. They are Augustana's transition coordinators, Gillian Lederman (world languages, literatures, and cultures) and Dr. Jayne Rose (psychology).
Gillian responded to the open application for the three-year position; Jayne was asked to take on the job as a senior faculty member, and she agreed. Both find their role to be significantly more work than anybody thought. 
"I now appreciate the behind-the-scenes part of what happens at Augustana," Jayne said. "It's easy, as faculty, to not see what happens in the business office, in records, in ITS. It's jaw-dropping, how much there is."
Their job as coordinators is to listen to representatives of departments and offices across campus as they communicate needs regarding the transition, and to plan the timing of decisions accordingly. They will meet with more and more people as time goes on. Along with the academic committees, this includes residential life, admissions, dining services, students, and others. Their job is to create balance.
"Our aim is to become aware of topics and issues as they arise, so we can respond," Gillian said. "We are not the decision-makers, but we're the coordinators. We want people to understand their appropriate decisions."
Overall it's been a positive experience as they "get to know all the affected constituencies and how they relate to each other," she said.
In the midst of all the moving parts, for example, they see firsthand the consideration academic departments are giving their curricula and their students as they plan for the future.
"There are some really exciting changes," they agreed. "It's an adventure."
How to get information
You can see the steps that have been taken in the semester transition, so far, on Moodle (on the faculty & staff page of our website). There you'll see a spreadsheet of decisions made and those yet to come, guidelines, and our three-year conversion timeline, beginning with fall term of 2016.
Soon all Augustana employees will begin receiving a monthly email newsletter update from Jayne Rose and Gillian Lederman. The first issue will include a list of approved programs, decisions made on the calendar and daily schedule, details on how to access Moodle, and more.
Augustana's website also will have a landing page on the transition process. We'll communicate to external audiences through emails and our alumni and parent newsletters, so the extended college community can witness our progress, continued commitment to our students' education and well-being, and successes throughout every stage of this complicated adventure.
Artists among us
At this liberal arts college, some of us work or teach in the arts, while others turn to their creative side on the weekends. But some employees are good and serious artists whose commitment to this other work, outside work, can mimic a second life. This first in a two-part series looks at a visual artist in the Office of Advancement and an actor in the Department of Classics.
Lori Roderick is the associate vice president of development and the director of corporate and foundation relations. She's also a ceramicist with an MFA from the University of Iowa. At Augustana in the 1980s she was a first-generation college student who felt most at home in the English and art departments.
"Once I got my hands in clay under Megan Quinn's tutelage, I was completely hooked on clay as my primary medium," Lori said. "Art-making for me is an exercise in looking closely at the world and using clay to interpret what I see and how I feel about it.
"I suppose the same can be said about what I do professionally, except as a fundraiser and grant writer I'm using words as my medium," she explained. "I examine a program or project and then spend time finding the most effective way to use words to build a persuasive case.
"Really, when you break it down it's all problem-solving and putting things in context."
Currently Lori's work is on exhibition at Black Hawk College, alongside paintings by her friend Zaiga Thorson, who teaches at Black Hawk. You can see their work again this spring at Bucktown Center for the Arts in Davenport.
Dr. Mischa Hooker can sometimes be spotted crossing campus and talking to himself, though it's more likely he's reciting lines for his role in a play.
A continuing lecturer in Classics, Mischa has held onto his high school fascination with Shakespeare, but it was ancient Greek theatre that drew him back into acting. (Most of us know where we can find ancient Greek theatre: Lincoln Park in the summers, staged by the Genesius Guild, for free. CORE's Doug Tschopp and other familiar faces can be found there, too.)
"At this point, I've been in more than 10 (maybe 20?) Genesius Guild plays, and I'm currently in my eighth Prenzie Players show," Mischa tallied. "It's not all 'classic' theatre—I did a show with New Ground Theatre in the summer of 2016 (This Side Up). But Greek plays and Shakespeare are the most compelling for me."
More and more, Mischa finds that he incorporates performance elements into his teaching of Classical literature, which "drives home the importance of understanding tragedies such as Oedipus Rex as first and foremost stage performances, not works on the page," he said.
This weekend you can see him—along with Augustana's head athletic trainer Denise Yoder—perform in Shakespeare's All's Well That Ends Well, presented by the Prenzie Players.
Field Notes – Dr. Ian Harrington
In June, Heidi Storl and I took students on the first offering of our study-away program in Germany. Although Heidi had done other programs in the past and was confident, I had some nerves. Beyond concerns about language barriers, I wondered how well prepared our students would be to work with faculty and students at our host institutions, Leipzig's Max Planck Institute (MPI) for Human Cognitive & Brain Sciences, and Magdeburg's program in Neuroscience, Philosophy, and Cognition.
Although we knew our students were bright and had considered the right material on both sides of our learning community, would they be able to hold their own with the students and faculty we would meet?
'Although we knew our students were bright and had considered the right material on both sides of our learning community, would they be able to hold their own…?'
The answer came early, when we found ourselves sitting in on a three-day graduate program offered by the International Max Planck Research School on "Social, Cognitive, and Affective Neuroscience." In lectures from morning until late afternoon each day, we heard from experts in these fields. Happily, our students asserted themselves in these lectures from the beginning, asking and answering questions and, in some cases, engaging faculty after their sessions.
On the afternoon of the second day, however, came the real challenge. Toward the end of one lecture, a faculty member gave us an assignment for the following day. Three of the attendees were assigned roles on the mock editorial board of the prestigious journal, Nature Neuroscience. We were next assigned a recent controversial paper the journal had published on brain reorganization during pregnancy and, after reading the paper and consulting with expert reviewers (many of the other attendees in the room), we were told to prepare to face a mock press conference to defend or reverse our previous decision the following day.
I was selected to serve as a section editor, as was a graduate student from MPI. One of our students, Kari Vance '18, was assigned as Chief Editor (i.e., our boss). The next morning the three of us assembled at the front of the room and faced questions from the assembled "press."
For the next 20 minutes we discussed the article and our decision to publish it. In the end, the final decision came down to Kari, who, after some thoughtful consideration, decided that the journal had made the right choice in the first place. The science was good, even if controversial.
It was reassuring to see our students, many of whom were at the end of just their first or second years at Augustana, engaging with more advanced scientists on this international stage. In the spring of 2019 we'll get to do it all over again, and next time I'll be just as nervous as I was the first time around.
New Faces on Campus – Greg Armstrong & Ashleigh Johnston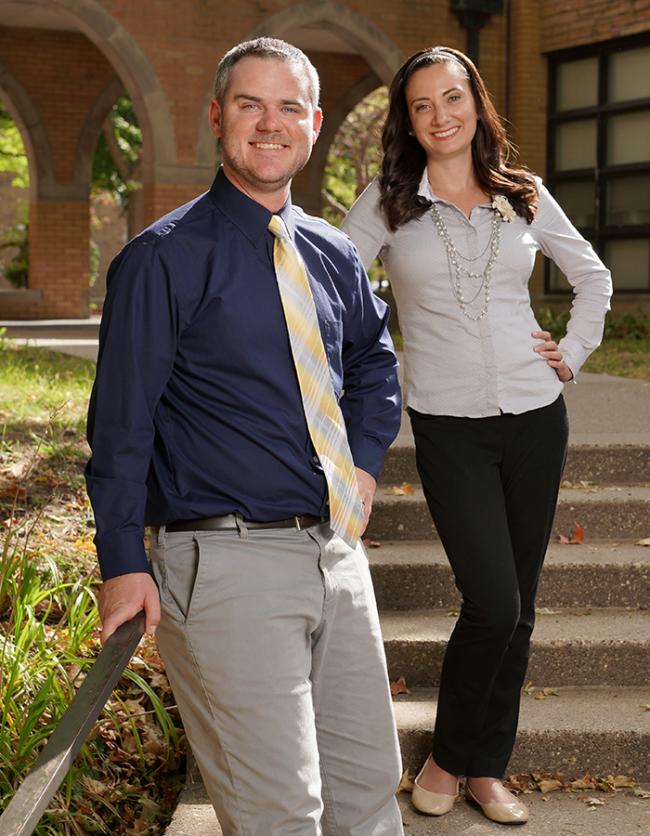 Greg Armstrong, digital communications specialist
B.A. Radio and television, Southern Illinois University
Ashleigh Johnston, director of public relations and social media
B.A. Organizational communication, with a minor in print journalism, North Central College
Greg Armstrong and Ashleigh Johnston are excited to work hands-on at Augustana through their new positions in the Office of Communication and Marketing.
"My goal is to tell the story of Augustana students," said Greg. "What they're doing, how they're succeeding and what their plan is after they learn here. We want to address how Augustana prepares a student for the next level, but also how an Augustana student is able to thrive in different ways."
Greg previously served as a photographer and videographer for KWQC in Davenport and WQAD in Moline. Last spring, he covered Augustana's entire basketball run with WQAD before taking his position at the college.
Ashleigh has held several corporate PR roles in Chicagoland and saw moving to the Quad Cities as a dream come true.
"When this opportunity came up, I knew it would be a great way to do what I love, in an institution that felt familiar, and work towards a mission that I admire," she explained.
Both noted Augustana's strong emphasis on relationships. "People are friendly, helpful and want you to be successful at whatever you're doing," said Ashleigh.
"I've only been here for two months, but it feels like I've been here all along."
From the Cabinet – Rev. Richard Priggie
The story is that a young Augustinian monk named Martin Luther strode down Main Street in Wittenberg, Germany, on October 31, 1517, and nailed a document to the door of the church, then serving as an unofficial town billboard. The document came to be known as The 95 Theses; it listed 95 ways in which Luther believed that the sale of indulgences was anti-Christian, and it challenged Luther's colleagues at Wittenberg University to come and debate him about this.
The debate never happened, at least formally, but the miracle of the printing press disseminated the statement throughout Europe, and the historic upheaval known as The Reformation was underway.
We at Augustana College are heir to the theological discoveries of The Reformation. One of the ways we at Augustana are observing the 500th Anniversary of the Lutheran Reformation is by re-reading and discussing one of Martin Luther's most famous writings, called "The Freedom of a Christian." Luther begins with what seems to be a paradox: "The Christian individual is a completely free lord of all, subject to none, and, at the same time, The Christian individual is a completely dutiful servant of all, subject to all."
Elsewhere Luther said, I used to spend a lot of time worrying about whether I was good enough to be loved and saved by God. Now that I believe and trust that we have a gracious God who loves us unconditionally, what should I do with the time I have on my hands that I used to spend worrying about myself, Luther asked. What I will do is tend to the needs of my neighbor, he answered. That is where God wants my time to be spent.
To celebrate God's reforming work is to rejoice in the freedom we have as Christians, as human beings. Because God loves us unconditionally, we may devote our attention to the neighbor in need. We may become socially aware and active, for the good of our communities and for the healing of the world.
This is reason to celebrate!
Seen & Heard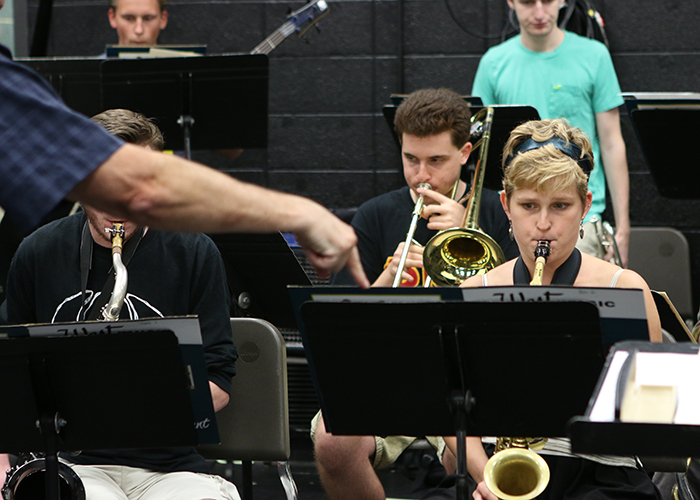 Acknowledge is published by the Office of Communication and Marketing at Augustana College in Rock Island, Illinois. Contact Beth Roberts, editor. Rachel Reiter '18, Augustana Writers Bureau, is the author of "New Face on Campus." Photos are by Marlisa Barrett '19 and Michael Smiles '18 of the Augustana Photo Bureau, and Paul Colletti.