November 2017
Get hyped for basketball
By Greg Armstrong, communication and marketing
It's basketball season, and that means a lot of excitement on the campus. The men's team returns four out of five starters from a team that finished as the NCAA D-III National runner-up, while the women's team is building on its most successful season in more than 20 years. 
This will be my first basketball season in my role as digital communication specialist here at Augie, but I'm very familiar with both the men's and women's basketball teams. Before coming to Augustana, I was covering the Vikings as a sports reporter for WQAD-TV in Moline—not only covering the college teams, but also several of our current Vikings while they were still in high school. 
So before I found my way here, I was seeing the excitement firsthand, and none more so than the captivating tournament run for the men's team last spring. As working media, I had a front row seat for every game, from the opening round buzzer-beaters in Wisconsin, to the Sweet Sixteen win in Michigan, to the road trip east to Salem, Virginia, for the Final Four. Throughout the wild month, I remember not only being impressed with this team's talent and resilience, but also with how well-spoken and humble they were after each win. They were a talented team that seemed grateful for the opportunity, while embracing the challenge.
Now, here at Augustana, I was eager to jump into producing these videos for both teams, but also a bit overwhelmed. I wanted to make sure I properly captured the energy that both teams bring into the new season. 
I sat down to sort through the men's "hype" video on a Friday afternoon. I picked some music, and started to gather a few of the best clips… and then it hit me. All of the effort, passion and enthusiasm was all right there in front of me. I started editing like a mad man, and before I realized it, I was frantically making my final edits. I couldn't wait to show the Augustana community what they have to look forward to! 
What I look forward to is being on campus this time around, watching two great programs, with talented and well-rounded student athletes. It's cold outside, but Carver is just heating up. 
Get hyped for admission
This year, accepted students are getting something special in their inbox before receiving their admission packet in their mailbox. It's just a little "wink notification," as Kent Barnds calls it. 
Watch Gus go a little nuts when he finds he's been admitted to Augustana College:
Field Notes
Earlier this fall, five faculty and staff members gathered onstage at Wallenberg Hall for a complex undertaking—to succinctly describe Augustana's academic program on video. 
The willing ambassadors were Kristin Douglas (academic affairs), Rob Elfline (music), Katie Hanson (education and English), Leslie Scheck (CORE) and Cyrus Zargar (religion). Facing and sometimes circled by videographers Greg Armstrong and Jeff Moore, these five valiantly covered important aspects of the core curriculum, First-Year Inquiry, advising throughout four years, the Honors Program, CORE and transfer students, and Senior Inquiry.
The original challenge to communication and marketing came from Kent Barnds, who wondered if we could show "why we have been so intentional in designing the academic experience, and how it all fits together," especially for an audience of parents of prospective and current students. 
The result is a 5-minute focus on the entire Augustana academic program, including commentary on what makes this a great education. The video may be found at the top of the academics page on Augustana's website. 
Thank you, again, to our eloquent players!
New Face on Campus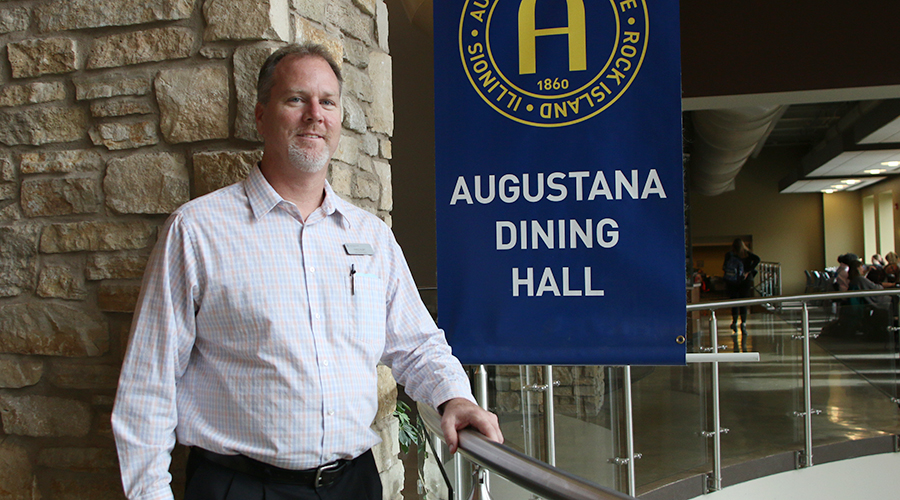 Fred Kurt, Director of Dining Services
B.S., hotel and restaurant management, Iowa State University
When Fred Kurt isn't running around The Gerber Center dining room, you may find him riding the roads on his Harley Davidson.
"It really started when I was in the restaurant business," he explained. "When I worked tons of hours, nights and weekends, it was a way to relax. I've enjoyed it ever since."
His 22-year-old son, Mitchell, and 19-year-old daughter, Erin, both have their licenses and motorcycles, as well. With two college-aged children and 13 years of experience in campus dining, Fred understands the challenge and importance of providing quality food service to students.
"We have to strive for excellence based on changes in the restaurant world, current trends, service style and making things to order so we gain their interest," he said.
Fred was impressed by Augustana's strong reputation, facilities and hardworking staff. "From the exceptional culinary team and chefs to the full-time managers and support staff, everyone puts our students first. They really do a nice job."  
Even with 26 years in hospitality, you can never learn too much. As a member of the National Association for College and University Food Services (NACUFS), Fred enjoys discovering new food trends, sustainability strategies and challenges in the industry through professional conferences and collaboration with peers at other institutions.
"Augustana is a great place. It's a beautiful campus. I spent 13 years in the restaurant business and 13 years in dining operations at the University of Iowa. Hopefully I can spend at least 13 years here, as well," Fred said.
He always looks forward to providing healthy, nutritious food with lots of variety. "Our guests aren't getting any older. We're always catering to college students. I may be getting older, but food service in this segment keeps me young."
In the Works
Director of Human Resources Laura Ford periodically shares information and wisdom pertaining to being an employee of Augustana College. 
#Metoo postings and recent news about allegations of sexual harassment and assault across various industries and organizations are troubling. However, it provides an opportunity for all of us to work together to make Augustana a place where every community member feels respected and able to work free from harassment.
Here are some things we all can do to foster a culture of mutual respect:
1. Hold yourself accountable. Rarely do we set out to offend others, but that can easily be an unintended consequence. Ask yourself, "Does this joke, comment or action have the potential to offend?" "Does what I say and do strengthen our workplace relationships?"
2. Speak up when others stray into the "fuzzy" zone of appropriate workplace behavior. Pointing out inappropriate words or actions is a great way to keep us all in check. Don't wait for a complaint before talking with your coworker.
3. Don't let it end with you. Just like we want you to report students who have a Title IX complaint, the Office of Human Resources wants to know about anything that may be a violation of our harassment policy and/or expectations of professionalism.
4. Revisit the employee handbook for a reminder of the Augustana policy and our expectations of employees.
5. Report violations or potential problems. You can talk with your supervisor or a member of the Office of Human Resources, send an email report here or use the anonymous hotline at 1-866-943-5787.
Thanks to all whose hard work and commitment to Augustana have created the space for us to openly talk about how to continue to improve our culture and make our campus community a place where harassment and discrimination do not occur. If you'd like to talk about this topic, my door is always open. 
From the Cabinet
By Evelyn Campbell, Dean and Vice President of Student Life
I know not everyone was able to participate in the recent Staff Development Day, and the focus of that day is worth repeating—particularly as we head into two holidays that include giving thanks. 
Dr. Ellen Hay, former provost and department chair in communication studies, started off the day with a discussion of our different roles as employees in relationship to our students. The takeaway for me was that our students are young adults who are still finding their way, and they look to us for guidance in regard to values and character, in addition to knowledge and intellectual skills. 
Therefore, no matter how much we enjoy the company of our students, we must always remember that we are their mentors, advisors, supporters, and the list goes on—but what we are not is friends. It is a subtle distinction, but it is an important one. (And if you have any questions about your own daily experience with students, please feel free to ask Laura Ford, Gail Summer or me.)
What struck me, though, is the privilege we have every day to work among these young people. Some are eager to learn, and some still need to find their passion. Some have come from challenging backgrounds and already know they want to change the world, but have a tough time navigating the technicalities of a system meant to equip them to accomplish their dreams. Others don't really need our help in navigating the system, but they do need us to help them discover the most meaningful path for their education. 
Along with students, the colleagues we share this college with are simply outstanding. So—not only as we approach the holidays, but every day—I hope we encourage each other and truly enjoy the work that we have been called to do at Augustana.   
Seen & Heard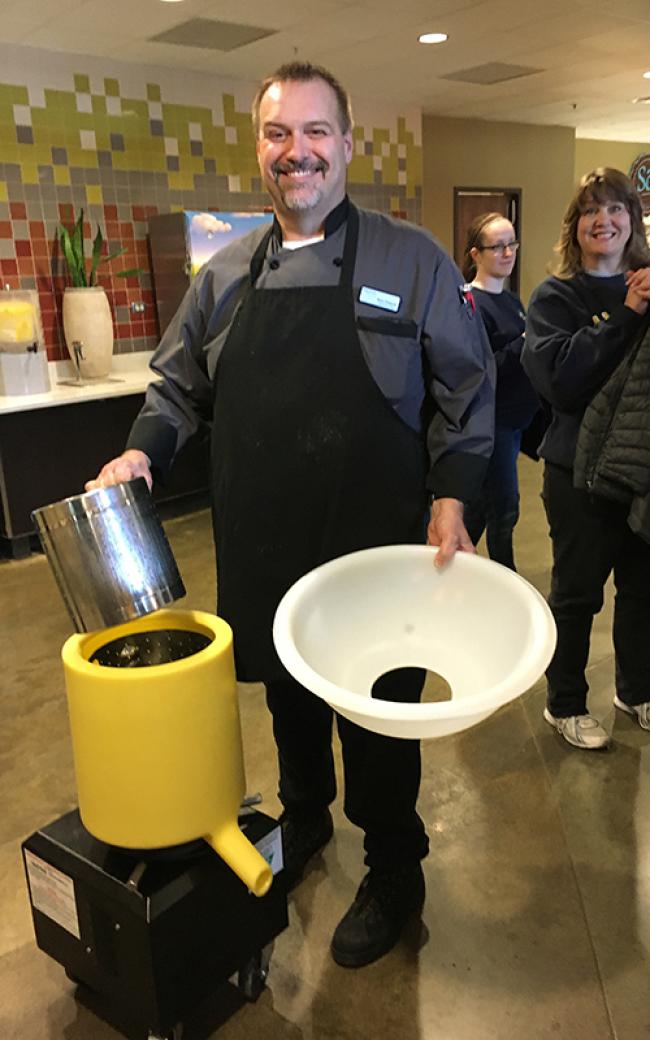 "Is it fact or fiction that dining services has a machine you just dump the eggs into and it can peel and slice them up all at once?"
— Laura Ford
Acknowledge is published by the Office of Communication and Marketing at Augustana College in Rock Island, Illinois. Contact Beth Roberts, editor. Rachel Reiter '18, Augustana Writers Bureau, is the author of "New Face on Campus." Photos are by Marlisa Barrett '19 of the Augustana Photo Bureau, and Meghan Cooley.