May 2017
More international students see themselves at Augustana
In a year when we might have expected the opposite, Augustana is hitting record numbers for enrolling international students. We attracted about 850 international applicants—double our numbers from 2016. We admitted twice the number of international students and expect to enroll three times as many this year as last year. And we expect to meet our strategic overall enrollment goal of 10% international students by 2018.
According to Liz Nino, Augustana's director of international recruitment, by May 16 we had enrolled 91 degree-seeking, five non-degree-seeking, three transfer students, four exchange students and two Americans living abroad.
"We expect deposits to continue to grow throughout the summer," Liz said. "We project between 110-120 international students to register for international orientation in August 2017."
Thirty-four of our incoming students are from Vietnam. Other countries with the greatest representation include China, Ethiopia, Morocco, Nepal and Pakistan, all sending five to 10 students.
"We've been recruiting in Vietnam for the last four years and we've been able to build a strong name among students, families and counselors in Hanoi and Ho Chi Minh City," Liz said. She lists recruitment tours, word-of-mouth by current students and families, and our alumni network as helping to build the case for an Augustana education for Vietnamese families.
What else worked with international students? The strategic use of social media platforms such as Skype, Viber, Whatsapp and Wechat was indispensible.
"Most international families do not have the opportunity to visit campus, meet with professors or chat with students," Liz said, so "we decided to bring the campus to them…."
International admissions reduced international travel from 12 weeks in 2016 to eight weeks in 2017. Recruitment tours included Asia, Northeast Africa and Scandinavia. We also partnered with 17 international recruitment agents this year. These partnerships produced 100 applicants, 19 of whom deposited.
"Agents serve as counselors for international students and parents," Liz explained. "Their expertise of local market trends, language and culture give an invaluable support needed for those students who are not familiar with U.S. higher education." 
Augustana also identified and developed relationships with boarding schools in the United States. The 2017 cohort has 10 international students coming from American high schools.
Bikes, the Chicago fire department and Augustana
By Dr. Norm Moline '64, Professor Emeritus of Geography
During the course of this school year, Augustana faculty members donated another 33 bikes to a program run by Fire Engine Co. 16 in one of Chicago's poorest neighborhoods. On June 6 at a special event, those bikes, along with several hundred more, will be given to students who have had perfect or near perfect attendance and good records in school. Thanks to all who gave bikes this year.
This program was started in the early 1990s by the firefighters at that fire station, led by Kirk Flowers. They collect damaged or unused bikes, repair them and give them to elementary and middle school students. It is a way to encourage students to go to school and maybe find paths toward good careers. This program has gained local and national attention, including on Oprah and as a feature story in a 1997 issue of TIME magazine.
I regularly had included Chicago field trips in my cultural geography and urban planning courses. Sensing an opportunity for another good learning experience for students, I contacted the fire station; the firefighters were happy to share the story, and it became a stop during my four or five Chicago field trips per year until I retired. This year Dr. Sharon Varallo (communication studies) and I took two of her cross-cultural communications classes to that station.
Mr. Flowers, who has received several awards for his service leadership, educates the students about the bike program, but, more importantly, about life in such a tough neighborhood. Out of those experiences, I started to collect bikes from people on our campus and bring them to Mr. Flowers, a practice which has continued to the present. I hope it can continue in the years ahead.
Even though Rock Island is three hours from Chicago's south side, this connection is another small way in which our students and faculty can reach out to those in some tough situations and encourage them to pursue an educated approach to life.
Our kids go to college, too
Congratulations to the graduating high school and college students named below, and to the parents who saw them through.
Adam Burgmeier, son of Mark and Sally Burgmeier (chemistry), is graduating from North Scott High School in Eldridge, Iowa. Adam will attend Bradley University to study engineering.
Jose and Anna Castro (admissions) have a son, Benjamin L. Castro, graduating from Moline High School. Benjamin will join us at Augustana in the fall, pursuing environmental studies or geography.
Dave Crowe and Katie Hanson (English; education) have two graduates this year: Emily Crowe will graduate from Luther College on May 21 with majors in English and Scandinavian studies. Emily plans to move to Minneapolis for a paid internship with Augsburg Publishing House. Their son, Tyler Crowe, graduated from Iowa State University's graduate school on May 4 with his master's degree in biomedicine. Tyler's thesis was "Mechanism of Intranasal Drug Delivery Directly to the Brain."
Greg and Kristin Douglas (academic affairs) have a daughter, Katherine Douglas, graduating from Moline High School. Katherine plans to attend DePauw University for a major in kinesiology.
Jacob Ford, the youngest son of Chris '86 and Laura Ford '86 (human resources), is graduating from Luther College this May with majors in philosophy and political science. Jacob will be starting his career with the Illinois Senate Staff in August.
Psychology major Kenneth Goins Jr. also is graduating from Luther College this month. His parents are Ken and Sheila Goins (business administration). Kenneth plans to take a gap year and get some experience before attending graduate school to study counseling.
Carter Hall, son of Kevin and Kelly Hall (payroll, business office), is graduating from Augustana this weekend. Taking after his mother, Carter has a business administration major with a concentration in finance and management. He begins his new job with Vibrant Credit Union in June.
Gretchen Hampsey's (admissions) daughter, Jordan Ray, is graduating from Southern Illinois University-Carbondale with a B.F.A. in musical theatre. This fall Jordan will begin performing at Thunder Bay Theatre in Alpena, Michigan.
Brad Heinrichs, son of David and Michelle Heinrichs (academic affairs) is graduating from Assumption High School. Brad will join us at Augustana in the fall to begin his studies in theatre arts.
Tom and Mary Kilbride's (mathematics) middle daughter, Colleen Kilbride, is graduating from Georgetown Law in Washington, D.C., on May 21. Her primary interest is immigration law. In D.C., Colleen has been working full-time as the corporate operations manager and assistant to the CEO at Ullico, Inc., and attending law school at night. She plans to study for the bar exam this summer.
Sam Lederman, son of Josh and Gillian Lederman (world languages, literatures, and cultures) is graduating from Pleasant Valley High School. Sam will be heading out to UCLA to study mathematics in the fall.
Zachary Myatt, son of Bill, Christina (theatre arts) and Sue Myatt, is graduating from Pleasant Valley High School. He is coming to Augustana as a choral music education major with a theatre arts minor.
Julie Oliger's (education) son, Joseph Oliger, is graduating from Augustana with a double major in theatre arts and multimedia journalism. He is the winner of this year's senior honors Cast Award from the theatre arts department. Joe will intern on campus this summer with the new Mississippi Bend Players summer theatre program, and is looking for a job in PR/marketing for a major theatre.
David Priggie, son of Janice Harpest and Richard Priggie (campus chaplain), is graduating from Luther College. A psychology major, David plans to head to the Twin Cities for a job in social services.
John '84 and Jill Roche (admissions) are celebrating the graduations of their youngest son and oldest daughter. Matthew John Roche will graduate from Augustana with majors in business administration–finance, marketing and management, and a minor in accounting. Jessica Ann Roche '09 has graduated with a doctorate in physical therapy from Wheeling Jesuit in West Virginia.
Henry Roderick, son of Lori Roderick '86 (advancement) and Bill Roderick '85, graduates from Augustana May 21 with majors in art and graphic design. The recipient of the art department's Art and Graphic Design Senior Award, Henry plans to work in graphic design before moving on to graduate school.
Ryan Shoemaker, son of Bonnie and Tom Jessee (admissions; athletics), is graduating from Augustana with a bachelor's in political science. Ryan plans to take a year off before applying to graduate schools.
Olivia Valentina Swanson will graduate from Carthage College on May 21, and Evan Sundelius Swanson will graduate from Harlem High School in Loves Park, Illinois, on May 27. Olivia is exploring graduate study opportunities, and Evan will attend Coe College in the fall. They are the children of Jenni and Kai Swanson '86 (president's office), and Elizabeth '87 and Wade Campbell.
Alerik Vi, son of Mani and Quan Vi (communication & marketing) graduates from Augustana on May 21 with majors in engineering physics and computer science. Al is currently working locally at Triumph Bank and looking for a job outside the Quad Cities.
Dave and Joanne Walker (registrar's office) have a daughter, Haylee Walker, graduating from Augustana. Haylee has a communication studies major, minors in art and graphic design, and a certificate in non-profit leadership. Looking for a future involving travel, she is searching for a job outside the states and currently is interviewing with an educational travel firm in Costa Rica.
Maggie Williams, daughter of Todd and Angie Williams (CORE), also is graduating from Augustana this weekend. Maggie studied English teaching at Augie, and she will begin teaching English at United Township High School in the fall.
Field Notes
Communication studies major Rachel Reiter '18 joined Doug Tschopp and Andy Shearouse '15 of Augustana's EDGE Center, along with 18 other students, to travel to South Bend, Indiana, for the annual National Student Advertising Competition on April 21.
The Advertising Developers (ADs) team, led by EDGE Center director Doug Tschopp, participates in an annual gathering of schools from Illinois, Iowa, Indiana and Michigan to compete for a spot in the National Student Advertising Competition (NSAC). Sponsored by the American Advertising Federation, the program requires each college or university to design a strategic marketing campaign for a real-world company.
This year's client was Tai Pei, a frozen Asian food brand. Tai Pei wanted to improve its online and in-store presence while attracting young customers. So, we began by researching social media and frozen food trends among millennials and gauged their awareness of Tai Pei. After considering feedback from our survey respondents and brainstorming creative tactics to target this age group, we compiled our ideas in a "plans book" and 20-minute presentation to be delivered by four team members at the regional competition in South Bend.
Despite our extensive preparation, I was not sure what to expect from my first competition experience. But I quickly learned about the strict guidelines that each school must follow during presentations, which contributed to the professionalism of this event. We were asked to place all electronic devices on the floor and leave promptly at the end of each session, or risk elimination. After our team's presentation, however, we stayed to receive feedback on the project.
Comments varied; one judge loved our approach and gave us encouragement while another expressed strong dislike. Interestingly, the third judge asked each presenter for a single "Aha!" moment during our yearlong campaign development process.
Below are some photos from the trip. Although we did not place, our team learned a lot in this fun and professional environment!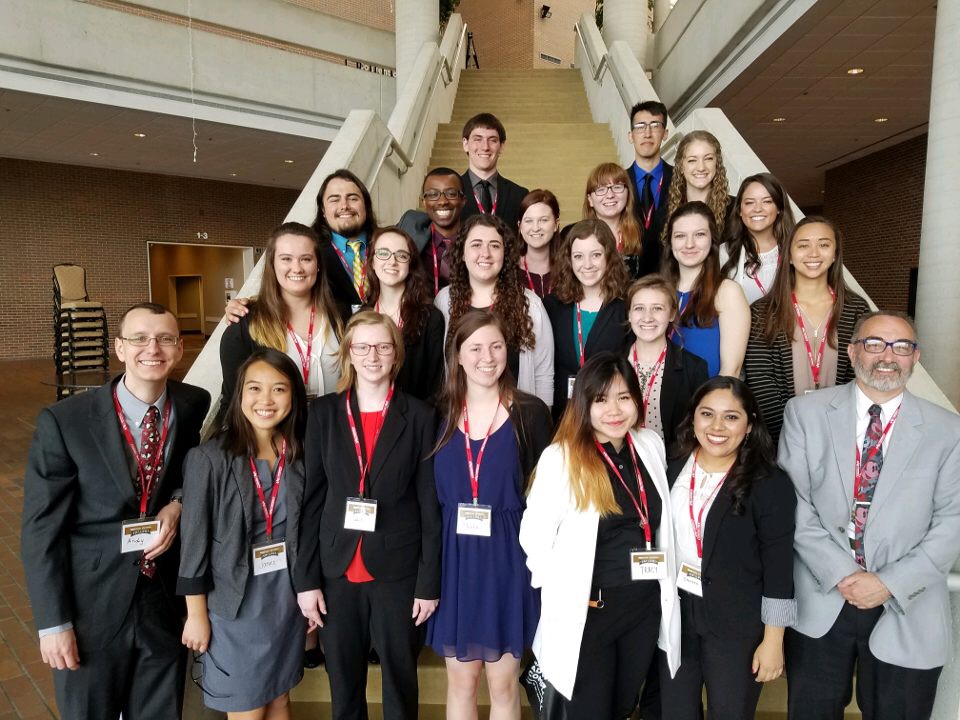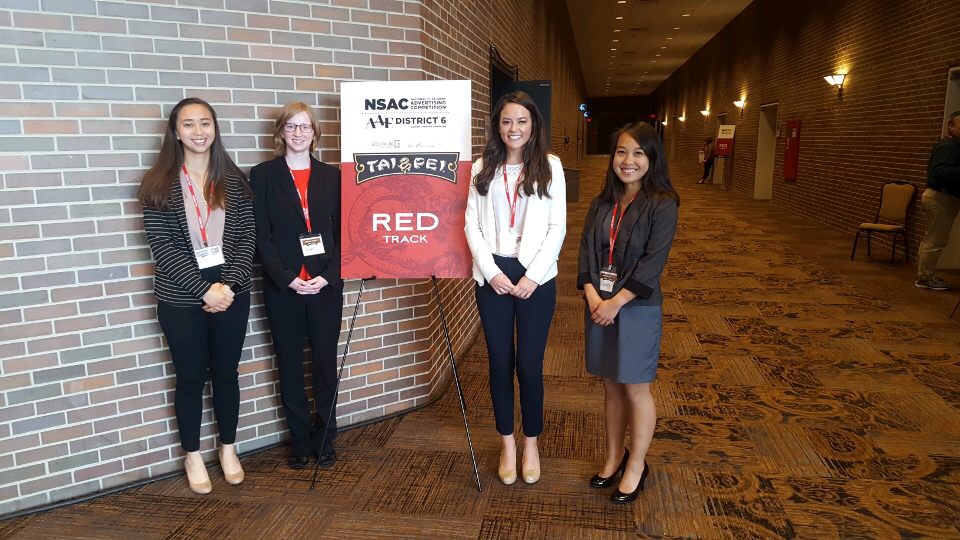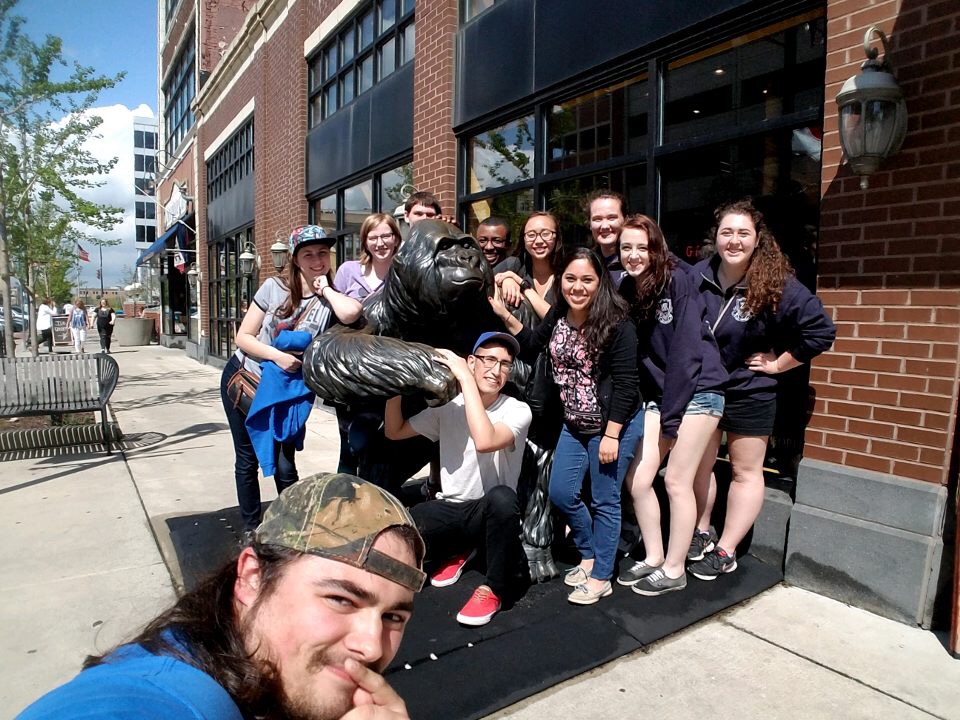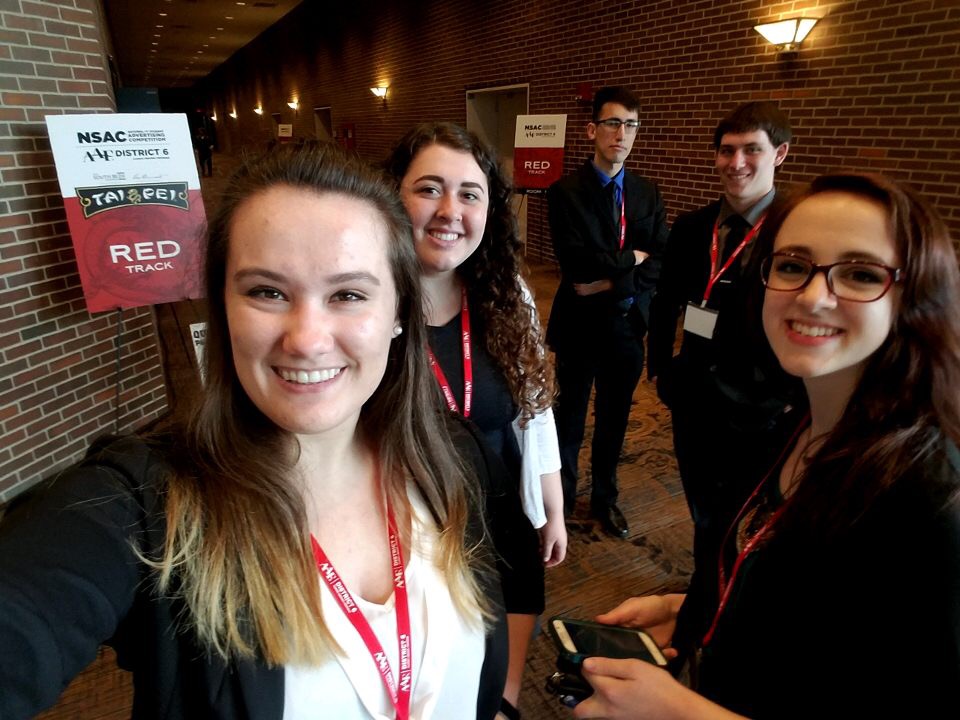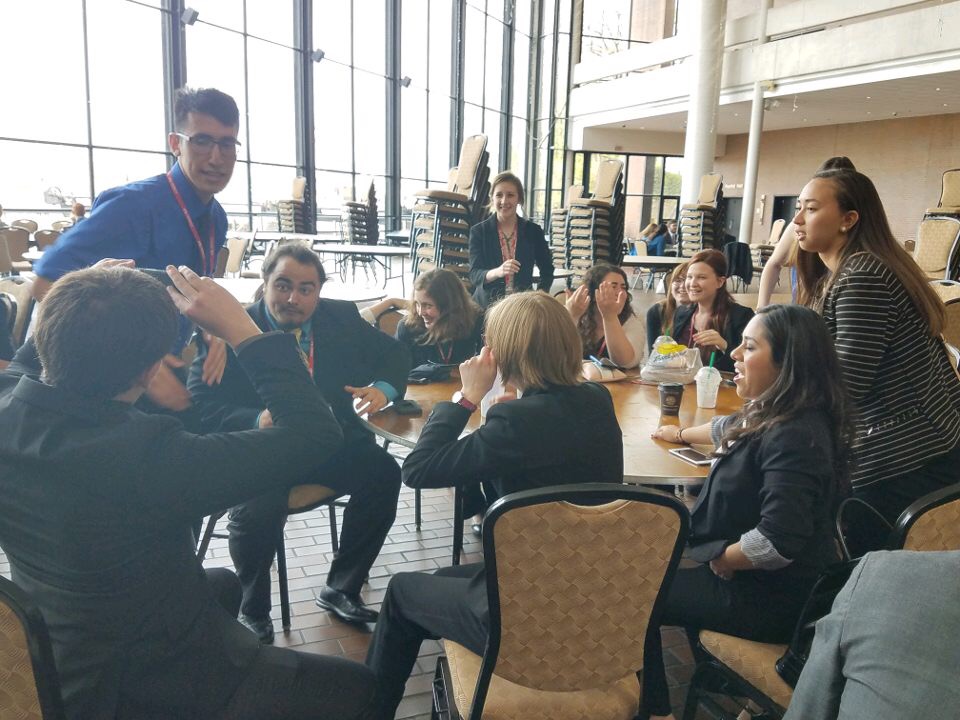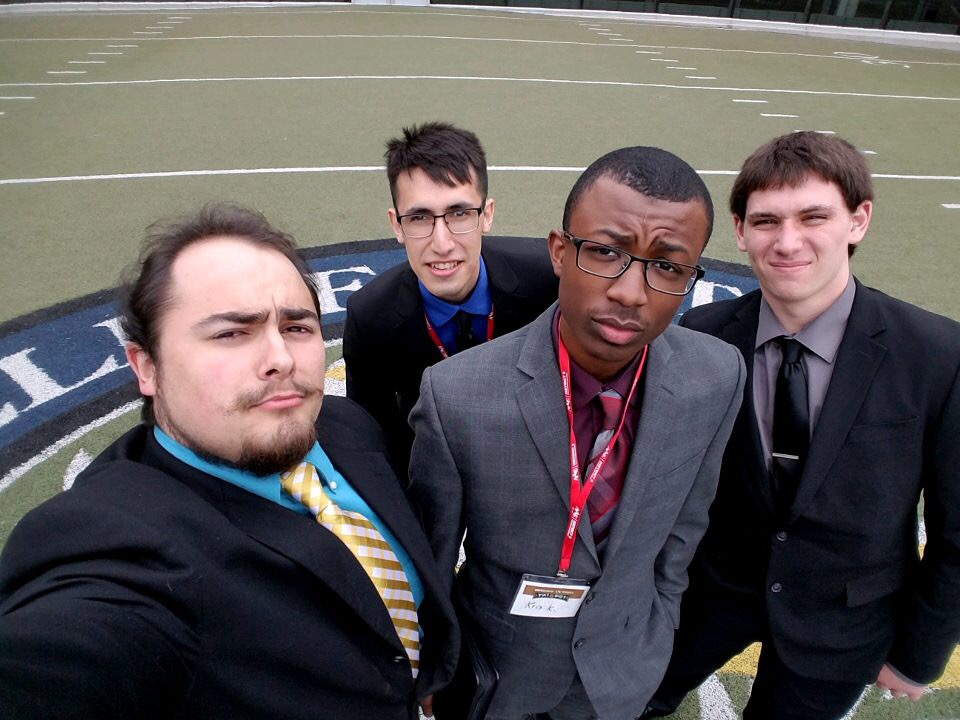 New Face on Campus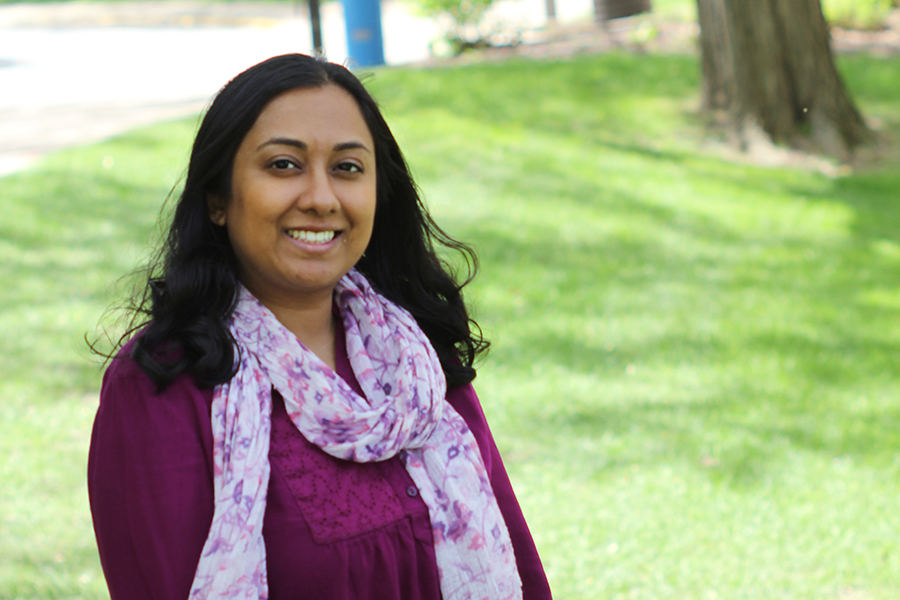 Dr. Fatima Sattar, assistant professor of sociology, anthropology and social welfare
B.A., sociology and psychology, Aurora University
M.A., Middle Eastern studies, The University of Chicago
M.A., sociology, Boston College
Ph.D., sociology, Boston College
Originally from the Midwest, Dr. Fatima Sattar traveled from Boston with her husband, Malhar Saheed (Augustana's director of financial planning, analysis and procurement) and their 11 month-old daughter, Saaliha, to join the campus community this year.
With an interest in the sociology of social welfare, policy, human rights and immigration, Fatima sought an academic position that would allow her to work closely with students and continue her scholarly research on refugee resettlement challenges. Most of her scholarship focuses on refugee welfare in the United States.
Fatima utilizes various teaching methods to help students think deeply and engage in ethical citizenship. This year, some favorite experiences came from her winter term social welfare and policy class.
"There were days when we would look at case studies about different family scenarios dealing with poverty. Students created a 'mock' fundraising campaign to raise awareness about food insecurity. They drew up brochures based on class readings and case studies, then presented them to the class," Fatima explained.
She likes to challenge her students and help them apply information from class to real-world issues. "The liberal arts curriculum allows for critical thinking from a broad perspective," she said.
Fatima looks forward to exploring social services and volunteering in the Quad Cities. "I've been learning about the different communities here from Amy Rowell, the director of World Relief in Moline. I would definitely like to conduct research or do something more with the refugee population here."
She also enjoys spending time with her family. "It's been a great year, being a new mother and new professor at the same time!"
In the Works
Director of Human Resources Laura Ford shares periodic information and wisdom pertaining to being an employee of Augustana College.
Save the date for June 30: Bags, Breakfast and Battle! As we prepare to transition into the summer months on campus, please mark your calendars for what's become a new summer employee celebration.
We started with a breakfast and bag tournament three years ago, and last year added a lip sync battle. If you missed last year's, you can catch a replay here.
We'll be sending out a sign-up sheet in a few weeks, but would encourage you to hold the date and get your lip-sync performance on point for what is shaping up to be another epic battle.
Join us if you can on Friday, June 30, at 7:30-9 a.m. in the Quad for a great summer event.
From the Cabinet
President Steve Bahls
"The purpose of life is to live it, to taste experience to the utmost, to reach out eagerly and without fear for newer and richer experience." ― Eleanor Roosevelt
As I reflect on the academic year coming to a close, I am mindful of the hard work and determination of Augustana's faculty, staff and administration in providing students with experiences that seem to get better every year. I've worked at three institutions of higher education and have been involved in the accreditation of several dozen others. There is not a college or university in this nation with a greater commitment to its students.
Our commitment to our students has been evident in so many ways this year. Due to our "all hands on deck" effort at retention, we are enjoying record enrollment for our spring term. Next year's entering class will be a near-record size. We've worked as a community to increase our commitment to diversity and inclusion. The level of student achievement and success is awe-inspiring to me. Student achievements don't happen by accident. They are the result of the dedication and skill of our entire team.
As we run to keep up with our students and to make each year better than the previous year, we are sometimes invigorated and sometimes downright tired. The end of the academic year is for me, like many of you, one of the busiest times of year. As I prepare for the spring board meeting, attend end-of-year student events, prepare for graduation and finish what I didn't finish earlier in the school year, I sometimes become so laser-focused on getting the work done that I almost lose sight of the broader perspective.
A few days ago over breakfast, Jane asked if I had enjoyed the lilac season at the Dahl home, because the last lilacs were fading. "Lilac season, I asked, has it started?" We went outside, and she showed me that it had not only started, it was almost over.
Though we seem busier than ever, let's remember to smell the flowers. May we use this summer to ponder the advice of Eleanor Roosevelt—to taste experiences to the utmost and to reach out eagerly and without fear for new experiences. For many of us, summer is a slower time—let's savor it! I know I intend to.
Thanks to all for making this a special year at Augustana College.
Seen & Heard
"Cheers!"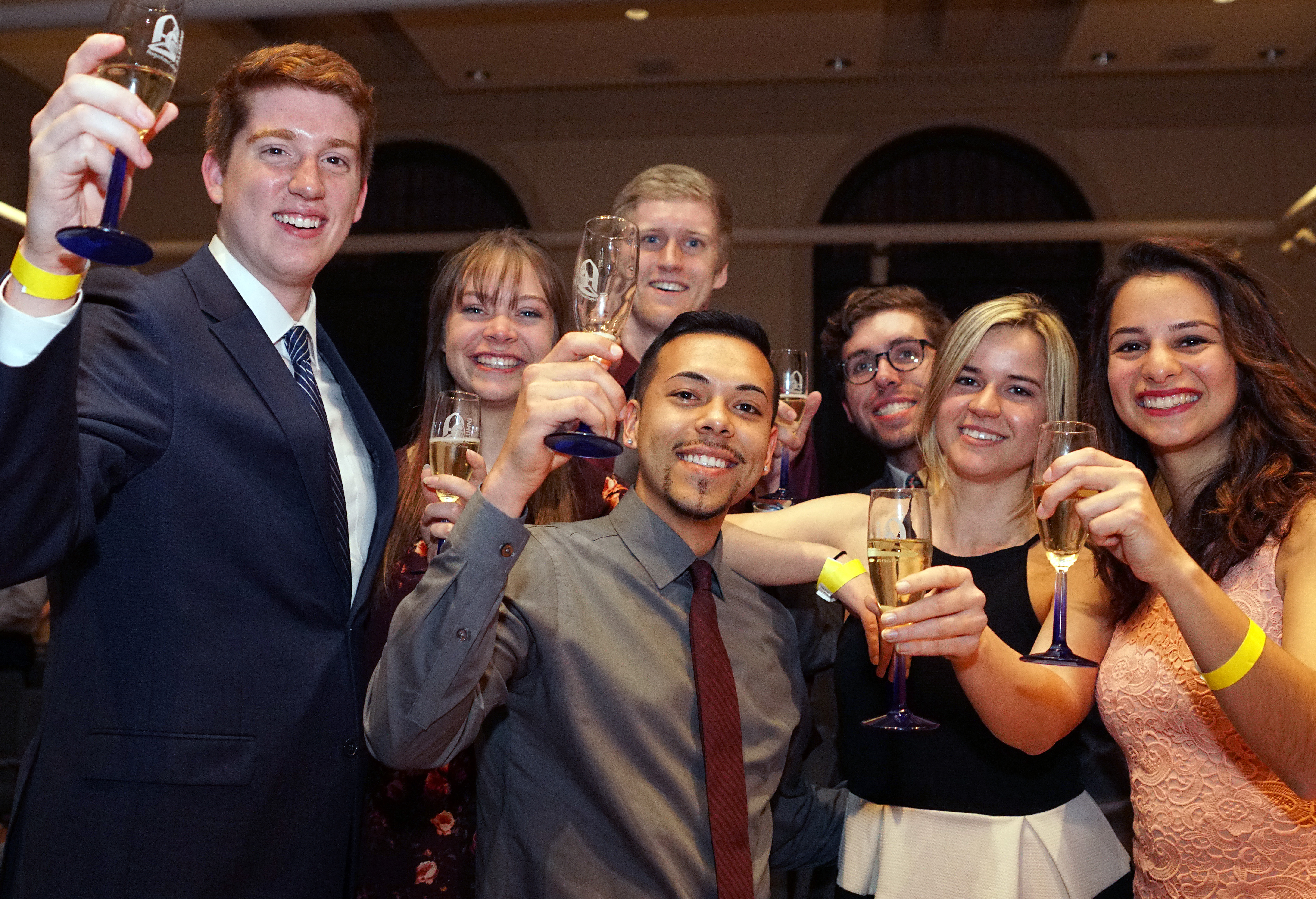 Acknowledge is published by the Office of Communication and Marketing at Augustana College in Rock Island, Illinois. Contact Beth Roberts, editor. Rachel Reiter '18 of the Augustana Writers Bureau is the author of "New Face on Campus." Photographers for this issue are Tori Charnetzki '18 of the Augustana Photo Bureau, Paul Colletti and Dr. Norm Moline '64.