March 2017
Field Notes
Over spring break, Director of Multicultural Student Life Samuel Payan traveled to Alabama and Tennessee along with students and other staff, experiencing important sites in the timeline of the history of U.S. civil rights. His notes on the "the journey to Selma" reflect on the importance of fighting both injustice and complacency.
The Journey to Selma was a six-day pilgrimage to the many places that soon became known as battlegrounds during the Civil Rights era. This year we were blessed to have the opportunity to invite 15 students and four staff members. During the trip we made stops at Memphis, Tennessee, and Birmingham, Montgomery and Selma in Alabama. Our goal was to provide a challenging and life-changing experience.
Words cannot describe or give justice to the many thoughts and feelings I have since returning to Augie. We had the opportunity to learn firsthand from many individuals who participated in the various marches and student organizations, and those who were jailed numerous times.
Two things I still cannot grapple with are the sheer amount of complacency that exists today, and how we as a community are able to live harmoniously while our society painfully lives with the many social injustices! Why do we live in a society where we cannot even ask those tough questions? Is it to avoid uncomfortable moments and confrontation? It is this mindset that encourages the status quo to thrive.
In the famous words of Dr. King in his letter from a Birmingham jail:
I have almost reached the regrettable conclusion that the Negro's great stumbling block in his stride toward freedom is not the White Citizen's Counciler or the Ku Klux Klanner, but the white moderate, who is more devoted to 'order' than to justice;…. who constantly says: 'I agree with you in the goal you seek, but I cannot agree with your methods of direct action'; who paternalistically believes he can set the timetable for another man's freedom; who lives by a mythical concept of time and who constantly advises the Negro to wait for a 'more convenient season.'
I would like to thank Ken Brill for collaborating with our office to help provide the much-needed funding and for serving as a bridge builder. I would also like to thank Michael Rogers and Ashley Allen for being good ushers and positive role models, who helped the students deeply reflect upon their experiences. Lastly, I would like to thank the students who took the opportunity to participate in an unforgettable experience and letting me share the gift that was bestowed to me many years ago, when I made this same journey for the first time. 
April 22: It Begins with A (lot of visitors and volunteers)
In spring, high school seniors turn to thoughts of commitment… to their new college or university, for example. For those who haven't already chosen their match for the next four years (five, maybe six for the university-goers), the stress of that decision can overshadow the lure of graduation and summer. College-going seniors worry about leaving home, finances, managing college classes, getting along with roommates, finding friends, eating, sleeping, choosing a major… and reassuring their parents about leaving home, finances, managing college classes, getting along, etc.
This is where you can help.
Augustana's big final visit event for students who either will or might not join the Class of 2021 is "It Begins With A" on April 22. About 300 visiting students and family members will arrive on campus for the day. Some already will have made their tuition deposit, and they want to mix in with the community and start to feel at home on campus. Others are so close to committing, and just itching to ring that gong. And some are still wavering and wondering. During those few hours on April 22, all of these students want to gain a sense of what their lives will or could be like at Augustana.
So in a couple of weeks, you'll get a campus email asking if you would volunteer for an hour or two on that day, especially in the morning. Last year about 100 volunteers helped visitors feel welcome, convinced, and part of something big.
It Begins with A volunteers are largely responsible for radiating the energy and spirit of the place, plus sharing key details that only faculty, staff and students can know. Consider signing up to shake hands, have lunch with a couple families, or just make yourself available to chat about what you know—whether that's how to use the 3D printer, which of the Quad Cities is your favorite, or what's the best soup in The Gerber Center. It's a fun day, and by inspiring visitors to feel strongly about Augustana, you may be reminded of what it means to you.  
New Face on Campus: Dr. Brian Lovato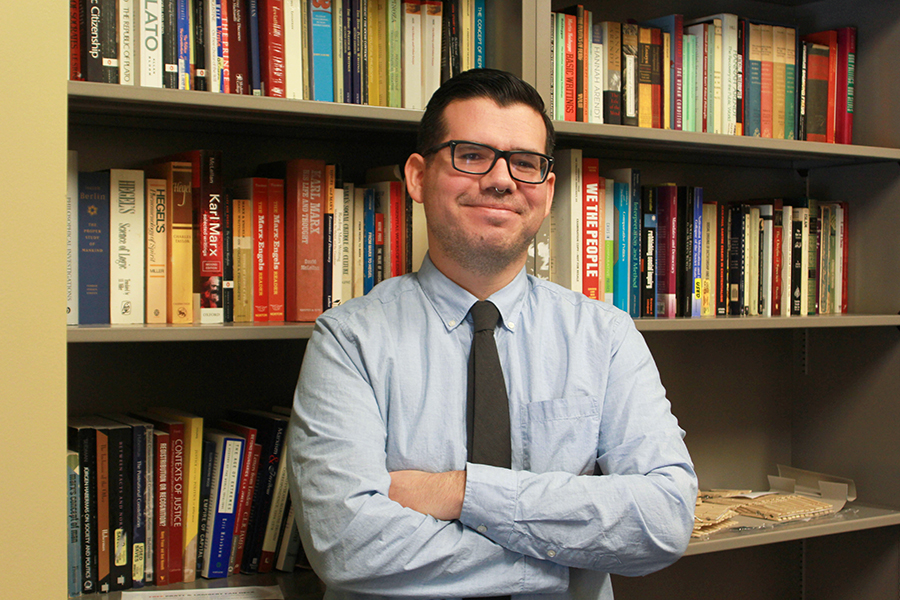 Dr. Brian C. Lovato
B.A., political science, California Baptist University in Riverside, Calif.
M.A., politics, The New School for Social Research, New York
Ph.D., political science, University of California, Santa Barbara
With two dachshunds in the backseat, Brian Lovato and his partner, Stephanie Hayden, drove out from California last summer so he could join Augustana as a visiting assistant professor of political science.
Throughout college, Brian played bass in various bands, occasionally contributing guitar, keyboard and vocals. He attributes his passion for political theory to a love of music.
"Sometimes, I think there can be more astute political analysis in a three-minute punk song than in a stack of academic journals," he said. "It's both a creative outlet and a 'plug-in' to new communities, wherever you are."
Brian is also a founding editor of the open-access journal, Abolition: A Journal of Insurgent Politics. The idea stemmed from his disappointment in political science journals when compared to those from other disciplines.
"My peers and I were concerned about social change, so we started it as an attempt to recreate that movement within political science," he explained. "Now it's grown to the point where we have close to 50 people directly involved. Some individuals on the editorial board are currently incarcerated and using pseudonyms. When we review articles about movements, we make sure there's someone involved with the movement reviewing the article. It helps hold us accountable as academics."
Brian looks forward to challenging discussions with students and professors at Augustana. He values the interdisciplinary nature of majors and courses across campus.
"It means that the students are exposed to a lot of different disciplines, and the faculty is, as well," he said. "Everyone genuinely cares about each other and is deeply concerned with real, meaningful issues. That's what political science ought to be doing."
In the Works
Director of Human Resources Laura Ford shares periodic information and wisdom pertaining to being an employee of Augustana College.
Generally when the daffodils are blooming outside of Founders Hall, it's time to think about employee performance appraisals. So you may be wondering about the plan for this year. 
After receiving feedback from the campus community, it was clear that some improvements were in order. Currently, a Rapid Improvement Team is working on developing a new system. Many of you may have already been visited by team members, and we are excited about some of the ideas generated in this weeklong rapid improvement event. 
The team is sharing the outcomes of their work on Friday morning, March 17, at 10 a.m. in the Olin Auditorium. All are invited and encouraged to attend.
We'll look forward to sharing the final product and timeline for upcoming appraisal activities in the near future.
From the Cabinet: Sheri Curran
Sheri Curran, General Counsel
As a non-profit corporation, Augustana's governance is officially vested in its Board of Trustees. The college must have at least 21 but no more than 40 trustees. At least 10 trustees must be members of an ELCA church, and three of those 10 must be pastors. The Bishop of the Northern Illinois Synod (currently The Reverend H. Jeffrey A. Clements of Rockford) is automatically appointed to the Board of Trustees, as is the Executive Director of the Network of ELCA Colleges and Universities (currently Mark Wilhelm of Chicago).
Trustees typically serve two successive four-year terms. While many of our trustees are alumni, many are not. All, however, share a common interest and appreciation for higher education, and have demonstrated a commitment to Augustana College.
Trustees are not paid in any way for their service. In fact, not only do they continue to express their commitment to the college with their time and energy, but 100% of our trustees also support the college financially.
As fiduciaries, trustees have a heightened legal responsibility to the college. To carry out these responsibilities, the Board of Trustees has delegated many of its powers, and this delegation occurs on several levels.
First, the board has 10 standing committees, each of which has oversight of a distinct aspect of the college. These committees meet on campus during board meetings, and off campus in between meetings as needed. Responsibilities also are delegated generally and individually to members of the administration, to officers, and to the faculty. These powers are outlined in the constitution and bylaws, and they lay the legal framework for shared governance at Augustana.
You may notice the flurry of activity in October and May, when the Board of Trustees meets on campus. The board meets three times per year to fulfill its responsibilities to Augustana. The board also meets in January at varying locations; this meeting is intended to provide trustees an opportunity to dive deeper into broad matters impacting Augustana, and often similar institutions, without the regular business and committee meetings that otherwise occur.
The next meeting of the Augustana College Board of Trustees will be May 11-12 on campus, just a week ahead of graduation of the Class of 2017.
Seen & Heard
"In reality, the location of that border and the memory of that border have changed over time."
—Dr. Chris Strunk, assistant professor of geography, speaking as part of a panel discussion on the topic of "Immigration Uncertainty: History, Law and Politics of Immigration" in Olin Auditorium on March 14.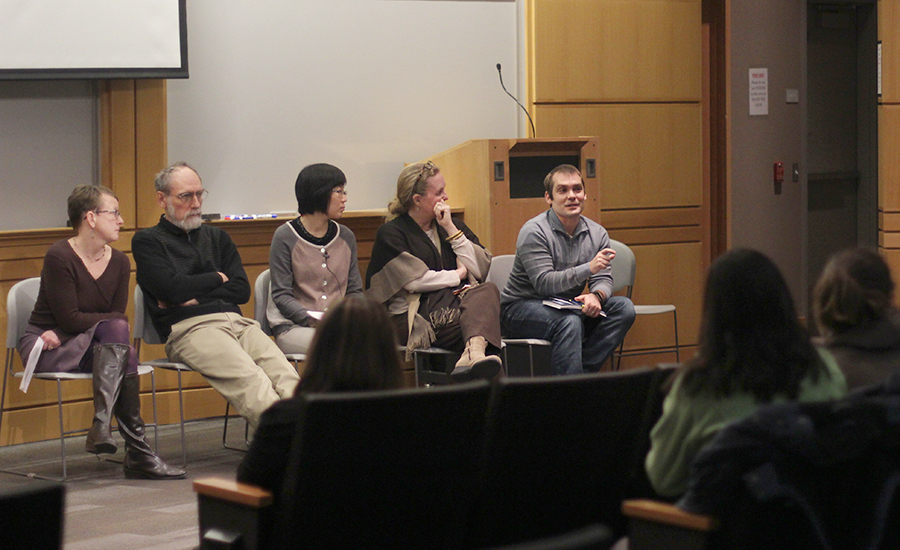 Acknowledge is published by the Office of Communication and Marketing at Augustana College, Rock Island, Illinois. Contact Beth Roberts, editor. Rachel Reiter '18 of the Augustana Writers Bureau is the author of "New Face on Campus." Photographers for this issue are Marlisa Barrett '19 and Emma Stough '17 of the Augustana Photo Bureau; other photos were submitted by Michael Rogers and Dave Wrath.