January 2018
Share the news
Between Christmas and the New Year, Dr. Michael Egan of the education department dashed off this email to sharenews@augustana.edu:
Dear Augie Pub Team,
Just saw this Onion video come across my feed: https://www.facebook.com/TheOnion/videos/10156194694594497/ 
The spokesperson in that video is recent Augie grad Debo Balogun. Not sure if your department wants to do anything with that.
– Mike E.
This email is great for a few reasons:
1). Mike took a guess that Debo's video might be something potentially newsworthy (and he also guessed right).
2). Not only did Mike think of public relations at Augustana, he remembered Share News as the ideal way to share the news.
3). How funny is Debo in that video? We all needed that.
Humor aside, Debo's intelligent portrayal of both confidence and humility seems like straight-up archetypical Augustana. This psychology / theatre arts grad is an excellent representative of his alma mater. Maybe he'll even go on to be a star. Watch for a web story about what he's up to, coming soon, as a result of this quick thinking on Mike's part.
So this is a reminder—especially to faculty, but really everyone who is around students—to watch for interesting tidbits about student success and send them to sharenews@augustana.edu. A team of editor-types in the Office of Communication and Marketing will review your info to determine best audience, timing, choice of media, etc.
And if you think the local news media should be involved, please contact Director of Public Relations Ashleigh Johnston before contacting your favorite reporter. Ashleigh is in the best place to position the college well for the news spotlight.
The many rewards of a single award
By Lori Roderick '86, Director of Corporate and Foundation Relations
The Illinois Board of Higher Education recently granted Augustana $34,467 to offer students from Illinois the chance to participate in an Augustana Emerging Professionals Program funded by the Illinois Cooperative Work Study (ICWS) program. This comes at a time when many local agencies that have funded internships for individuals in the past are moving away from that practice in favor of funding social service agencies directly.
ICWS provides grants to both public and independent colleges and universities across Illinois. It is designed to enhance public-private sector partnerships, expand internship opportunities, reduce student reliance on loans, encourage permanent employment of Illinois graduates in Illinois, and provide links between academic programs and employment.
This is the seventh year Augustana has received funds from this program, which was temporarily halted during the recent state budget crisis. Of the approximately 60 grant recipients each year, Augustana consistently has been one of the top five awardees for dollar amount granted.
This comes at a time when many local agencies that have funded internships for individuals in the past are moving away from that practice in favor of funding social service agencies directly.
Our students receive college credit and a stipend for a non-profit internship, or subsidized pay for an otherwise low-paying business internship. Of course, they also develop as young professionals who fill needs, gain work experience and make connections at Illinois businesses and organizations that may lead to employment after graduation.
Leslie Scheck, associate director of career advising and education in CORE, oversees Augustana's program. She says about 20 area employers will offer internships to students in many majors through this year's program, and many seek Augustana interns year after year. Employers include the City of Moline and Deere & Company, Ballet Quad Cities and Niabi Zoo, WQAD and WQPT. All welcome enthusiastic Augustana students from Illinois who are ready to apply their liberal arts learning, classroom knowledge and problem-solving skills.
Writing grant applications like these is so rewarding: we get to share the story of our dedicated students and demonstrate how the business community values an Augustana education through its eagerness to partner with us. When those stories result in a $35,000 award, so that dozens of students can practice their skills, deepen their résumés and fill a need in the Quad-Cities community—then we know we have made a difference in students' lives.
Field Notes
Visiting the incredible Ruth Robinson '39 Hanna
By Kelly Read '02 Noack, Director of Alumni Relations
I was a new employee the first time I met Ruth Robinson Hanna on campus celebrating the 70th reunion of the Class of 1939. I was immediately struck by her energy and zest for life at 91+ years. She shared with me that day that she likes to return to campus and run up the 45 Old Main steps, to remind herself that she is not old.
On January 10, my colleague Kathleen Bentler and I visited with Ruth at her home in Wilmette, Ill., to celebrate her 100th birthday and update her on the college. As we pulled up the driveway of her two-story home, we saw three huge balloons floating in the window, signs of her birthday celebration. After greeting us, Ruth proudly showed us her many gifts, including 145 cards and a framed picture of Old Main.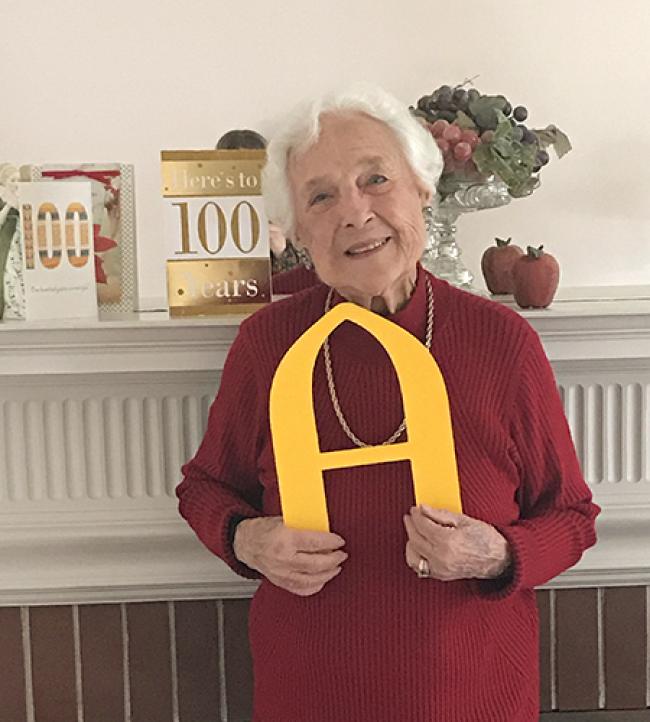 Born and raised in Rock Island, Ruth attended Audubon Grade School, Washington Junior High and Rock Island High School. At Augustana she majored in speech pathology and psychology, and was president of the Kappa Epsilon sorority, Vi-Queen and vice president of her class. She was involved in Rockety-I, Alpha Psi Omega, theatre and debate, among many other activities.  
Following graduation, Ruth taught for two years at Augie before attending Northwestern University. She married an attorney, John Hanna, and went on to a 28-year career as a book reviewer and performance artist, which allowed her a flexible schedule while her three children were growing up. 
Now, at 100, Ruth is busy with Bible studies and book clubs with millennials, daily outings with friends and family, and monthly meetings at Northwestern. She hopes to attend next week's Winter in the Windy City and plans to return to campus in 2019 for her 80th reunion. 
Her secret to a long and happy life? 'Breathe in and eat out.'
What is her secret to living a long and happy life? "Breathe in and eat out," she replies.
Ruth's love for Augustana has not diminished in the 79 years since her graduation. The framed picture of Old Main is one of her favorite gifts, and it captures the way the building looked when she was a student. She continues to be a loyal supporter of the college, giving back to the institution that she feels gave her so much.
Ruth says some of her fondest memories are from daily chapel at Augustana, a time that brought everyone together to be inspired. She feels she had the best of what education can offer at Augustana, and she is proud of how academically strong the school has remained.  
Visiting with Ruth gave us a glimpse of Augustana's past, and a chance to see that while much has changed over the past 80 years, so much has remained the same—most importantly, Augustana's mission. The visit also reminded us of the love our alumni share for the college, and the important work of our office to continue building relationships with alumni from all generations.
New Face on Campus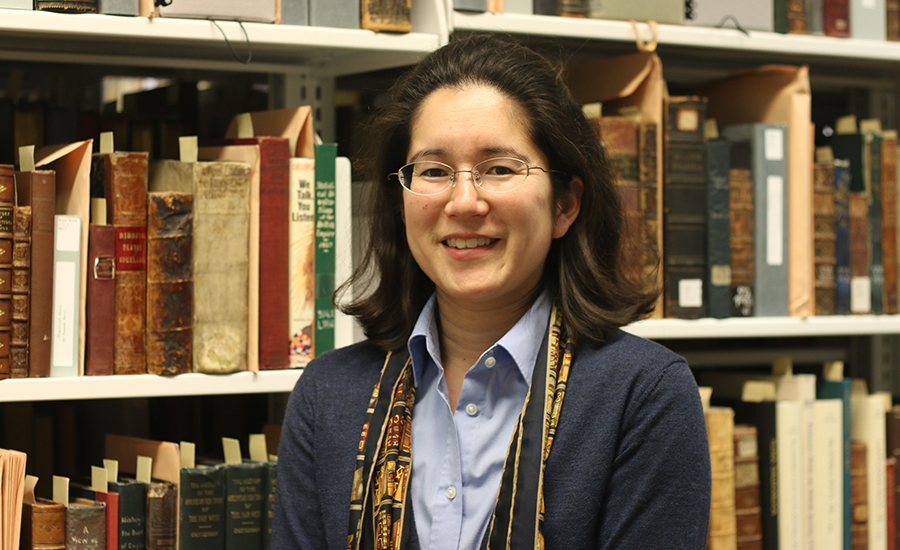 Emma Saito Lincoln, Instructor and Special Collections Librarian
B.A., Asian languages and civilizations, Amherst College, Massachusetts
M.S.I.S. and C.A.S., preservation administration, University of Texas at Austin
Originally from the suburban town of Garrett Park, Md., near Washington, D.C., Emma Lincoln has spent her life following passions for travel, exploration, nature and library science.
After spending two years of high school in Japan, Emma honored her academic interests and family heritage by studying Asian culture at Amherst College, a small liberal arts school in Massachusetts.
Knowing she wanted to continue her education in library science, Emma completed internships at the National Archives and Smithsonian prior to graduate school. She later became the media preservation coordinator at the University of Illinois at Urbana-Champaign and preservation education specialist for the Library of Congress, before starting a small organic farm with her husband, Kiyoshi Mino, a needlefelt artist, in Forrest, Ill.
"It was a diversified farm where we produced meat, eggs and vegetables, and sold them at farmer's markets," she explained. "I left librarianship for about seven years."
'I was shocked to find that there were women at Augustana as early as the 1870s. They were studying math and science at a time when that was not common.'
But while she loves the outdoors, Emma is excited to renew her passion for research and discovery at Augustana. "The college's deep history is unique and special. We have records from the very beginning," she said.
"One of the things that stood out to me is the role that women played. I was shocked to find that there were women at Augustana as early as the 1870s. They were studying math and science at a time when that was not common."
Over time, she hopes to utilize Tredway Library's integrated library instruction to reach different student groups on campus and communicate the significance of their events.
"It's tempting to keep meeting minutes, photos and scrapbooks in a dorm room or attic and pass them along to the next generation that way," she said. "But they're far more likely to survive through the Augustana archives. Then they're available for people to study and learn from."
She added, "Of course, the challenge now is that most of what our current students are producing is digital. But it's important to gather materials that can tell the story of Augustana today, which is a much more diverse campus. To me, that's a really valuable part of my job. It's not just a bunch of old stuff—it's a growing, living collection."
What does she enjoy doing when she's not in Special Collections? Emma plans to use her ice hockey skills as a new member of the QC roller derby team, Quad City Rollers.
From the Cabinet
A soft landing for the final 2018 tax reform for higher education
By Kirk Anderson '93, Vice President of Finance
The end of 2017 was an exciting time for Americans as word quickly spread that many would receive tax relief in 2018. But at the same time, higher education looked to be a target of revenue generation for the government, as many proposed changes to the tax plan levied new taxes on not-for-profit organizations.
With the adoption of these proposed tax changes, Augustana and its employees were looking at the potential of unfavorable financial and tax impacts.
Augustana and its employees were looking at the potential of unfavorable financial and tax impacts.
Initial proposals targeted some of the most selective and affluent colleges in the country, as the House bill proposed a 1.4% excise tax on investment income for private educational institutions. Fortunately, this proposed tax would not impact Augustana, as this proposal also included minimums related to endowment value. Unfortunately, removing the tax-exempt status from any future bond issuances would create challenges for Augustana, as interest expense would increase on any subsequent borrowings.
As many schools were also in this situation, there was a strong demand for bond issuances in late 2017 to meet the anticipated year-end deadline. Because Augustana did not have any immediate borrowing needs, we did not participate in this trend.
In addition, Augustana employees utilizing the tuition remission program would be required to report tuition benefits as taxable income. Depending on an employee's income level, the impact of this tax increase would vary.
Thankfully, details of the bill omitted the major concerns from the original proposal, including both tuition remission and tax-exempt status.
After weeks of anticipating the aforementioned changes, the final details of the 2018 tax reform bill were released in December. Thankfully, details of the bill omitted the major concerns from the original proposal, including both tuition remission and tax-exempt status. It does, however, include a couple of changes:
1. Augustana will be required to record unrelated business income by separate business activity, ultimately creating a separate profit / loss statement for each activity.
2. The college will pay an excise tax (21%) on excessive compensation to a single individual (greater than $1 million) and a 1.4% excise tax on assets greater than $500,000 per student.
At Augustana, we have never reached these excise tax thresholds for compensation or assets, and we do not anticipate reaching them in the future. If you have any questions related to the new tax legislation, please direct them to me in the Business Office.        
Seen & Heard
The time is now, the day has come.
My worst days are over and my best days are ahead of me. 
Prosperity and victory are coming my way.
Today is the day I claim what's mine.
—from "Moving Forward" by Darnell Davis & The Remnant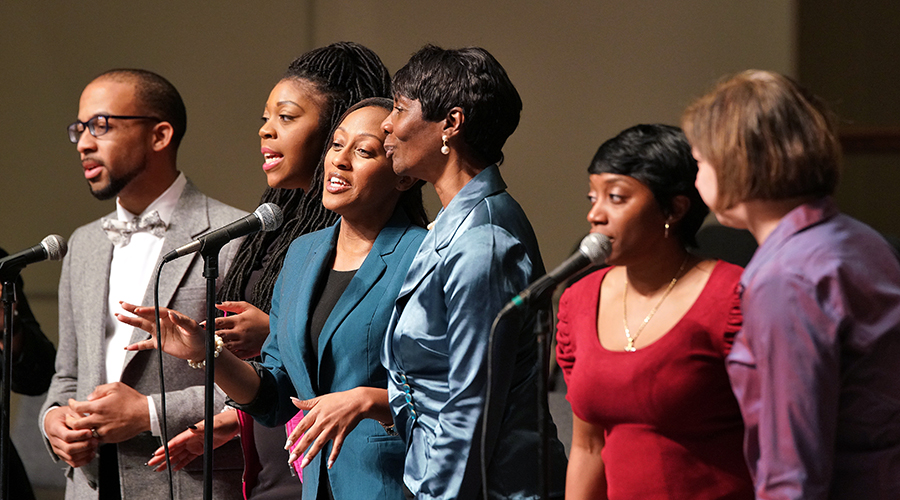 Acknowledge is published by the Office of Communication and Marketing at Augustana College in Rock Island, Illinois. Contact Beth Roberts, editor. Rachel Reiter '18, Augustana Writers Bureau, is the author of "New Face on Campus." Photos are by Marlisa Barrett '19 and Tori Charnetzki '18 of the Augustana Photo Bureau, Paul Colletti and Kelly Noack.