April 2018
April is for poetry, iris and ice
By Rebecca Wee, professor of English and creative writing
Even if you aren't a lover of poetry or snow in mid-April, you may know this line, which opens T. S. Eliot's poem, The Wasteland: "April is the cruellest month...."
Plug those words into a google search and you'll get myriad variations. On April 1 the personal finance section of the British Express announced: "April is the cruellest month for annual price hikes." The Copenhagen Post recently ran this headline: "April still the cruellest month: Sahara weather, birch pollen and higher energy bills." Eliot's line regularly makes its way into weather reports and lamentations of the U.S. tax season. We have issues with April.
Ask a poet though, and you'll likely hear about National Poetry Month, designated by the Academy of American Poets in 1996 to build appreciation for poetry in our fair and conflicted country. I had been teaching at Augustana for just two years when National Poetry Month was born, and I remember thinking April was the perfect month to celebrate poetry: in the Midwest certainly, April is a month of deliciously fitful weather. One day we wake to birdsong in branches misty with new green, and by nightfall our windows rattle with incoming ice. Tulips, iris, and daffodils send up their first shoots, only to be covered with snow or munched to the ground by foraging deer.  
National Poetry Month be damned, we want to put away our mittens and Uggs. We've had enough of winter's fractious cold and grey.
The Wasteland is a modernist collage of allusions, sudden shifts in voice, location, language, and time; it deals in satire, dissonance, and prophecy—it is a difficult poem, situated in 20th century uncertainty, reminding us, uncomfortably, that we are not as invincible as we'd like to believe. And that a bit more humility and patience might serve us well.
April is the cruellest month, breeding
Lilacs out of the dead land, mixing
Memory and desire, stirring
Dull roots with spring rain.
April comes to awaken us, which requires various and dramatic shifts in approach, temperature, plans, clothing, and poetry. We can whine or we can wonder at our place in the wonder, and move with it, whether onto new grass or new ice.
More accessible than The Wasteland, take a look at Thomas Hardy's "The Darkling Thrush," written at the turn of the century in 1900. It may be a winter poem but it's got April in it—both the grey and the luminous.
Field Notes
By Kai Swanson, special assistant to the president
Each year I get to bring a small group of students to Springfield for the annual Student Lobby Day sponsored by the Federation of Independent Illinois Colleges and Universities (FIICU). This was a relatively quiet year, given the temporary protection accorded the Monetary Award Program last spring.
On the drive down, I ask the students about messages they want to convey. This year's group (Adiba Hasan, Lydia Lara, Elena McNab, Rachael Meadors and Mia Polinsky) wanted to talk about protection for "Dreamers" under the DACA program, and ways the state could staunch the exodus of high school students leaving Illinois for college.
They held their own in meetings with Sen. Neil Anderson (R-Rock Island), Rep. Mike Halpin (D-Rock Island) and Rep. Tony McCombie (R-Savannah). Lydia Lara even tracked her hometown legislator, Rep. Anthony DeLuca (D-Chicago Heights) and literally lobbied him in a lobby.
I do my best to hang back on these interactions. After a little bit of prep on the drive down, I've found there are no better advocates for Augustana than Augustana's students.
On the drive home, I invite the students to share with me their concerns regarding their (and their fellow students') experiences. I'm proud to say they are clearly upholding a tradition that was already well-established in my own student days of the early 1980s: they love this college, they recognize its shortcomings, and they are anxious to make it a better place for all.
I hope the lobbying trips and the conversations we share leave an impression on the students. We never expect to fix everything on our trips to Springfield, and so long as Augustana is made up of people, it will be forever beloved and flawed. Yet we continue trying to make the communities in which we find ourselves better, stronger and healthier, and eventually we learn there is powerful sustenance in the work.
Hearkening back to the Constitution's preamble, Supreme Court Justice Ruth Bader Ginsburg recently told a group of newly naturalized citizens, "We have made huge progress, but the work of perfection is scarcely done."
It's my hope that through experiences like these, our students understand Justice Ginsburg's words are not an expression of despondency, but of great promise.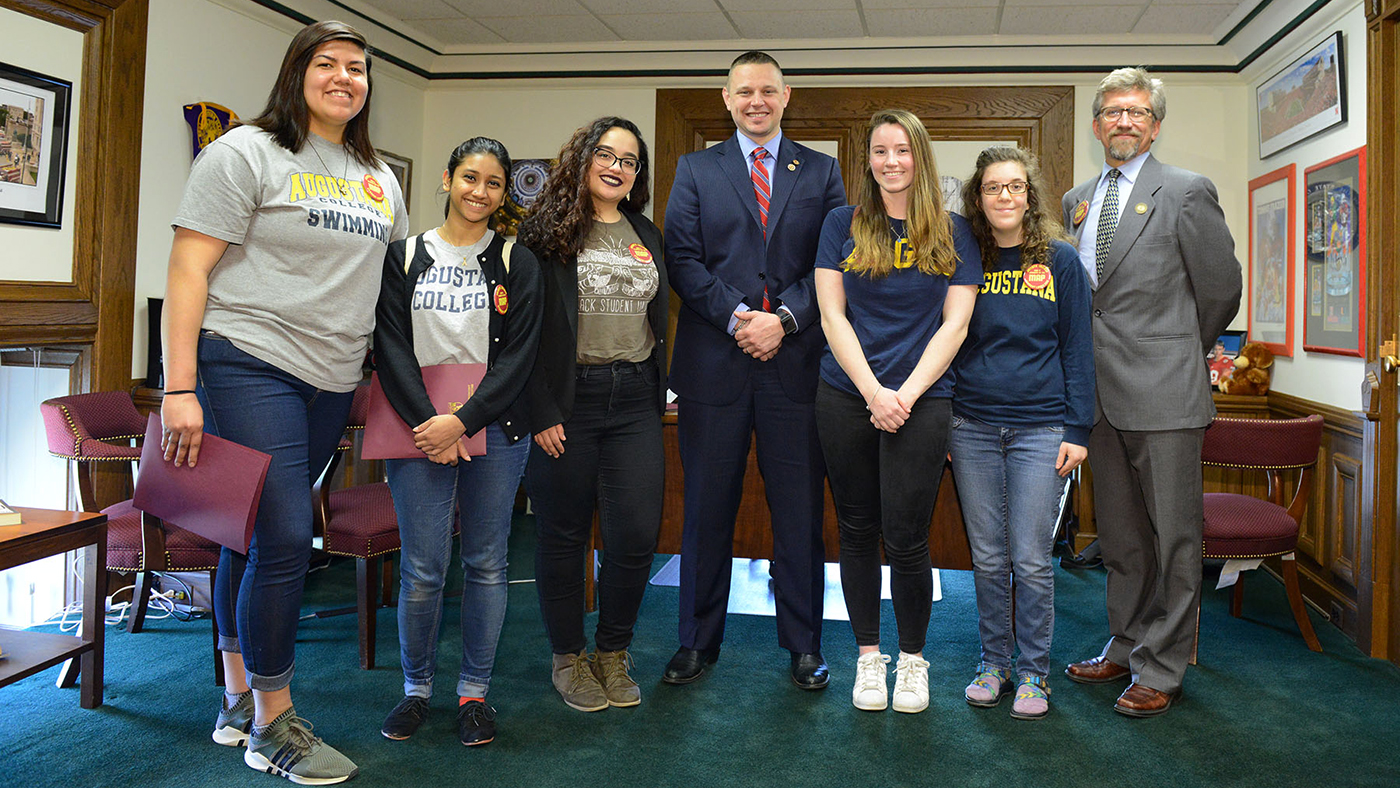 New Face on Campus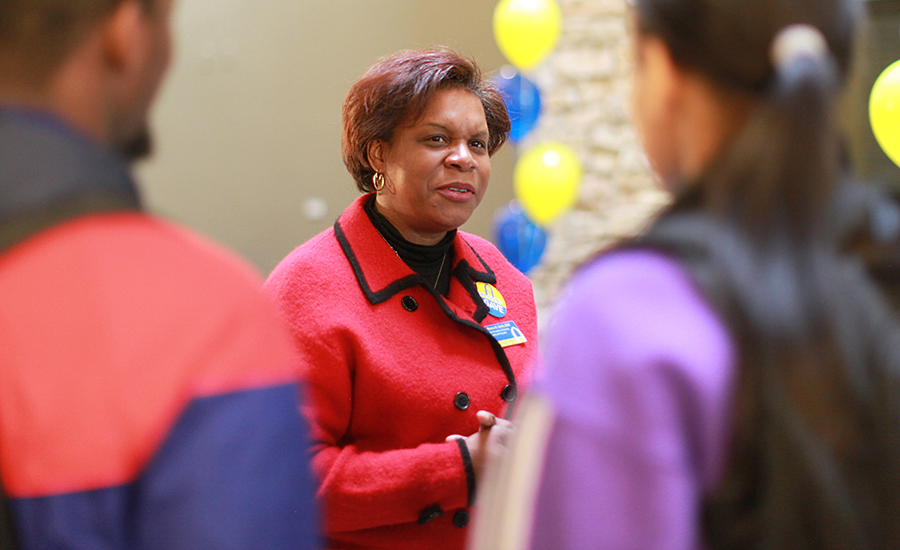 Dr. Monica Smith, Vice President for Diversity, Equity and Inclusion
B.S.W., Eastern University, St. David's, Penn.
M.S.W., D.S.W., University of Pennsylvania
After serving in higher education as a faculty member, administrator and diversity officer for 18 years, Dr. Monica Smith was pleasantly surprised to find a new home at Augustana. The college's commitment to social justice and willingness to talk about issues on campus caught her attention.
"Augustana allowed itself to be vulnerable," she explained. "It was very introspective when looking at the challenges related to underrepresented students, faculty and staff. It has made efforts toward improvement and recognized a need for my role."
Part of the President's Cabinet, Dr. Smith will collaborate with other campus leaders to "ensure that diversity, equity and inclusion are always on the table, engaging the population in ways that are culturally relevant."
She wants to strengthen connections between organizations and clubs like the Black Student Union and Latinx Unidos, seeking greater participation among students in each other's events.
Future dialogue will "empower people to have a voice and help them walk away understanding more than they did before." Establishing effective measurement techniques and tracking progress are also a priority.
"It's very important for me to be in a place where I feel like I am living and walking in my purpose," said Dr. Smith. "When I was growing up, my parents were always helping others. They fostered children and took care of those who were aging. They were intentional in their community activism, and my church emphasized this, as well. Augustana does the same thing."
Apart from her position, Dr. Smith is excited to explore the Quad Cities, find permanent housing and join a church congregation. She takes pride in being a "crazy, out-of-control sports fan" who frequently loses her voice, particularly when it comes to college cheerleading and football.
In the Works
Director of Human Resources Laura Ford periodically shares information and wisdom pertaining to being an employee of Augustana College.
If you haven't marked your calendar, please join us on Thursday, April 26, as we celebrate the retirement of 10 colleagues. Festivities will start at 3 p.m. in Gävle, with time for food and congratulations. At 3:30 p.m. we will have a brief program with well wishes from a colleague of each of our retirees. 
The following community members will be recognized:
Evelyn Campell, Vice President and Dean of Student Life, 8/19/91 – Summer 2018
Stan Furlong, Copy Center Operator, 10/24/06 – 8/31/17
Dale Hackett, Public Safety Officer, 11/2/92 – 2/12/18       
Rick Jaeschke, Associate Professor Music, 9/1/02 – 5/31/18       
Dave Myatt, Associate Director of Financial Aid, 7/14/80 – 5/31/18
Mary Neil, Professor of Music, 9/1/87 – 5/31/18 
Paul Olsen, Professor of English, Coach of Men's Cross Country and Track & Field, 9/1/66 – 5/31/18 
Marilyn Stidham, Building Services Worker, 9/1/88 - 2/31/18       
Bob Tallitsch, Professor of Biology, 9/1/75 – 5/31/18   
Carla Tracy, Director of Library, 9/1/94 –12/31/17   
From the Cabinet
Sheri Curran, general consul
When I began working in higher education, I realized just how intense a hiring process could be. Now, having worked at Augustana for many years—with the opportunity to witness the incredible dedication, commitment and contribution of employees like Dean Evelyn Campbell—I understand the reason for the intensity of the hiring process.
Plenty of people have the technical skills to be a dean of students. Far fewer can find their footing amidst the day-to-day challenges of working in higher education, and put into action their vision for the position meshed with community expectations. Yet, as the chair of the search committee for our Vice President and Dean of Students, I know this is the person we must find.
I thought it might be helpful to outline what the search process entails. More importantly, I hope to encourage all community members to be a part of the hiring process.
We are conducting a national search, and have enlisted the assistance of Spelman Johnson to recruit qualified and diverse applicants. We created a profile of the Vice President and Dean of Students position, posted on their website, which provides individuals interested in the position a snapshot of Augustana and of the position. This profile is currently being marketed in a variety of higher ed and student affairs organizations. 
A search committee has been convened, and it consists of me, Sharon Varallo, Wendy Hilton-Morrow, Ken Brill, Laura Ford and Monica Smith. I am pleased that two students are also members of the committee, Dale Charlier and Guadalupe Martinez, and a member of the Augustana College Board of Trustees, Diane Harris. 
In early May, the search committee will review applications received for the position. The search committee will help perform the critical task of identifying a small group of individuals to interview in late May and early June. From that group, we hope to have two to three finalist candidates indentified and on campus in June. That is when your work as community members comes into play.
There will be opportunities for everyone on campus to meet with the finalist candidates. Some meetings will be dedicated to particular groups who work closely with the dean of students, and others will be open to any community member with an interest. Please stay tuned for invites in early June for these meetings. Your input is highly valued, and will be considered when a finalist is invited by President Bahls to join the Augustana community.    
Seen & Heard
Yedi dollars in vernacular, rap no, y3 deliver no spectacular. Dracula!
Me, I am just a traveler, I am still a bachelor!
— From an original rap by Richard Fordjour '21 of Ghana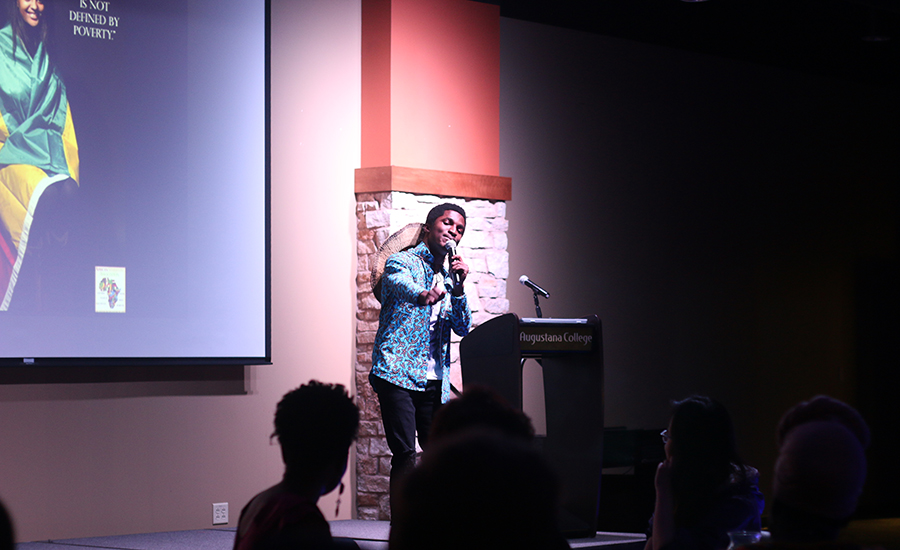 Acknowledge is published by the Office of Communication and Marketing at Augustana College, Rock Island, Illinois. Contact Beth Roberts, editor. Rachel Reiter '18, Writers Bureau, is the author of "New Face on Campus." Photos for this issue are by Marlisa Barrett '19 and Amanda Moore '18, Augustana Photo Bureau, and Quan Vi.