April 2017
I say "Augustana," you say "Augustana"
Founded in 1860, Augustana is affiliated with the Lutheran Church and has Scandinavian roots, blue and gold school colors and a Viking mascot. It is located in the south-central part of Sioux Falls, South Dakota, just 10 miles from the Minnesota border. Oh, wait—that's Augustana University.
Last week our college appeared in a Wall Street Journal article about colleges that have the same or similar names as other schools. In preparation for this story, Keri Rursch in communication and marketing reached out for stories about Augustana mix-ups. Most didn't appear in the article, so here are a few good ones:
From Dr. Dag Blanck, Swenson Swedish Immigration Research Center: There was a Norwegian exchange student who showed up on campus one year in Sept. "I am here now!" No one knew who she was because she had gone to the wrong Augustana (the other one is Norwegian and has fellowships for Norwegian students). But our Augustana matched the fellowship and she stayed in Rock Island. True story.
From Dave Wrath, athletics: One time I was coming out of my office and overheard our wrestling coach on a Sunday afternoon speaking into his cell phone. "I am standing in the middle of our lobby and I don't see you." He was talking to a recruit who was in the lobby of Augustana College in Sioux Falls, South Dakota.
In athletics we get confused all the time, but the most notable was in early November of 2014 when the other Augustana was playing Iowa State in an exhibition basketball game in Ames on the same day we were playing the University of Iowa in Iowa City. Then there was the time in the 1980s when the Sioux Falls folk must have played the University of Missouri in basketball and we were sent the guarantee check ($25,000.00) by mistake. 
From Dr. Kathy Jakielski, CSD: When I was interviewing for my first full-time faculty position, the nerve-wracking experience that it is, I had a campus interview scheduled at Augustana College.​ A week after setting it up, I received a phone call from "a chairperson at Augustana" inviting me to interview. When I said that I already had a campus interview scheduled, she insisted that I did not.
At the time, I didn't even know that there was another Augustana, an Augustana University, but we eventually figured out the confusion. Before hanging up, she abruptly added that I was making a mistake by interviewing at "the wrong Augustana."  
Almost 20 years later, I still am on faculty at the right Augustana—Augustana College!
From Pastor Richard Priggie: Several years ago we received a phone call from a Youth Director of a large Lutheran parish in Minnesota, asking to confirm an overnight visit, which she had booked for her high school youth group at Augustana College. We had no record of any visit arrangements with that church. It became clear what had happened when she said, "I was planning that it will be about a two-hour drive to the college. Is that right?" I knew that it would be more like a six-hour drive, and that was what tipped me off that it was "the other Augustana" she was referring to.
From Christine Aden, Tredway Library: During the renovation of the library/addition of the Gerber CSL, I stayed late after work on a summer day. One of the security guards (Jeff Bell, possibly) told me that he had just finished an hour-long situation where someone kept calling to be let into the library (which had just closed) so they could get their backpack with their apartment keys, as their roommate was gone for the week. Each time, the switchboard sent the guard over, and each time, no one was there.
After an hour (and three phone calls from an increasingly frustrated student, who kept saying they were at the construction entrance), the switchboard asked exactly what they were seeing at the construction entrance, because the guard was physically standing at the door. When the student began to reply and talk about the cross-streets, etc., the switchboard operator realized they were at Augustana in Alberta, Canada.
See yourself in Augustana social media
Even if social media doesn't pull at your attention, it's paramount to the people who are the reason we are here: students. You, your office or department may suddenly appear on Instagram, Facebook or even YouTube at some point, especially during the extended conversation that happens between prospective students and Augustana during the college search. It's all part of introducing ourselves to students, and students paying attention to us.
For example, in the Major Scholarship Contest, prospective students combine a 100-word "essay" with a photo (their own or from this collection), and post their entries to social media using #Augie2021. The mini-essay addresses either what they could do in their major at Augustana, or what they will do with Augie Choice. Usually they describe specific goals within a major—even naming names. You can see all the entries on the tagboard, but here are some examples:
As an environmental studies and psychology major at Augustana, I will examine the playful relationship these studies have with each other. I will study the mind, so I can guide humanity to care about climate change the same way we care about our families. Dr. Geedey will teach me to heal the planet in new, innovative ways. I will understand the dance between these fields, and manipulate their steps in order to prevent stumbling. We only have one Earth, and Augustana is the place I am most confident that I will gain the tools I need to better it.—Kari Meyer
As a history major at Augustana, I will be part of a great program emphasizing understanding history rather than memorizing it!—Michael Setlock
As a biology major at Augustana I will get to further my education of how life all around us exists and works. I will get to complete their human cadaver dissection once again and take part in numerous opportunities to help the community and broaden my perspective on social health issues with the trip to Nicaragua.—Emilee Campisi
The future relies on computers and I want to be a part of it. I was just reading an article on the CS page telling me the importance of Artificial Intelligence in the future. The AI course with Professor Stonedahl is something I would love to take.—Johann Roman
Augustana also has something new on YouTube: three "whiteboard" videos. Geared to an audience of potential employers as well as prospective students and families, the videos focus on three of the top-10 qualities employers look for in their hires (according to the 2017 Job Outlooks Survey from NACE). Only two-minutes-plus each, the videos focus on how students build these skill sets at Augustana.
Leadership focuses on how students can become leaders outside class—especially through student groups, internships and the Office of Student Life and Leadership.
Problem-solving looks at how students develop skills through hands-on learning such as internships and research, using resources such as the Center for Speech, Language, and Hearing, and the EDGE Center and Upper Mississippi Center in CORE.
Communication focuses on Augustana's outstanding academic program, from First-Year Inquiry through Senior Inquiry, and how students learn to communicate well on campus and in professional settings.
Field Notes – DeAnna Bender '17
DeAnna Bender is one of a group of students of environmental studies involved in a project to combat erosion and beautify campus by removing invasive species. Through staged course projects and the Upper Mississippi Center, Drs. Matthew Fockler, Jason Koontz and Michael Reisner have begun working with students and other members of the campus community on this long-term effort.
This fall, the ENVR-380 special topics class measured the density of invasive shrubs, saplings and mature trees throughout Augustana's forested areas. Our goal was to find problem areas on campus that suffer from erosion and a high density of invasive shrubs. Woody plant species like oaks and hickories are the best types to have around, and there are a few mature trees on campus. The problem we currently face is too many trees growing close together. Along with invasive shrubs and dense understory, the ground is too shaded and crowded for wildflowers and hardy grasses to grow. 
We identified our focus for a small-scale shrub removal in late March: the forest plot area along 38th street, by Seminary Hall. This plot has a steep slope with a dense understory and many encroaching non-native shrubs that outcompete native species. Our goal was to reduce soil erosion by clearing out understory and invasives, allowing native plants to grow on what is currently bare soil or exposed tree roots. Eric Anderson '99 of The River Bend Wildland Trust and a group of student volunteers began clearing the area along 38th Street, attaching pink ribbons around the trees that should not be touched, while all other tree and understory foliage could be removed. The end results opened up the canopy immensely, and this will make a large difference in the near future. 
If we let erosion continue across campus, it will begin to affect structures. For example, the parking lot at Seminary is under threat of eroding from the hill in the next few years if vegetation is not restored to the hillside to slow water runoff. Another example, hopefully longer-term, is the hillsides by Andreen that show bare soil. Any time there is a steep slope with a lack of vegetation and heavy water runoff, there is a higher rate of erosion. This can cost a substantial amount of money if not treated.
The best-case scenario with the current shrub removal and future restoration project is the capacity for the hillside to have a healthy presence of native vegetation. This will dramatically reduce water runoff that is amplified by impermeable surfaces above—the parking lot, the hardened bare soil, and other structures that speed water flow downhill.
Not only will this fix the erosion, it will make the hillside healthier and more attractive to passersby. The River Bend Wildland Trust plans on seeding later in the season, using a flowering mix of natives for brilliant color and texture. 
New Face on Campus – Christina Henzen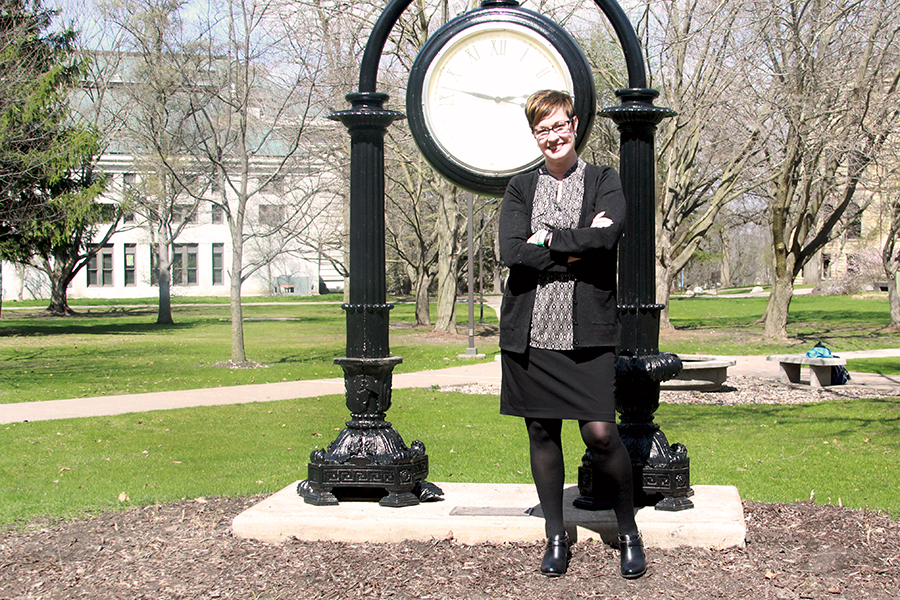 Christina Henzen
Student Employment Coordinator, CORE
As the new student employment coordinator, Christina Henzen has already applied her knowledge and passion for career development to serve Augustana students. During her first few months at the college, she began preparations to launch the Flexible Employment Program, a plan inspired by her work in temporary employment services.
Building on the liberal arts curriculum, CORE's Flexible Employment Program (FEP) seeks to provide Augustana students with temporary, on-campus work opportunities. "Anyone who's a part of this program can work all over campus without a set schedule to allow greater flexibility and gain wonderful experience," she said.
To ensure effectiveness, "We're starting small, in a few departments, and hopefully next year we'll release it campus-wide," noted Christina. Admissions and dining services are two offices accepting FEP workers this term.
Helping older, outplaced individuals sparked her curiosity about college students and early career development. With experience in human resources, recruiting and consulting, Christina hopes to guide young adults as they begin their careers, and prepare them for future challenges, as well.
Through the Flexible Employment Program, she collaborates with a team of three students: Natalie Brown, James Manuel and Avery Pearl. "They work so hard and constantly go the extra mile. Without them I would be lost," she said. "They're fantastic."
In her spare time, Christina enjoys hanging out with her husband, Derek, and their 10-year-old son, Dagan, whom the couple adopted from Guatemala.
From the Cabinet – Kent Barnds
Kent Barnds, executive vice president
The week of April 17 is a week during which we can all show our pride in what this great place does (and what we do) for our students. While an argument can be made that every day is important at Augustana, three events next week are particularly noteworthy: our annual Guidance Counselor Fly-in, A Day of Giving, and It Begins with A. I invite your participation. 
On Tuesday, April 18, and Wednesday, April 19, we will host approximately 30 high school counselors from across the country. Augustana partners with Bradley University and Illinois Wesleyan University to introduce our schools to these important college search influencers. On campus, the counselors will take an interactive tour, meet with faculty and staff, and spend time with current students. If you see a visitor, please say hello and make them feel welcome. This group is typically very savvy and discerning, and will be looking for all kinds of signs of campus and community pride, student engagement and the overall quality of the student experience.
Also on Wednesday, April 19, the college will host its annual single day of fundraising, A Day of Giving. This year we have established very aggressive goals for donors and dollars. We invite your help in meeting our goal of 1860 donors, in honor of the college's founding. No gift is too small as we seek to meet this goal. If every employee made a gift on April 19, we could be well over one-third of the way to our goal. In addition, we hope many of you will consider attending one of 30+ gatherings hosted by alumni and friends to celebrate the college's student-first approach. We hope you will consider a way to participate in this important opportunity to show your support for what the college does for students.
Finally, at It Begins with A on Saturday, April 22, we will host nearly 300 students making a final or confirming visit to Augustana. Students and parents will be examining every aspect, asking insightful questions and looking for reasons to choose Augustana. View the schedule of events to determine if there is a good time for you to be on campus to help make these potential students and their parents feel welcome. 
Next week is an important week, during which we can all show our pride in Augustana College. Break out your blue and gold—don that golden A—and let the world know how much Augustana means to you. 
In the Works
Director of Human Resources Laura Ford shares periodic information and wisdom pertaining to being an employee of Augustana College.
With just seven weeks or so until the end of the academic year, we are gearing up for this year's Retirement Celebration. We will honor 17 colleagues who are retiring this year. If you haven't yet marked your calendar, we hope you can join in the celebration on Tuesday, April 25 from 3-4:30 p.m. in the Gävle Room.
A few weeks ago, I led a campus rapid improvement team focused on the college's performance appraisal process.  It was a challenging week as a devoted team looked at ways to improve both our process and the overall outcomes of this process. I will share a video of the team's report soon. 
While there will be many formal communication opportunities, an overview of what you can expect includes:
• A more year-round approach to encourage frequent communication vs. a once a year appraisal
• Using technology to allow for documentation of ongoing discussions
• Each spring–summer, employees and managers will meet to set goals for the year ahead, tying these goals to departmental, division and college goals.
• Each fall, employees and managers will select, from a listing of possible performance categories, those that are most appropriate for the job.
• Near the beginning of the calendar year, employees and managers will complete a mid-year check-in.
• A streamlined annual appraisal near the end of the academic year
There will be much more to come on this topic, but hopefully this provides a high-level look at our new tool and process. Thanks to Brandon Tidwell, Jill Roche, Dan Jensen, Mario Magadan, Lisa Stachula, Kim Warner, Justin McDanel, Carla Tracy and Diana Kavanaugh for their service on this team.
Seen & Heard
"Every year the mainstream media predicts the death of poetry, and yet poetry is real and resilient and continues to defy. I tend to believe that as long as there are people who fall in love… and as long as there are people who bury their dead, then there will be poems."
— Allison Seay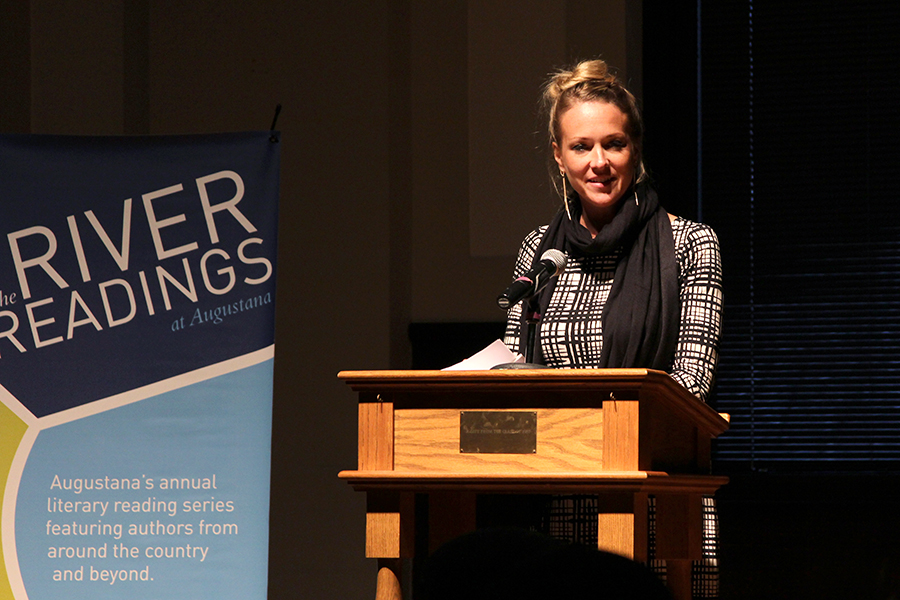 Acknowledge is published by the Office of Communication and Marketing at Augustana College, Rock Island, Illinois. Contact Beth Roberts, editor. Rachel Reiter '18 of the Augustana Writers Bureau is the author of New Face on Campus. Photographers are Marlisa Barrett '19, Tawanda Mberikwazvo '17 and Hannah Rossi '20 of the Augustana Photo Bureau.