The World of Harry Potter
Program dates: June 16-20, 2019
Program cost: $680
Includes lodging, all meals and any field trips. Students arrive on campus Sunday, June 16, and depart Thursday, June 20.
Course description
Now that the seven-book series in complete and eight movies have been screened, Harry Potter fans have a chance to step back and delve more deeply into the saga which experts have called "the shared text" of this generation. Participants in this unique Harry Potter immersion will learn to use interpretive keys such as alchemy to read the books at a deeper level and will experience how it helps our reading to learn about literary archetypes, such as the shapeshifter and the shadow.
The class will concentrate on Deathly Hallows, comparing and contrasting how the book and the movies complement one another in exploring the deeper meanings of scenes and characters. Along the way, students will have a chance to discover their Patronus, use a Marauder's Map on a Hogwarts scavenger hunt, and walk a labyrinth. They may even have a chance to play a bracing game of Quidditch.
And J.K. Rowling is still at work! Fantastic Beasts and Where to Find Them, the prequel to the Harry Potter saga, has been in the cinemas, revealing important back-story about Dumbledore and others, through the work of Newt Scamander, magizoologist extraordinaire. We will watch several extended clips from the first two Fantastic Beasts movies, asking ourselves what importance they hold in the overall Harry Potter story.
Tentative schedule
Sunday, June 16
Check-in
Welcome reception
Monday, June 17
Alchemy, an interpretive key
Becoming a Film Critic, Part 1: Three Deathly Hallows scenes in the book and movie
Was sorting a helpful or unhelpful way to begin at Hogwarts?
Using the Marauder's Map: A Harry Potter scavenger hunt
Tuesday, June 18
Narrative misdirection, a second interpretive key
Becoming a Film Critic, Part 2: Three more scenes in Deathly Hallows,  book and movie
Discovering your Patronus
A rousing Quidditch match, led by Augustana's Student Quidditch Team
Wednesday, June 19
 Archetypal symbolism, a third interpretive key
The Life and Lies of Albus Dumbledore
Three key scenes in Fantastic Beasts
What's next for the five Fantastic Beasts series: Using what we know to predict the future
Thursday, June 20
The Ring Structure, a fourth interpretive key
Walking the Labyrinth
Did Snape really love Lily?
A unique Blessing/Sending ceremony
Instructor: Pastor Richard Priggie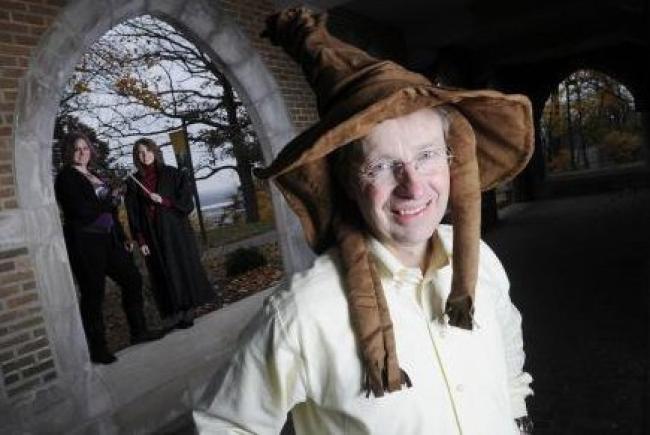 Pastor Richard Priggie has been the college chaplain for 14 years. An ELCA Lutheran pastor, he teaches an elective class in the first-year curriculum called The Soul of Harry Potter, which fills up within 24 hours of being open for registration every year.