Arthur Wald
College Dean and professor of Swedish, 1931-1958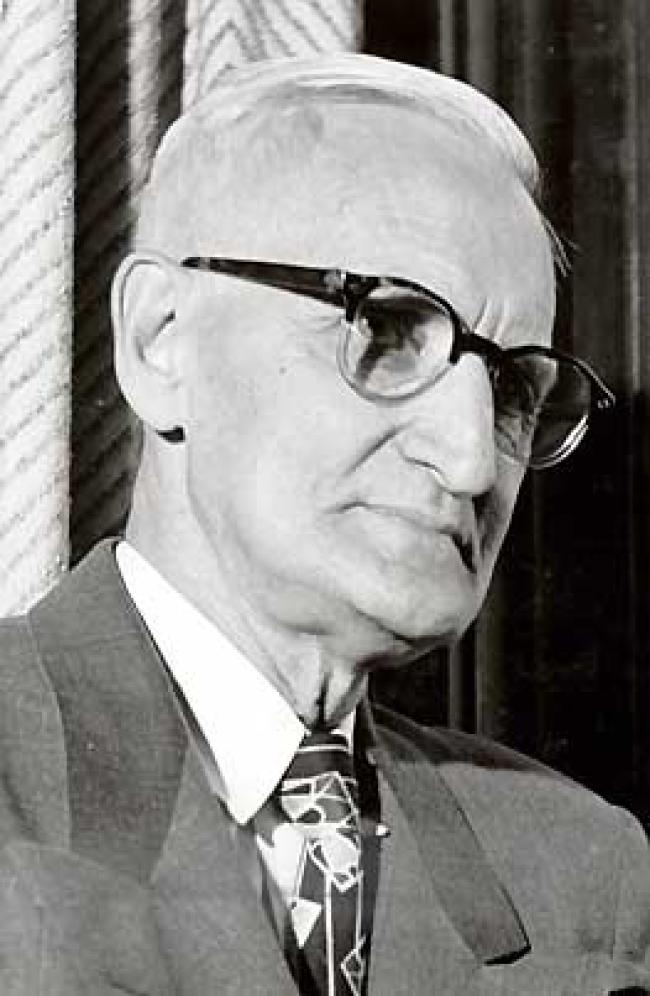 Arthur Wald was born in a Swedish-speaking home to F.G. and Johanna Nilsson Anderson on November 15, 1882, in Orion, Illinois. He graduated from Augustana College in 1905 with a major in German and a minor in Spanish.
Upon graduation, Wald began a teaching career that spanned over 50 years. He taught for three years at Trinity College, then studied at the University of Uppsala in Sweden and the University of Gottingen in Germany from 1909 to 1911. Wald returned to the United States and taught briefly at Fairmount College and Gustavus Adolphus College.
During World War I, German teachers were not in demand, so Wald began teaching Spanish. In 1919, Wald earned his doctorate from the University of Chicago. For the next 12 years, Wald taught at Millikin University, Drake University, and Drury College. In 1922, Wald returned to Europe and studied in Paris and Madrid. He married May Ellen Muir in 1923.
Upon his return to the United States in 1931, Augustana College hired Wald as dean of the college and professor of Swedish. He served as dean from 1931 until 1947, and recalled the Depression years as especially difficult. Most of his duties during this time involved helping find scholarships and jobs for struggling students. Wald also served in other administrative capacities at Augustana, including vice president, registrar, and director of the Augustana Summer School.
Wald also taught Swedish and was the chair of the Swedish department. He took a special interest in foreign exchange students, and developed a foreign exchange program. Wald worked hard to promote Scandinavian studies at Augustana. He also founded and was director of the Augustana Swedish Institute, and in 1945 he founded the Augustana Swedish Workshop.
Not only was Wald involved in promoting Scandinavian studies at Augustana, but he also worked hard to promote such studies on a national level. From 1939-1940, Wald spent a year in Stockholm as a fellow of the American Scandinavian Foundation. He was part of the Society for the Advancement of Scandinavian Study, edited a Swedish-American handbook, and was a member of the Swedish Pioneer Historical Society. In 1942, Wald was awarded the Order of the North Star, First Class by King Gustav V of Sweden in recognition of his efforts to promote understanding and cultural exchange between Sweden and the United States.
Wald retired in 1958 as a professor emeritus of Swedish language and literature. Augustana awarded him two honors: the meritorious service award from the Augustana Alumni Association in 1959, and the naming of a wing of the new men's residence center as Arthur Wald Hall in 1966. Wald was remembered as a dedicated teacher and a lover of chess. He died on January 11, 1970.