Harry E. Nelson
Professor of mathematics and astronomy, 1946-1988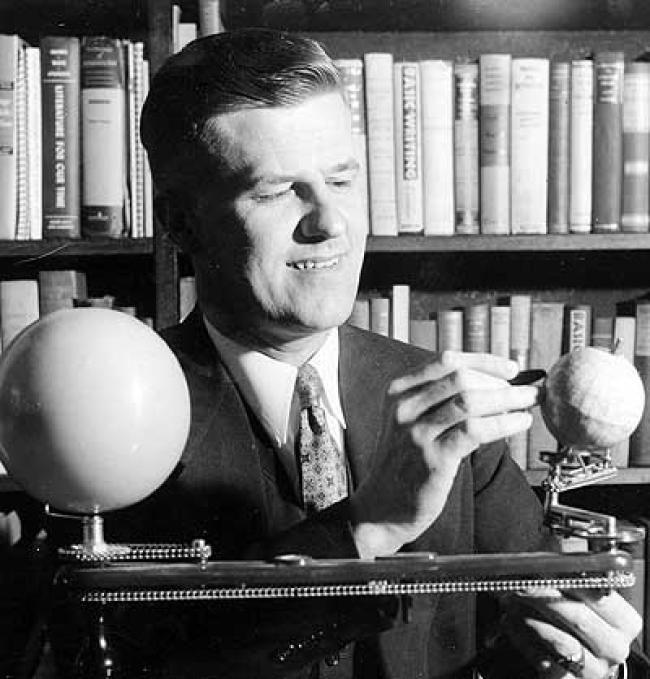 (This series of Notable Faculty profiles was written in celebration Augustana's sesquicentennial in 2009.)
Harry E. Nelson was born Sept. 21, 1913, in Rockford, Ill., to John and Alma Nelson. He graduated from Rockford High School in 1929 and received his bachelor of arts degree from Augustana College in 1935. In 1940, he received his master's degree from the University of Wisconsin, Madison, and later earned a doctorate in mathematics from the University of Iowa. In 1941 he married Lillian Nelson in Princeton, Ill.
Nelson taught mathematics at Cambridge High School, Luther College (Wahoo, Neb.), and Gustavus Adolphus College. He began his Augustana teaching career as a professor of mathematics in 1946.
Nelson, sometimes known as "Mr. Astronomy," was an integral part of establishing a planetarium and observatory at Augustana, and was named director of the John Deere Planetarium and Gamble Observatory when they opened in 1969. Nelson presided over 1,500 programs for children and adults from the community at the planetarium; the most famous of these was his "Star of Bethlehem" Christmas program.
Nelson was instrumental in the planning and implementation of a three-day space seminar at Augustana that included a visit from Neil Armstrong. He officially retired as professor of mathematics in 1980 but remained director of the planetarium; Nelson retired from the planetarium in 1988.
Aside from his work as a professor and his directorship of the planetarium at Augustana College, Nelson served as tour director for the Eclipse Chasers' Club by leading tours to view eclipses around the world. He also studied meteorites. Nelson died on Dec. 30, 2003, in Davenport, Iowa, at age 90.