Jules Göthe Ultimus Mauritzson
Professor of Swedish, 1904-1930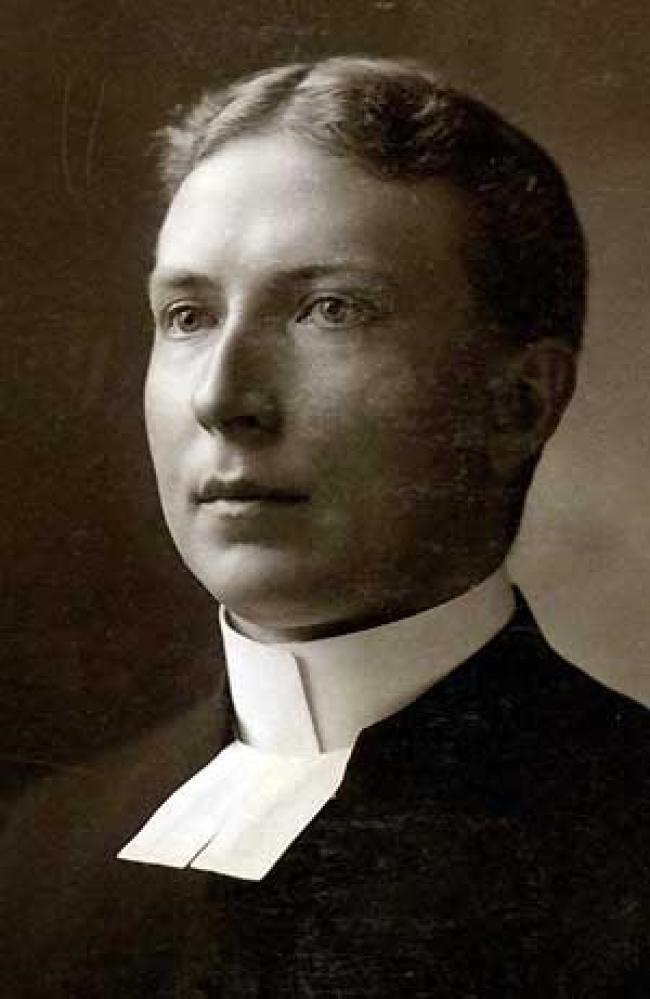 Jules Göthe Ultimus Mauritzson was born on July 19, 1868. His father, Anders Mauritzson, was the rector of a parish in Marsvinsholm, Skåne, Sweden. Mauritzson attended the Gymnasium in Helsingborg and the University of Lund, where he studied philosophy and comparative religion.
Mauritzson seems to have imbibed some of the radical ideas about religion and social reform circulating throughout the university at the time, and thus chose to learn the trade of bookbinding in Leipzig, Germany, after completing his studies at Lund instead of choosing an intellectual career.
In 1896, Mauritzon moved to Chicago and worked as a bookbinder. He joined the Immanuel Lutheran Church and was inspired, partially by Emmy Carlsson Evald, to continue his studies of religion. He enrolled in the Maywood Lutheran Seminary in Chicago, and then matriculated at Augustana Theological Seminary, where he was ordained in 1899. Promptly after his ordination he married Maria Thorsson, a teacher he had met in Chicago.
Mauritzson served for two years as pastor of a church in Kiron, Iowa. In 1901, Mauritzson received a call from Augustana to occupy the Swedish language and literature chair. He served as acting professor from 1901 until 1902; he then took a two year leave of absence to conduct research and advanced study in Sweden in order to be better equip himself for the position.
Mauritzson returned to Augustana in 1905. During his tenure at Augustana there was a rebirth of interest in Swedish. Mauritzson included modern writers in his courses, which previous professors had not done, and taught Danish and Norwegian as well as Swedish. He was especially interested in the playwright August Strindberg and wrote numerous essays on his works.
From 1909 to 1915, Mauritzson served as enrolling officer of the college, and in 1920 he was appointed Augustana's first dean, a position he accepted reluctantly because of his love of teaching. He served as vice president of Augustana in 1927 and as temporary president in 1929 in the absence of President Andreen.
Mauritzson was one of the founders of the Society for the Advancement of Scandinavian Studies and served three terms as its president. He wrote several textbooks for use in Swedish instruction, was superintendant of the Sunday school at his church for ten years, and was the associate editor for a young adult paper.
On the night of February 6, 1930, Mauritzson was hit by a car while walking to an Augustana basketball game against St. Ambrose. He died early the next day, leaving behind his wife, five children: Anna, Tyra, Elsa, Anders, and Gunhild, and one grandchild.
After his death, students were eager to create a memorial to Mauritzson and gathered funds to perform a Strindberg play in his honor the following spring. In 1937, the Mauritzson Exchange Fellowship was created to sponsor a Swedish student to study at Augustana. A Mauritzson Memorial Scholarship is still awarded today to students from Sweden studying at Augustana.