John P. Magnusson
Professor of chemistry, 1907-1946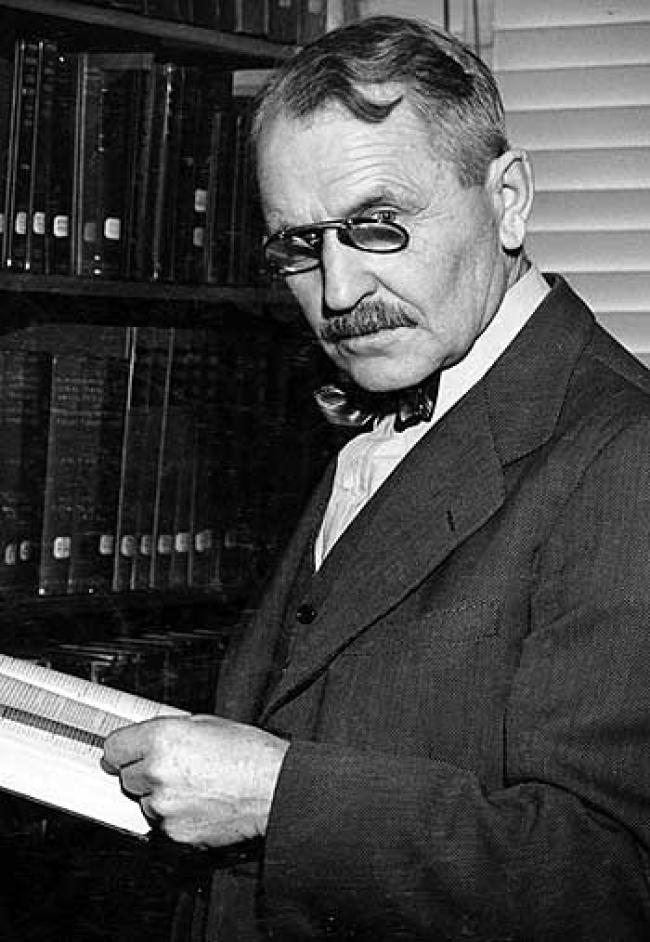 John P. Magnusson was born December 12, 1872, in Langaryd, Småland, Sweden, and grew up in western Minnesota. He received his bachelor's from Gustavus Adolphus College (1898), a master's degree from University of Minnesota (1902), and a doctorate in Chemistry from Cornell University (1907).
Before accepting a professorship from Augustana College, Magnusson taught and worked in administration at several high schools and then was an instructor at Cornell while he finished his graduate studies. In 1907 Magnusson became professor of chemistry at Augustana College, a position he would hold until 1946.
When he took this position at Augustana, he became the third chemistry specialist in the history of the school, following Jacob Westlund (1888-1889) and V. O. Peterson (1890-1906). While the science department had assistant instructors for the fields of chemistry, physics, biology, geology, and other natural and physical sciences, each major area had only one professor. This would remain true for Magnusson's tenure.
Magnusson, along with the other science professors and assistants, worked out of Ericson Hall, a brick house that had been converted into lab space. This was inadequate space for the purpose, but was used until 1935.
Due in large part to the poor science facilities at Augustana, the college was in danger of losing its accreditation from the North Central Association. Funds were donated by Marie Wallberg that were allocated for the erection of a new science building. A planning committee for a new science building was formed and consisted of Dr. Andreen (president of the college), an architectural consultant, a building consultant, and four science instructors, including Magnusson. Together, this committee developed a plan for Wallberg Hall of Science. The new building was completed and ready for use in 1935.
Magnusson was known as "Doc" to students and colleagues alike and was remembered as often having a pipe in hand when he lectured or led small group discussions. He was a thorough teacher who pushed his students to understand ideas rather than just memorize facts. By all accounts, he was an enthusiastic teacher with unfailing patience and a talent for inspiring others.
He wrote an elementary chemistry textbook for use in his classes, which was published in 1945. Magnusson was also interested in music and participated in the Handel Oratorio Society chorus, the Wennerberg Chorus, and the Chapel Choir.
Magnusson married Margaret Bersell in 1910. They had three children: John, Lawrence, and Connie. All three of their children attended Augustana College and studied under their father; two would enter the field of chemistry.
Magnusson died November 1, 1946, after a brief battle with abdominal cancer. A J.P. Magnusson Memorial Scholarship is awarded annually to Augustana chemistry majors.