Johannes Jesperson
General manager, 1888-1903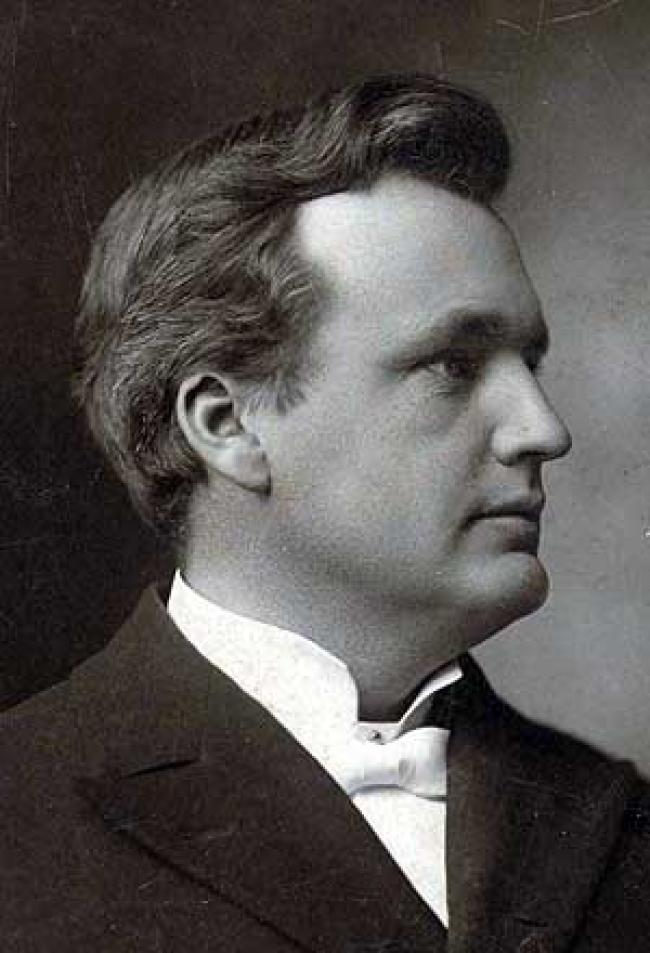 (This series of Notable Faculty profiles was written in celebration Augustana's sesquicentennial in 2009.)
Johannes Jesperson was born on October 14, 1858, in Silarps Mill, Dalum parish in Vestergötland, Sweden, to Jesper Carlson and Lisa Samuelson. Jesperson immigrated to America in 1873. Several years later, he began studying at Augustana College. Upon graduating in 1883, Jesperson promptly entered into the Augustana Theological Seminary and graduated with his Bachelor's of Divinity in 1885.
After being ordained into the Augustana Synod, Jesperson accepted a call to the Swedish Lutheran Church in Burlington, Iowa. He married Mathilda Sofia Anderson on May 15, 1888. That same year, Jesperson was offered a position on the Board of Directors at Augustana College and Theological Seminary.
In 1889, he succeeded Erland Carlsson in the position of General Manager, and also became secretary of the college. Jesperson worked as the General Manager for the next 14 years until 1903. He also worked as treasurer for 12 years, in the 1891-1892 school year and from 1893 until his resignation in 1903.
Jesperson was an energetic director whose tireless efforts helped to maintain the financial stability of the young college. He led a large campaign to reduce Augustana's debt; although this was not entirely successful, it was not due to Jesperson's lack of effort and enthusiasm. Among his financial efforts was an insistence on student payments to help stabilize the budget.
Jesperson also pushed for many different types of attractions at the 1893 Jubilee, and helped find funds for the new Jubilee Hall. Along with the Jubilee Hall, Jesperson also allocated funds for the new gymnasium to be built for the 1894-1895 school year. Through his efforts, an Endowment Society was formed by the women of the Augustana community in 1894; the funds they raised proved very significant for Augustana.
In 1903, after his resignation from Augustana College, Jesperson was offered a position at the Swedish Lutheran Salem Church in Spokane, Washington. After four years with the church, he was offered a position as president and treasurer at the newly founded Coeur d'Alene College in Coeur d'Alene, Idaho. He stayed in this office until 1914, and his leadership laid a great foundation for the school. His wife died on June 11, 1915, leaving behind the couple's adopted son.
Jesperson's devotion to the Augustana Synod extended beyond Augustana College. He served as the Superintendent of the Augustana Inner Mission of Chicago for 15 years, and he organized the Svenska Lutherska Kyrko-Brandstods-Bolaget, a fire insurance association.