Martin Holcomb
Professor of speech and debate, 1932-1969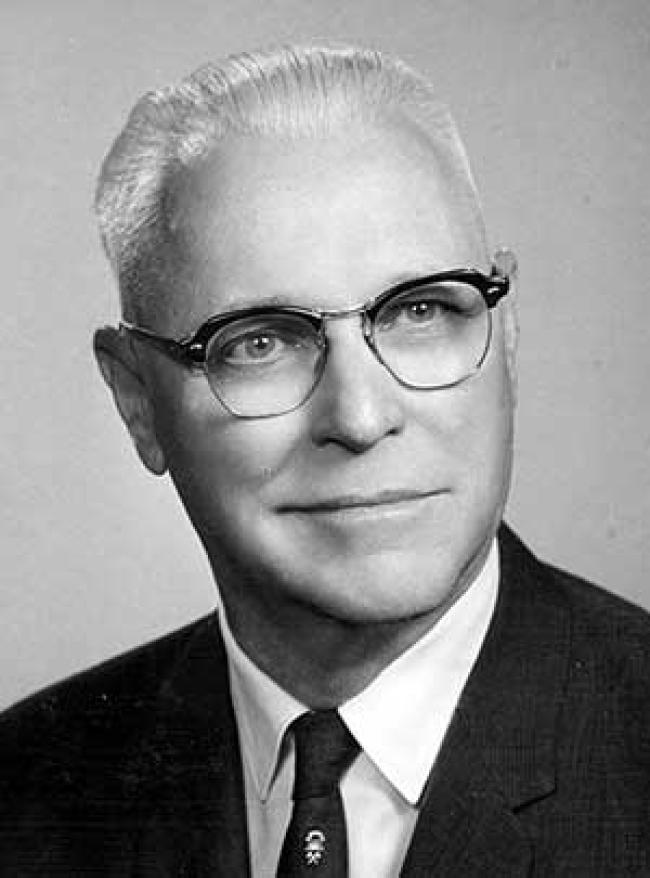 Martin J. Holcomb was born on April 27, 1895, in Clay Center, Kansas, to the Rev. John and Hannah Holcomb. He graduated from Bethany College in 1916. Holcomb taught at several schools between the years 1916 and 1920, and also served in the United States Navy in 1918-1919.
Bethany College hired Holcomb as a professor of English and speech, and he taught at his alma mater from 1920 to 1930. During Holcomb's years as a teacher, he was continually doing graduate work at summer schools around the Midwest. In 1931, he earned his master's from Northwestern University and was then appointed chair of the speech department at Bethany College.
In 1932, Augustana College hired Holcomb as a professor of speech and debate. He was also appointed chair of the speech department, a position he held until 1966. The year 1935 was eventful for Holcomb, as he was named director of the speech clinic, and married Sigrid E. Veberg on Dec. 21.
Holcomb introduced Augustana's first course in speech correction in 1933 and organized the Speech and Hearing Center in 1941. He devoted the majority of his career to this center, acting as the director from its creation until his retirement in 1969. Because of his active speech correction and clinical work with handicapped children, Holcomb was a sought after lecturer.
Most notably, Holcomb is remembered for coaching Augustana's debate team from 1932 to 1968. Under his coaching, the Augustana debate team won well over 70 percent of their debates, including qualifying for 17 out of 20 West Point tournaments (now the National Debate Tournament), more than any other school in country. The team won several championships in major tournaments, including the national championship in 1957.
Holcomb was honored for his achievements by the American Forensic Association for 25 years of active service in intercollegiate forensics. Bethany College awarded him an honorary degree in 1948.
At a dinner honoring Holcomb for 50 years of teaching and 35 years of service to Augustana College, 250 students, colleagues, and friends paid tribute to Holcomb's dedication to his work and his belief in a complete liberal arts education. Holcomb also contributed to the community by playing violin in the annual Messiah program.
On Jan. 22, 1988, Holcomb passed away, leaving his wife Sirgid, his son John, his daughter Janice, and a grandson.