C.L.E. Esbjorn
Professor of languages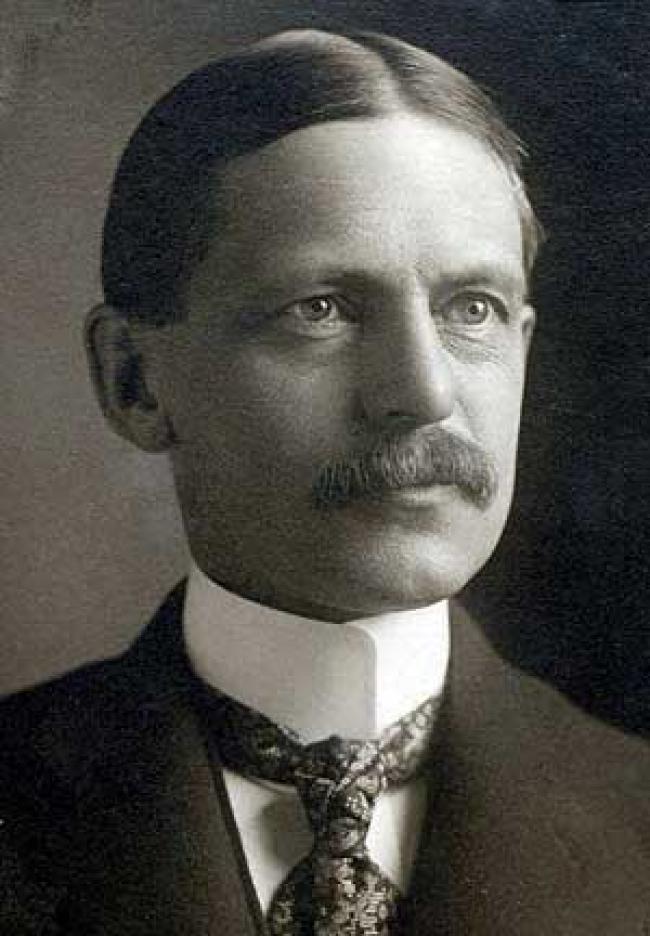 (This series of Notable Faculty profiles was written in celebration Augustana's sesquicentennial in 2009.)
Born in Chicago on Nov. 26, 1862, Carl Linus Eugene Esbjorn was the son of Lars Paul Esbjorn, a well-known leader in the Augustana Synod and the first president of Augustana College and Theological Seminary. Esbjorn was about a year old when his family returned to Sweden, where his father accepted a call to become the rector of Östervåla parish.
About nine years later, after the death of his father, Carl Esbjorn, with his mother, his two brothers, Constantin and Paul, and his two sisters, Maria and Hannah, returned to America and settled in Swedona, Ill. Both Carl and Constantin attended their first year of college at Augustana in Paxton, Ill. Esbjorn continued his education after Augustana's move to Rock Island and graduated in 1880 at the age of 18.
In the fall of 1880, Esbjorn began his teaching career as an assistant teacher in modern languages at Augustana. After a year of teaching, he went to the University of Michigan where he obtained a master's degree in language. In 1883 Esbjorn taught at Gustavus Adolphus College in St. Peter, Minnesota.
In 1887 he returned to Augustana as a professor of language. His 52 years of teaching at Augustana were interrupted only for post-graduate study at the University of Leipzig, the Sorbonne, and the University of Chicago. Esbjorn taught a many languages at Augustana: German, French, Spanish, Greek, Latin, Hebrew, and English. He often used singing in his classes, especially his German classes, and was remembered by his students as a real musician.
Esbjorn also became a librarian at Augustana, and organized the Charles XV collection, books which had been presented to the college by the King of Sweden as the basis for its first library.
Esbjorn had a wide range of interests outside his teaching. He was interested in simplified spelling, and his work on this subject attracted the interest of the Carnegie Foundation. His interest in contemporary social issues can be seen in his awareness of the temperance question (he was known to favor prohibitionist candidates) and his concern about world peace. He donated money to Augustana for the creation of a fund to be used for international peace, which today is known as the C.E. Esbjorn Memorial Peace Fund.
On Dec. 30, 1939, Esbjorn left his home on 34th Street in Rock Island to mail a letter and was struck by a car and killed while crossing 7th Avenue. He was survived by his wife, the former Mrs. Mae Sauerman, whom he had married in 1925.