Erland Carlsson
President of the Board of Directors, 1860-1889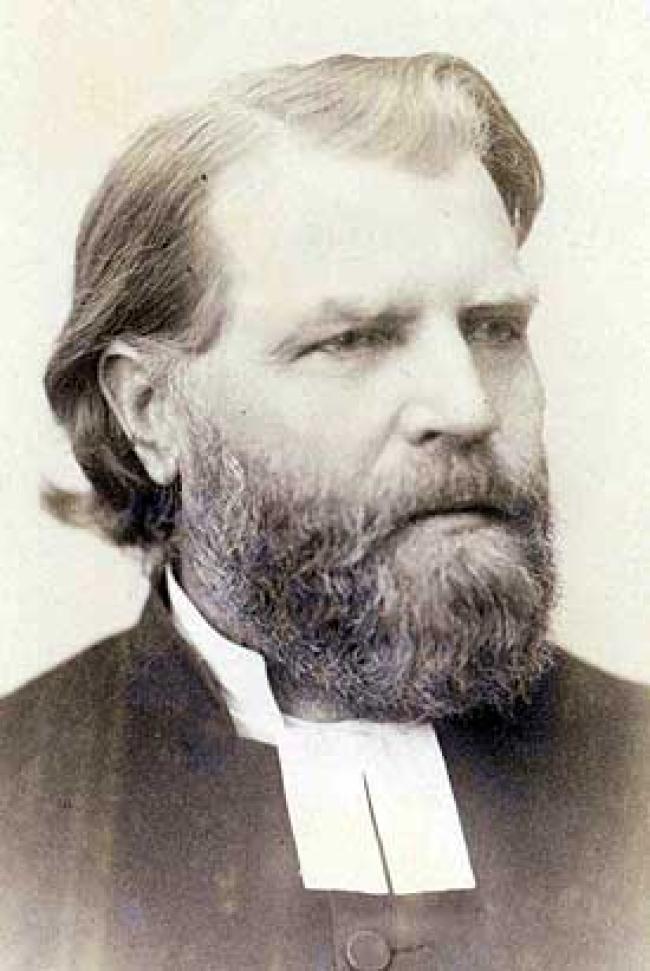 (This series of Notable Faculty profiles was written in celebration Augustana's sesquicentennial in 2009.)
Erland Carlsson was born on August 24, 1822, at Suletorp farm in Småland Provence, Sweden. He was the oldest child of Carl Jonsson and Stina Lisa Carlsdotter. He had two younger sisters, and after the death of his father in 1832, his mother remarried and had three more children.
Carlsson grew up a devout Lutheran. At the age of 16, he felt a calling to serve the church. Despite discouraging remarks from his family and pastors, Carlsson applied to Lund University to study theology and was ordained in 1849 after four years of study. He served for four years in pastorate positions in several parishes throughout Sweden.
In February 1853 Carlsson received a letter seeking Lutheran pastors willing to go to America for the purpose of ministering to Swedish Lutherans who had immigrated to the Chicago area. Carlsson left for America on June 3, 1853, and arrived in Chicago on August 22.
Once in Chicago, Carlsson helped other Swedish immigrants find shelter and work. He took over ministering duties at Immanuel Swedish Lutheran Church, where he ministered from 1853 to 1875. Carlsson also published The Immigrant Guide in 1854, which was widely distributed in Sweden. Also in 1854, Carlsson married Fredrika Anderson. Together they had three children: Eben Carlsson, Samuel E. Carlsson, and Emmy Carlsson Evald.
On June 5, 1860, the Scandinavian Evangelical Lutheran Augustana Synod was founded, and a theological seminary to train Lutheran pastors to serve the Synod was proposed. Carlsson was one of the founders of the Augustana Synod, and he was appointed chairman of the Board of Augustana College and Theological Seminary. He served on the Board of Directors from 1860 until 1889.
From 1887 to 1889, he also served as Augustana's business manager, resigning from his pastoral duties to solve the financial problems of the school. His help proved instrumental, as Augustana was finally able to erect a new building on campus; it would come to be called Old Main.
Carlsson was very devoted to the Augustana Synod and Augustana College and Theological Seminary. He viewed the school as an extension and a service of the church. In 1889 he left his position on the board of directors due to poor health and retired to Kansas. Augustana awarded Carlsson an honorary doctorate in 1892.
In addition to his work for Augustana College, Carlsson was also instrumental in the founding of the Augustana Hospital in Chicago and was for many years the manager of various Augustana Synod publications. Carlsson died on October 19, 1893.