George Arbaugh
Professor of philosophy and Dean of the College, 1945-1974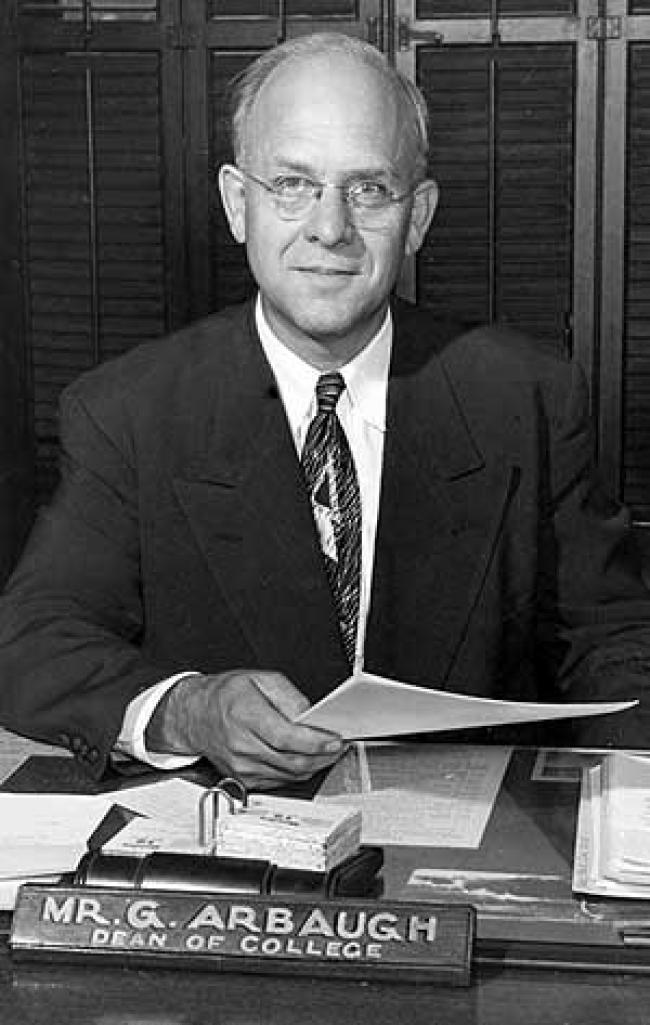 (This series of Notable Faculty profiles was written in celebration Augustana's sesquicentennial in 2009.)

George Arbaugh was born Sept. 28, 1905, in Frankfort, Ind. He graduated from Carthage College in 1926 and received his master's and doctoral degrees from the University of Iowa in 1927 and 1931, respectively. He also earned a bachelor's of divinity from the Hamma Divinity School at Wittenberg College and studied at the University of Leipzig in 1928-1929.
Arbaugh was ordained in the United Lutheran Church in 1931 and would serve as a guest or interim pastor at area churches during his time at Augustana.
Arbaugh taught at Carthage College from 1936 to 1943. He also was a visiting instructor at the Chicago Lutheran Theological Seminary. In 1945, Arbaugh came to Augustana to teach in the philosophy department. Two years later, he was appointed dean of the college, a position he would hold until 1967.
Arbaugh's term as dean saw several important developments at Augustana, including the establishment of chapters of the Phi Beta Kappa and Mortar Board honor societies. Arbaugh also served as vice president of the college from 1961 to 1967. In 1967, Arbaugh relinquished his administrative roles and returned to teaching; he was named chair of the Philosophy Department and of the division of religion and philosophy. Arbaugh retired from Augustana in 1974.
Arbaugh wrote on a variety of topics, including Eastern philosophy, Kierkegaard, Mormonism, church history, and the psychology of religion. He spent his summers as a fisherman and amateur geologist in Ely, Minn. Argaugh married Catherine Romaine Evans in 1927; they moved to Tacoma, Wash., after his retirement. Arbaugh died Jan. 25, 1988.