Richard Anderson
Professor of Geology, 1957-1996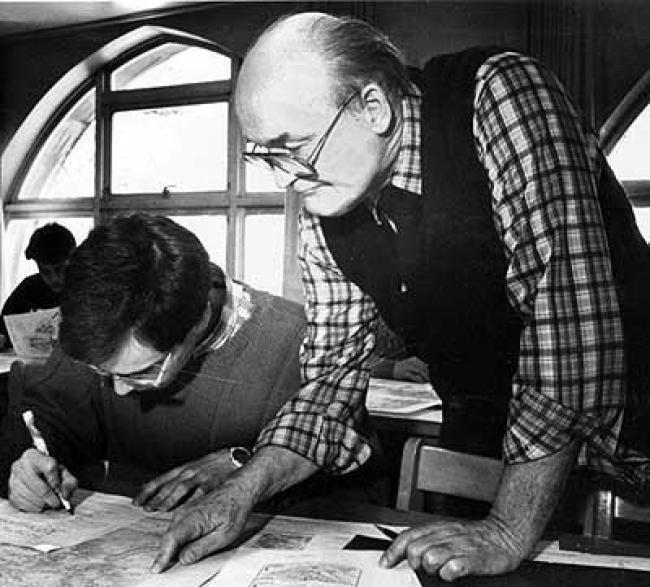 (This series of Notable Faculty profiles was written in celebration Augustana's sesquicentennial in 2009.)
Richard "Doc" Anderson was born April 22, 1930, in Moline, Ill. He graduated from Augustana College in 1952 after studying under Frytiof Fryxell and R.W. Edmund of the Geology Department. He received his doctorate from the University of Chicago in 1955 under the guidance of Leland Horberg, another Augustana alumnus.
Anderson served on the faculty of Augustana from 1957 to 1996, where he profoundly influenced several generations of students and faculty members. Anderson was the first person to hold the Fritiof Fryxell Chair in Geology at Augustana. He was appointed to the chair in May 1985, having chaired the geology department since 1968. Harold W. Sundelius, dean of the college at the time, said on the occasion, "We are particularly pleased that the first person appointed to the Fryxell Chair was one of Dr. Fryxell's students and a person who has continued the Fryxell tradition of excellence in the geology program at Augustana."
In 1992, Anderson received the Neil A. Miner Award of the National Association of Geology Teachers, which recognizes a college or university teacher for "exceptional contributions to the stimulation of interest in the earth sciences." He was nominated by students and colleagues.
Anderson took students out of the classroom -- to quarries, mountains, canyons, and other interesting features -- around the Midwest, into the Ozarks, the Florida Keys, the Grand Canyon, and Yellowstone National Park, among other places.
In addition to his teaching career at Augustana, Anderson took his knowledge to the community, speaking at clubs and museum programs, and leading scientific tours for the public. He also worked summers mapping for the Illinois State Geological Survey. Anderson wrote a geology of the Augustana campus. He died on Jan. 8, 2009.