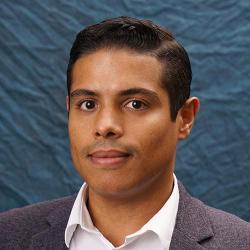 Tony Pomales
Visiting Assistant Professor of Anthropology
Dr. Tony Pomales was born and raised in Paterson, N J. He received his BA in anthropology from the University of Notre Dame, his MA and PhD in anthropology from the University of Iowa, and a graduate certificate in gender, women's and sexuality studies also from the University of Iowa. 
Dr. Pomales completed his dissertation research with the assistance of a Ford Foundation Predoctoral Diversity Fellowship. After completing his PhD, Dr. Pomales worked as a teaching fellow at Augustana College and as a housing program manager and family advocate at a non-profit family shelter and advocacy project in the Greater Boston area. 
Dr. Pomales' research interests explore how the discourses of gender, race, class, sexuality and age work at the level of lived experience and of the body. His dissertation research is more specifically organized around the concerns of development and subalternization, aging and the life course, and women's organizing and grassroots movements in Central America. 
His current project examines a sex workers' rights organization in Costa Rica and the ways in which empowerment, as a discourse of development, has served to further the marginalization of women sex workers. From a feminist medical anthropological perspective, this project also looks at strategic uses of suffering and the creation of embodied solidarities among subaltern women in the context of gendered power relations within a non-governmental organization and public health project.  
Education
B.A., Honors Anthropology and Preprofessional Studies, University of Notre Dame
M.A., Ph.D., Anthropology, University of Iowa