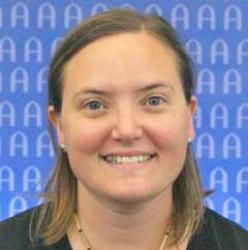 Stephanie M. Fuhr
Professional Faculty, Instructor of Biology, Iris and Advising Coordinator
When I was 18 I chose to study plant biology, curious about green life on our planet, its history, and its connection to people.   As it turns out, my curiosity continues to grow ahead of my knowledge every year.  
I began teaching in graduate school and found a vocation that draws on my enthusiasm for life on planet Earth and challenging conversation.  I cannot imagine spending my time away from my family doing anything else more meaningful and rewarding.  
I advise students interested in pursuing medical biology and carrying on their academic and professional work beyond Augustana into our large and complex healthcare system.  It is my good fortune to serve as a mentor and guide in this journey for our students.  
Please do stop by to visit with me and ask questions!  
Specializations: Ecology, Sustainable agriculture, Agroecology, Agronomy, Plant biology, Pre-Medicine advising