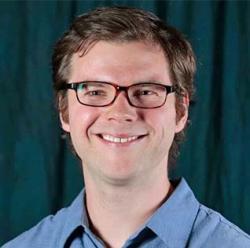 Robert Wengronowitz
Visiting Assistant Professor, Sociology, Anthropology and Social Welfare
Bobby Wengronowitz is thrilled to be teaching sociology at Augustana! Sociology is about understanding power, who has it and why. Bobby's classroom focuses on not just understanding power but how every individual can work to create a more socially just and ecologically sustainable world. 
Bobby's research is at the intersection social movements and environmental sociology. Three projects underway examine challenges to inequality-widening business-as-usual, which is ecologically and socially destructive.
Bobby's dissertation explores strategy and power within the climate movement by studying an effort to stop a natural gas pipeline in a community in the Northeast U.S. Another project examines the socio-cultural forces operating in the "sharing economy." A final project uses a multi-method approach to understand the evolution of Community Supported Agriculture in New England, particularly how such endeavors can challenge fundamental aspects of competitive market forces.
Bobby is completing his dissertation at Boston College; he earned an M.A. in the social sciences at the University of Chicago and a B.A. in sociology at the University of Illinois at Urbana-Champaign. 
With his partner Becky, he is proudly parenting their nearly-one-year-old Zinn. Bobby enjoys bicycling, gardening, and most anything that reduces carbon emissions.
 
Specializations: Sociology, Anthropology, and Social Welfare
Education
B.A., University of Illinois at Urbana-Champaign
M.A., University of Chicago