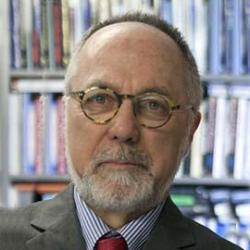 Peter J. Kivisto
Professor of Sociology, Anthropology and Social Welfare, Richard A. Swanson Chair of Social Thought
When I began my undergraduate education at the University of Michigan over three decades ago, I knew virtually nothing about sociology.  In fact, if a friend of mine had not suggested that I take a sociology course, I may never have encountered the discipline.  One semester later, I was hooked.
On the basis of the experience I had in this introductory sociology class, I decided that sociology would become my major.  As I look back on that decision, I am able to identify two factors that influenced my enthusiastic response to sociology.  One of the reasons was that I had the benefit of being taught by a bright, engaging, and personable professor, an individual who by example showed what it meant to look at the world sociologically.  However, in retrospect, I don't think that this was the primary factor in my decision.
Rather, the main reason for seeking to delve further into what sociology was all about was that I quickly learned that it provided me with the tools I needed to make sense of the world around me.  Living through and being a part of the tumultuous decade of the 1960s on a campus engulfed by the anti-Vietnam War movement, the civil rights movement, and the counterculture, I was caught up in a period of dramatic social change.  I marched in Washington to protest the war, took part in teach-ins and antiwar protests in Ann Arbor, got involved in antipoverty organizing, tutored inner-city youth, worked for migrant farm workers in the California grape boycott campaign, and in a variety of other ways sought to promote social change.  It was both an exhilarating and a frustrating time.  I found myself wanting to understand more about the nature of the central problems and concerns of the era in order to find constructive ways of responding to them.
Dr. Kivisto received an honorary doctorate from the University of Turku in Finland in 2013. His working relationship with Turku began in 1984.
What I discovered was that my sociology courses, more than any other classes I took, seemed most capable of addressing these vital concerns.  When nearby Detroit was engulfed in urban riots in the summer of 1967, my race and ethnic relations course helped me understand the nature of American race relations and in so doing allowed me to gain insights into this particular event that would otherwise have eluded me.  My social stratification course helped me achieve a greater understanding of the impact of endemic poverty on the children I tutored.  My course in political sociology helped me in my efforts to evaluate governmental policies and actions, both domestic and foreign.  And so it was with the rest of my sociology courses.
Throughout this period, as my appreciation of the value of sociological knowledge grew, I learned that the contemporary sociologists I read were building on a tradition that extends back to the 19th century.  Over time, I came to see not only how they built upon the work of their predecessors, but also how, in the process, they adapted and transformed that tradition in their efforts to address the complex and ever-changing social world we inhabit.
Likewise, I also came to appreciate the remarkable range of topics that preoccupy sociologists, from issues involving the most intimate levels of social life, such as those dealing with family and friendship relations, to those concerned with the broadest sorts of social processes, such as deindustrialization, the rise of religious fundamentalism, technological change, ethnic strife, and the globalization of popular culture.  I learned that the sociological vision reveals not only how societies change, but also how they manage to persist over time.  I learned that it casts light on not only the ways societies constrain people, but also the ways that they enable or make possible various kinds of activities.  In short, sociology provided me with the ability to explore the social in all its facets.
Specializations: Immigration, Religion, Theory, Politics, Race and ethnicity, Sociology, Anthropology, and Social Welfare
Education
B.A., Michigan
M.Div.,Yale
M.A., Ph.D., New School for Social Research