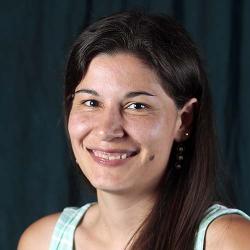 Maria Emerson
Instructor, Research and Instruction Librarian
Not quite sure what she wanted to do after college, Maria Emerson spent a year on a Native American reservation in Montana where she worked with Crow and Northern Cheyenne high school students. 
This experience moved her in the direction of earning her master's in library and information science from University of Illinois at Urbana-Champaign in 2014. 
She is particularly interested in diversity in academic libraries, working with underrepresented populations, and researching the emerging trends and changes in academic libraries today. 
In her free time, she loves to travel, read and spend time with her husband, 2-year old daughter, and her dog.
Specializations: Library
Education
B.A., Spanish and International Studies, Hope College
M.A., Library and Information Science, University of Illinois at Urbana-Champaign