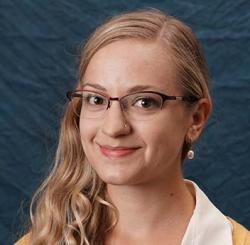 Lisa R. Huntsha
Swenson Swedish Immigration Research Librarian and Archivist and Assistant Professor
The Swenson Swedish Immigration Research Center at Augustana is a leading institute for Swedish-American studies.
As the librarian/archivist, I manage the daily operations of the library and archives at the Swenson Center, including overseeing, planning and executing the development and preservation of the collections. This includes making the holdings accessible to patrons through traditional cataloging, archival processing, and digital projects. I answer reference questions for both on and off campus researchers and assist visiting scholars. I also conduct outreach programs for the public, create exhibits, and teach instruction sessions to Augustana students that focus on primary source literacy skills using hands-on activities. In my newly developed role, I also assist the director in strategic communications and fundraising activities. 
I love wearing many proverbial hats and helping students and researchers.
Specializations: Swenson Center, Library science, Archives, Museums, Historic preservation, Immigration--Swedish
Education
B.A., Augustana College
M.A., Syracuse University