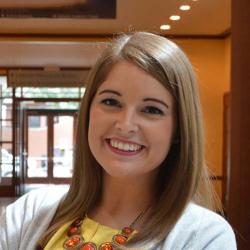 Jill Homerding
Assistant Director of Admissions, Chicago Region
Hometown: New Lenox, Ill.
Current town: Bartlett, Ill.
College attended: Augustana College
Major(s): Psychology and Communication Studies
What do you most love to tell prospective students about Augustana?
Just how beautiful our campus is and how welcoming and friendly our community is! In addition to our students feeling at home on our highly active and engaged campus, there are so many amazing opportunities for students to get involved in outside of the classroom. One unique opportunity that makes it possible for students to carry out their passion is through Augie Choice, which is $2,000 that is available to students to participate in a qualifying hands-on learning experience of their choice: internship, research, or study abroad. You will leave Augustana with lifelong memories AND all the right credentials to build your resume on to be successful after college.
Why did you decide to work in this field and/or at Augustana? 
I have worked in admissions since 2016 and I love being able to assist students with the college search, because while it's an exciting time, it can certainly be daunting. There's nothing better than being able to help a student find their fit. And now that I get to help them find their way to Augie, a place I called home for four years, it's a dream come true! I wholeheartedly believe that Augie is an incredible place to grow and find yourself and so I'm truly honored to get to work for my alma mater and give back to a place that did so much for me.
What's great about the Quad Cities?
As someone from the Chicagoland area, when I arrived to Augie as a freshman, it didn't take long to realize that there are still so many opportunities and resources in the Quad Cities for students. I think that being a smaller urban area plays to the strengths of the Quad Cities because there is more of a close-knit community aspect to the QCA.
There are many reputable companies and organizations, big and small, for students to have internship opportunities. There are also so many fun and exciting things to do in the Quad Cities as well — catch a River Bandits games, walk the Mississippi River front, check out all of the local theatre/arts shows, cheer on the community or participate in the Quad Cities Marathon or Bix! And of course, experience all the delicious food. My favorite thing to learn was that the Quad Cities cuts their pizza in their own unique way.
What advice do you have for students who are searching for the right college? 
Start by figuring out what it is YOU want in your college experience. With that being said, it's OK to be all over the place when you start the process because you will begin to figure out what it is you want and what you don't want. Make sure to also do your research to see if a school offers your "must haves" to set you up for success.
A great way to begin to understand what it is you are looking for is to VISIT! There's no greater feeling than stepping foot on a campus and knowing that you can see yourself calling it home for the next four years! (It sounds corny, but it's a real experience for some students – when you know, you know.)
Territories: DuPage, Will, Kendall and southwest Cook counties
Specializations: Admissions
Education
B.A., Augustana College
M.Ed, DePaul University, Masters in School Counseling