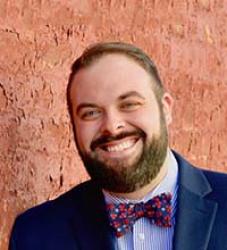 Jesse Rathgeber
Assistant Professor, Music Education
Jesse Rathgeber teaches courses on assessment and evaluation of music learning and general/classroom music methods. He also supervises student teachers, is the advisor for the pre-Music Therapy program, and is co-advisor for the Augustana College Music Education student organization, an Illinois Music Education Association Collegiate chapter. Dr. Rathgeber also leads the community-based, participatory music-making project, AugiePlay, which currently hosts pop-up ukulele jam sessions and will soon facilitate songwriting projects in and around the Quad Cities.
Before coming to Augustana, he was an assistant professor of music at James Madison University in Harrisonburg, Va., where he taught undergraduate and graduate courses on general music and contemporary approaches to music education, foundation of music education, music technology, instrumental music teaching methods, and research. Previously, Dr. Rathgeber taught early childhood-fifth grade music in Killdeer Countryside School District 96 (general music, choir, young composers, rhythm band), K-12 music at DeLand-Weldon Community Unit School District 57 (general music, concert bands, marching band/pep band, and choirs), and was a long-term substitute music teacher at Lee and Wanless Elementary Schools in Springfield School District 186 (general music), all in Illinois.
He is a music maker-educator-researcher. He enjoys dabbling with music (particularly with guitars, mandolin, Irish bouzouki, and digital instruments) at home, in classrooms, and in the community. As an active researcher, Dr. Rathgeber explores issues related to disability, anti-ableism, inclusion, contemporary music learning, and music teacher development. He is a frequent presenter on creativity, composition, disability, inclusion, listening, and progressive approaches to music teaching and learning at state and national conferences.
Dr. Rathgeber's work can be found in the texts Accessing Music: Enhancing Student Learning in the General Music Classroom Using UDL; the Routledge Research Companion to Popular Music; the Oxford Handbook of Social Media and Music Learning; the Music Technology Cookbook; Creative Music Making at Your Fingertips; and Places and Purposes of Popular Music Education (forthcoming), SAGE Handbook of School Music Education (forthcoming); The Modern Band Handbook: Practical Perspectives and Lessons for Music Educators (forthcoming); as well in research journals including the Bulletin of the Council for Research in Music Education; Journal of Music, Health, and Wellbeing, the Journal of Popular Music Education, and Qualitative Research in Music Education.
His dissertation, "Troubling Disability: Experiences of Disability In, Through, and Around Music," is a phenomenological and narrative bricolage examination of the experience of disability in, through, and around music from the perspective of disabled persons/persons with disabilities that can be found via ProQuest. 
• Website
Education
B.M.E, music education (general music concentration), University of Illinois, Urbana-Champaign, Ill.
M.A., music education (creativity/composition concentration), Northwestern University, Evanston, Ill.
Ph.D., music education, Arizona State University