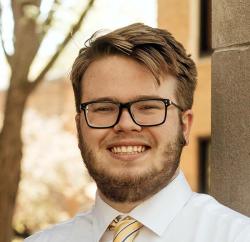 Gabe Zeigler
Manager of Performance, Halls and Events
Gabe Zeigler joined the Augustana team in May 2022.
Prior to accepting his current role, he worked in sales and consulting for the West Music Company in Moline, Ill.
On Sunday mornings you can catch him running the IT/audio/visual team at Redeemer Lutheran Church in Bettendorf, Iowa.
Gabe graduated from Augustana in 2021 with a degree in music composition. In his time at school, he managed the campus radio station, ran an independent recording business, and interned at Gravity Studio in Wicker Park, Chicago.
He grew up in Sterling, Ill., where he went to high school and met his fiance, Zaina.
 
Specializations: Communication and marketing