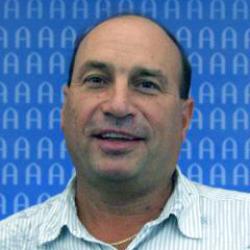 Frederick G. Jaeschke
Associate Professor of Music; Music Education, Concert Band
Rick Jaeschke began his musical career as a clarinet player in the 1st US Army Band. He formalized his music education by earning a BME at Susquehanna University, an MM at James Madison University, and a Ed.D. at Columbia University.
His advance conducting study included graduate work at the Eastman School of Music with Donald Hunsburger and in workshops with Frederick Fennell.
Dr. Jaeschke's primary teaching assignments have included directing high school concert, marching, and jazz bands. He also taught elementary band, high school theory, history, and electronic music. While at James Madison University, his teaching duties included music appreciation and directing various instrumental ensembles. Under his baton at the high school level, bands received consistent Gold medals in both New York and Maryland State Festivals, performed at Lincoln Center, with members of the US Congress, and for the Governor of Maryland.
For 15 years, Dr. Jaeschke was the district administrator of music for the Byram Hills Central Schools in Armonk, New York. During that time, the music program flourished, and was recognized for their outstanding performing ensembles and advances in music technology. In that position, he also served in key leadership and advisory positions at the county and state level. He has been President of the Maryland State Music Association, Vice President of the Maryland Band Director's Association and has served on various educational advisory boards. Most recently Dr. Jaeschke served as the Fine Arts Coordinator for District 204 schools in Naperville, Illinois. Located in the western Chicago suburbs, this exceptional music program has been national recognized through their Grammy Gold School status and being selected as One of the Best 100 Schools in America for Music. As a clarinet and saxophone player, Dr. Jaeschke has performed with the Rockland Symphony Orchestra, the Putnam Symphony Orchestra, Fine Arts Symphony Orchestra, and served as the concert master for the Hudson Valley Wind Symphony. Jaeschke has a strong interest in electronic music and has been both a consultant and presenter with this medium. His doctoral dissertation is entitled: Creating Music Using Electronic Music Technology: Curriculum Materials and Strategies for Educators.Dr. Jaeschke joins the Augustana faculty as the Coordinator of Music Education program and conductor of the Augustana Concert Band.
Specializations: Instrumental music, Music education, Electronic music
Education
B.M.E., Susquehanna
M.M.E., James Madison
Ed.D., Columbia