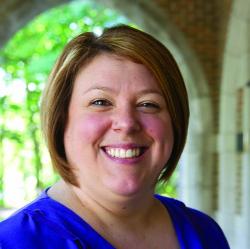 Courtney Wallace
Assistant Vice President for Enrollment Management
Schedule a meeting with Courtney
Hometown: Galva, IL
Current Town: Oak Park, IL
College Attended: Southern Illinois University - Carbondale
Degree: Bachelor of Science
Major: Speech Communication
What did you do before Augustana?  Admissions work is my chosen career! I worked in Admissions with students and families from the Chicago Area for Missouri University of Science and Technology for 8 1/2 years.  I started at Augustana in Fall of 2012.
Why did you decide to work in this field and/or at Augustana? I had an incredible college experience and worked as a Student Telecounselor and Student Orientation Ambassador at SIUC.  I enjoyed working with students and families so much I decided Admissions would be a great career path.  Working for Augustana is an honor.  I feel so fortunate to work with passionate, well-rounded  students that want to make a difference in the world!
What advice do you have for students who are searching for the right college for them? Make it about YOU!  Where do you see yourself being most successful?  What academic program do you want to study?  What sports/activities/organizations are important to you?  What is your ideal distance from home?  How much personal attention from faculty do you want/need?  Finding a school that meets your "must haves" will put you on a path to success!  Beyond that...visit, visit and visit again to get to know the personality of all the schools you are seriously considering!
Phone: 708-710-9288
Territories
Illinois Counties: Kane, Lake, McHenry, Northwest Cook.
Specializations: Admissions
Education
B.S. , speech communication, Southern Illinois University - Carbondale