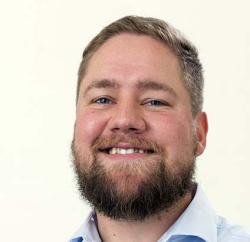 Chris Holmes
Admissions Counselor
Hometown: Rantoul, Ill.
Current town: Davenport, Iowa
What do you most love to tell prospective students about Augustana?
I love to talk about my own experience at Augie. How a small campus provides the opportunity to get to know your professors and develop those relationships that can help
professionally and personally. I also love to talk to about my time as a student-athlete with the cross country and track team!
What is your favorite time/tradition of the Augustana school year? 
My favorite time of year is fall! I really enjoy seeing all of the trees change colors and that's when campus is absolutely beautiful!
What's great about the Quad Cities? 
The Quad Cities isn't too big nor is it too small. It has a lot to offer just like any other big city, just less traffic! There are great options for food and coffee!
Do you do you enjoy doing outside of work? 
I enjoy watching football on Sundays. My wife and I love to cook together. I enjoy traveling to new places and finding the best coffee shop and food in those areas.
What advice do you have for students who are searching for the right college for them?
Go on visits! You can only find out so much from a website or brochure. You'll find out if a college is the right fit if you go on visits to walk the campus, meet with professors and coaches, and talk to current students.
Specializations: Admissions