Augustana Symphony Orchestra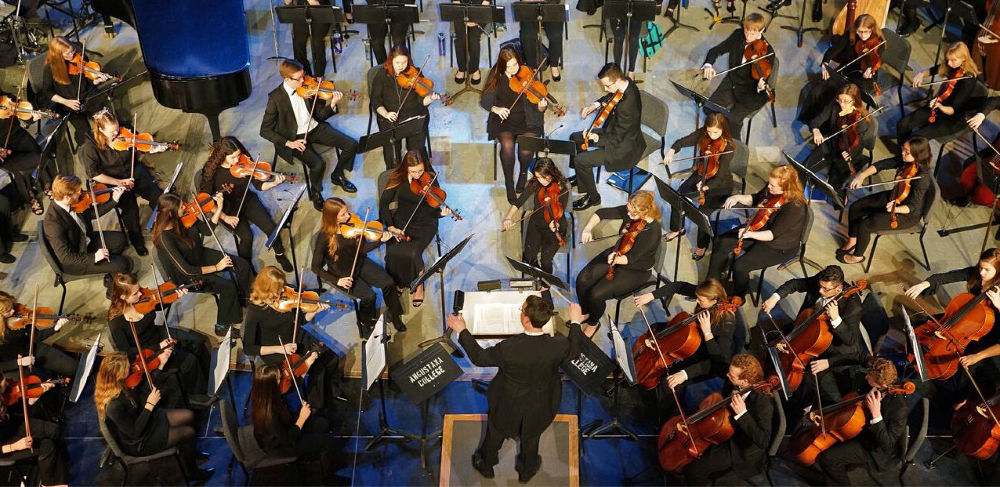 Conductor: Daniel Chetel
Rehearsals: M/TH 7:30-9:30 p.m.
The Augustana Symphony Orchestra is a full-size symphonic orchestra of 70-80 members that has an active and diverse performing schedule throughout the year.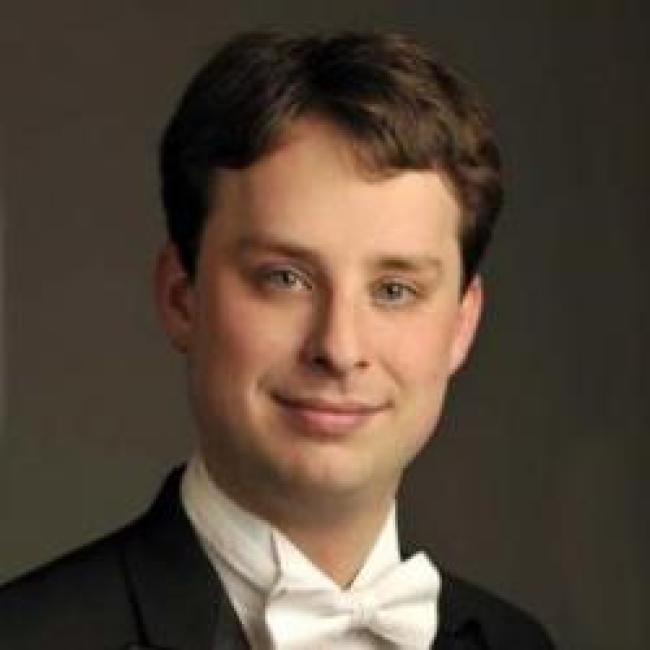 The purpose of Augustana Symphony Orchestra is to provide a positive musical and social experience to all who are interested from across the campus community, while producing music at the highest level possible.
Rehearsals are upbeat and fun, and the repertoire is both varied and challenging. In addition, the ASO aspires to offer a friendly artistic environment that cultivates participation in and advocacy for music on our campus and in our society at large.
The Augustana Symphony Orchestra performs one major program each term and participates in Christmas at Augustana in December and the Augustana Music Festival in May.  Additional activities include the hosting of a student concert competition, reading of student orchestral compositions, and working with student conductors.  The orchestra also undertakes an annual performance tour during the fall term.
The Augustana Orchestra program also provides the opportunity for students to participate in the Augustana Chamber Orchestra, which collaborates on annual productions with Augustana's OperX ensemble, and also learns additional orchestral repertoire.
Auditions
Fall 2018
Monday, Aug. 20: 9 a.m.-9 p.m.
Tuesday, Aug. 21: 9-11 a.m.; 4-9 p.m.
Auditioning students will perform 2-4 minutes of a prepared piece of their choice that will demonstrate tone quality and technical ability. Short excerpts in different styles are acceptable. Students needing to use school instruments should call or email the appropriate applied studio teacher.
Contacts
Prospective students are welcome to contact any of the following people for more information about the orchestra and string programs at Augustana:
2018-19 performance schedule
Concerto Competition
Saturday, Sept. 29
Centennial Hall
Augustana Orchestra program will host the second annual Student Concerto Competition. Performances are welcomed open from any current Augustana student. Up to three winners will be selected by a panel of outside judges and will be invited to perform with the orchestra during February's winter concert. The competition, performed with piano accompaniment, is free and open to the public.
Fall concert: Made in America
Saturday, Oct. 13
Centennial Hall
JOAN TOWER Made in America
SAMUEL COLERIDGE-TAYLOR Symphonic Variations on an African Air
GEORGE GERSHWIN Symphonic Picture from Porgy and Bess
Inspired by Joan Tower's symphonic poem, the Augustana Symphony Orchestra explores what it might mean for music, composers, and cultures to be made in - and by - America. Tower's contemporary musical language is often placed in conversation with the "American" sound of Aaron Copland's ballet scores from the 1940s, and her Made in America (2004) - structured around the tune "American the Beautiful" - offers a modern take on her relationship to the American experience after living abroad as a child. 
English composer Samuel Coleridge-Taylor's Symphonic Variations on an African Air (1905) responds to American musical themes from a different, singular perspective. Although Coleridge-Taylor studied at the Royal College of Music in London alongside Ralph Vaughan Williams and Gustav Holst, he also visited the United States repeatedly in the early years of the twentieth century, during which he developed meaningful relationships with African American writers and activists such as Paul Laurence Dunbar and W.E.B. DuBois. With these connections in mind, Coleridge-Taylor's Symphonic Variations on an African Air explores the spiritual tune "I'm Troubled in Mind."
Coming 30 years later, Porgy and Bess (1935) also incorporates the style of spirituals - blended with gospel, Broadway show tunes, and "classical music" - into an opera that aimed to create performance opportunities for actors and actresses of color with whom the Gershwin brothers and DuBose Heyward worked in the New York theatre scene. Robert Russell Bennett's Symphonic Picture weaves together some of the most notable melodies from this depiction of life in 1930s Charleston, South Carolina into a work for the concert hall stage. 
Midwest Tour: Illinois and Wisconsin
Nov. 2-5
At the conclusion of the fall term, the Augustana Symphony Orchestra will perform at Good Shepherd Lutheran Church in Madison, Wis., and St. Luke's Lutheran Church in Waukesha, Wis. The ASO will spend a day with the orchestra program of Hampshire High School in Hampshire, Ill., where ASO alumna Emma Leland '14 is the orchestra director. More details to come.
Fall Opera: Songs of Survival
7:30 p.m., Friday, Nov. 16
2 p.m. and 7:30 p.m., Saturday, Nov. 17
Hans Krása Brundibár (and music for chamber ensemble including Overture for Small Orchestra, Passacaglia and Fugue, Theme and Variations)
The Augustana Chamber Orchestra joins Opera @ Augustana and the Jenny Lind Vocal Ensemble in an evening of music that honors human endurance and emotional survival.
Brundibár was first written in 1938 as a submission to a children's opera competition sponsored by the Czech Ministry of Education and Culture. Soon after the competition was completed, the German army invaded Czechoslovakia, and the piece sat unperformed until 1942, when the premiere production was mounted at the Vinohrady Jewish Boy's Orphanage in the Prague ghetto.
By the time it was to be premiered, however, Krása had already been sent to the Terezín concentration camp, where he was the musical director of the Freizeitgestaltung, a group of prisoners tasked with organizing cultural activities for the entire camp. When the conductor of the original Prague production was sent to Terezín himself, he smuggled in a piano score to Brundibár. From this document and his own memory, Krása reconstructed the opera, taking into account the performing forces available to him in the camp.
Beginning with a performance on July 23, 1943 Brundibár, was performed 55 times in the Terezín camp over the course of the next year and a performance was central to an International Red Cross visit to the camp in June 1944, during which the visiting delegation was deceptively shown what the Nazis wanted to communicate to the international community: a healthy and happy Jewish population.
As the war was nearing its close, Krása himself was taken on a transport that left Terezín on October 16, 1944, and he was killed in a gas chamber at Auschwitz two days later.
Christmas at Augustana
Saturday, Dec. 1
George Whitefield Chadwick's "Noel" from Symphonic Sketches
The Augustana Symphony Orchestra joins the Augustana Brass Ensemble, Ascension Ringers, Augustana Choir, Augustana Concert Chorale and Jenny Lind Vocal Ensemble in a music department celebration of the holiday season. The Augustana Symphony Orchestra will offer early twentieth century American composer George Whitefield Chadwick's richly warm Noel from his four-movement orchestral work, Symphonic Sketches.
Winter Concert: Student Celebrations and Mozart 40
Saturday, Feb. 9
Concerto and Composition Competition winners
Wolfgang Amadeus Mozart Symphony No. 40 in G minor, K. 440
The Augustana Symphony Orchestra highlights the musical excellence of our students, both as soloists and composers, in this exciting celebratory concert with performances of the winners of the Student Concerto Competition and Orchestral Composition Competition! In addition, the orchestra offers Wolfgang Amadeus Mozart's haunting Symphony No. 40 in G minor. One of only two symphonies that Mozart wrote in a minor key, the "G minor" offers us a glimpse into the depths of Mozart's inner turmoil through this exactingly composed and emotionally wrought work.
Spring Concert: Spring Dances
Saturday, April 27
Johann Strauss, Jr., Overture to Die Fledermaus
Blanca Estrella, Ballet Miniatura (Chamber Orchestra)
Jose Pable Moncayo, Huapango
Ellen Taaffe Zwilich, Upbeat
Aaron Copland, Suite from Billy the Kid
The Augustana Symphony and Chamber Orchestra leap into spring with a dance-inspired program that features music from around the world. The program opens and closes with two classics: Strauss Jr.'s rambunctious overture to his Viennese comic opera Die Fledermaus and Copland's depiction of the American West through his Suite from the ballet Billy the Kid.
In between are three lesser-known works from the Americas: drawing on Baroque dance forms, Ellen Taaffe Zwilich's Upbeat incorporates the melody from Johann Sebastian Bach's Partita in E Major for Solo Violin into a modern, jazz-infused romp; Huapango, by Mexican composer José Pablo Moncayo brings this traditional folk dance style to life with joyful percussion, stylistic brass solos, and rhythmic hemiolas.
Finally, the Augustana Chamber Orchestra offers Blanca Estrella's Ballet Miniatura for which she was awarded the 1965 National Prize for music in her native Venezuela.
Augustana Music Festival
Saturday, May 18, 2019
The Augustana Symphony Orchestra join the Augustana Symphonic Band and Augustana Choir in a musical celebration of the 2018-2019 musical year as part of the college's Commencement Weekend festivities!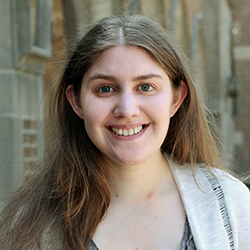 More Than I Imagined
•
Kathryn Krajewski
"A peak experience was going on tour with the Augustana Symphonic Orchestra. I was able to play the same concert multiple times in different venues with my friends. Being able to replay the same program multiple times allowed the orchestra to develop these pieces even more, and being able to hear the evolution of the way we played at each concert was truly exciting. "
Read More