Augustana Symphony Orchestra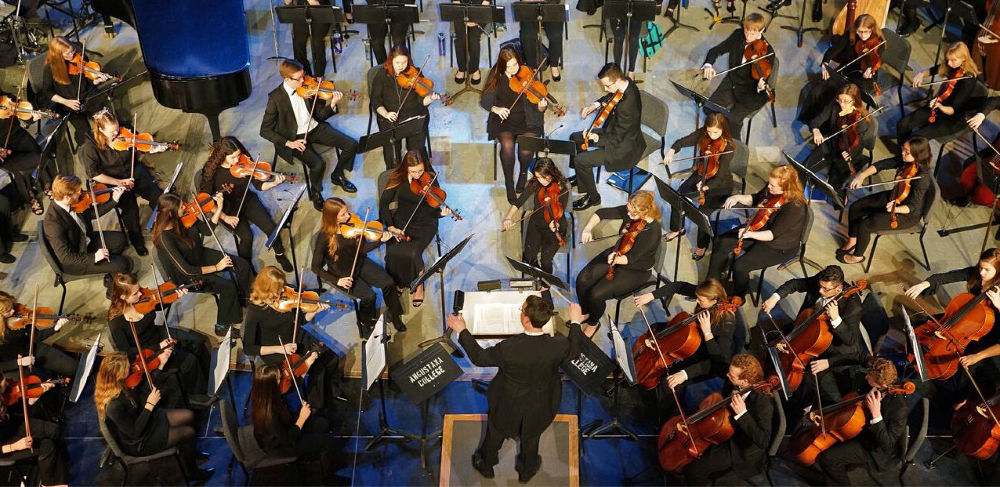 Conductor: Daniel Chetel
Rehearsals: Mondays and Thursdays, 7:30-9:30 p.m.
The Augustana Symphony Orchestra is a full-size symphonic orchestra of 70-80 members that has an active and diverse performing schedule throughout the year.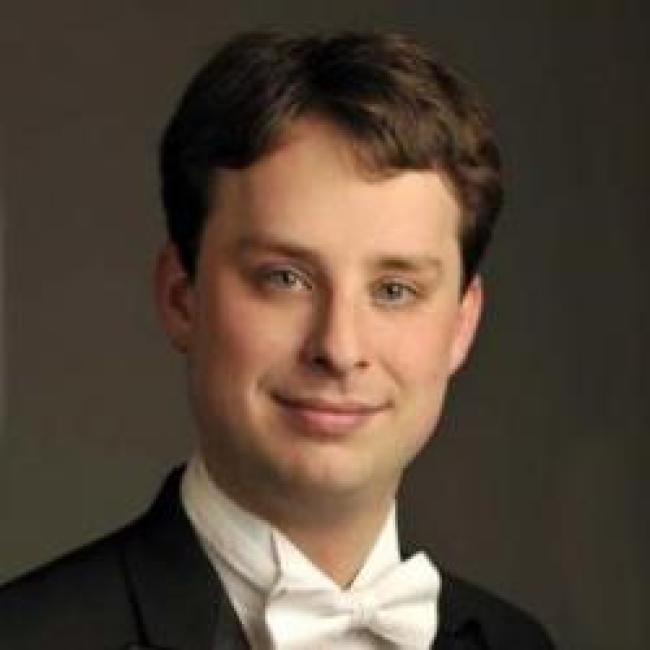 The purpose of orchestra is to provide a positive musical and social experience to all who are interested from across the campus community, while producing music at the highest level possible.
Rehearsals are upbeat and fun, and the repertoire is both varied and challenging. In addition, the ASO aspires to offer a friendly artistic environment that cultivates participation in and advocacy for music on campus and in society at large.
The orchestra typically performs two major programs each semester, including Christmas at Augustana in December. Additional activities include hosting a student concert competition, reading student orchestral compositions, working with student conductors, and an annual performance tour.
In addition, students have the opportunity to participate in the Augustana Chamber Orchestra which collaborates on staged productions with the OperX Ensemble and learns additional repertoire.
Auditions, fall 2019
Auditions are held during move-in weekend and the first week of the fall semester.
Students may sign up during the Music Open House, from 8:30 a.m.-9:30 a.m. Aug. 31, and before and after the open house on the board outside of Bergendoff Room 66. All auditions will take place in Bergendoff 66. 
Audition times are open on Sept. 2-4. All students, especially returning students, are encouraged to sign up for a time slot on Monday or Tuesday. 
Students should prepare 2-4 minutes of a piece of their choice that will demonstrate tone quality and technical ability. Short excerpts in different styles are acceptable. Students needing to use school instruments should call or email the appropriate applied studio teacher. Returning and scholarship students are asked to play an audition each fall.
The first rehearsal will take place at 7:30 p.m. Sept. 5. 
Contacts
Prospective students are welcome to contact any of the following people for more information about the orchestra and string programs at Augustana:
• Daniel Chetel, director of orchestral activities
• Susan Stone, violin
• Deborah Dakin, viola/violin
• Janina Ehrlich, cello
• Patricia Aparecida da Silva, double bass
• Erin Freund, harp
Fall concert and Illinois tour: Second City Symphonists, Oct. 18-26, 2019 
William Grant Still "Wood Notes"
Florence Price "Symphony No. 3 In E Minor"
The Augustana Symphony Orchestra kicks off its season with a program featuring two composers who had deep connections to the city of Chicago. William Grant Still and Florence Price grew up in Little Rock, Ark., studied with the same childhood music teacher, and then spent significant portions of their professional careers in Chicago.
William Grant Still is probably best known for his Symphony No. 1 which he subtitled "Afro-American" and brought together elements of his childhood musical heritage with his classical musical training. His pastoral, four-movement "Wood Notes" actually was premiered by the Chicago Symphony Orchestra in 1948.
Florence Price holds the distinction of being the first African American woman to have her music played by one of the major American symphony orchestras when she won the Wanamaker Foundation composition competition with the Chicago Symphony Orchestra in 1933. Music critic Alex Ross draws connections between her style and those of Richard Wagner and Antonín Dvořák, but also points out the distinctiveness of her unique musical voice blends her European musical training with the styles of spirituals and African dance rhythms that comes through in her fantastic "Symphony No 3 in C minor."
Tour
Oct. 18 at 7:30 p.m., New Life Lutheran Church, 702 W. Lynn Blvd, Sterling, Ill.
Oct. 19 at 3 p.m., Holy Family Parish, 2515 W Palatine Road, Inverness, Ill. This concert will feature the Glenbard East High School Orchestra, Timothy Fawkes, director, and the Palatine High School Orchestra, Dung Pham (Augustana Class of '94), director.
Oct. 26 at 7 p.m., Augustana College, Centennial Hall. This concert will eature the Rock Island High School Orchestra, Katie Benson, director.
Student Concerto Competition, 5 p.m., Nov. 2, 2019
The Augustana Orchestra program hosts the third annual Student Concerto Competition. Performances are welcomed from any current Augustana student. Up to three winners will be selected by a panel of outside judges and the winners will be invited to perform with the orchestra on the Winter Concert in March 2020. The competition (performed with piano accompaniment) is free and open to the public.
Community Orchestra Reading Night: A Night at the Movies, 7:30-9 p.m., Nov. 7, 2019
Selections from the scores of John Williams to such films as "Jurassic Park," "Harry Potter," and "Star Wars."
Join the Augustana Symphony Orchestra for an evening of orchestral reading! Teachers and students, amateurs and professionals, parents and children, active and retired, music lovers. Ages 13 to 113 are welcome.
'The Marriage of Figaro,' Nov. 22-23, 2019
The Augustana Chamber Orchestra joins Augustana's OperX Ensemble for a fully staged production of Wolfgang Amadeus Mozart's masterpiece, "The Marriage of Figaro." The production will include the Overture, Act II, and a few additional special moments from the show to form a complete narrative.
Rehearsals will take place over the course of the fall semester and there will be three performances in the Brunner Theatre at the end of the fall semester week 12. (See Chamber Orchestra information for details.)
Christmas at Augustana, Dec.7-8, 2019
Serge Prokofiev, Kije's wedding and troika from "Lt. Kije"
Leroy Anderson, "Sleigh Ride"
Gary Fry, "A Christmas Gloria"
Dan Forrest, "See, amid the winter's snow"
John Rutter, "Shepherd's Pipe Carol"
Mack Wilberg, "Joy to the World"
David Willcocks, "Carols"
The Augustana Symphony Orchestra joins the Augustana Brass Ensemble, Ascension Ringers, Augustana Choir, Augustana Concert Chorale and Jenny Lind Vocal Ensemble in a music department celebration of the holiday season. The Augustana Symphony Orchestra will offer a pair of sleigh rides: Serge Prokofiev's Troika from the film score to "Lt. Kije," and Leroy Anderson's iconic romp through the idyllic snow.
Winter concert: Student celebrations and the Drama of Bach, 7:30 p.m. March 19, 2020 
Johann Sebastian Bach/Leopold Stokowski "Toccata and Fugue In D Minor," Bwv 565
Fall 2019 Composition Competition Winner(s)
Fall 2019 Concerto Competition Winner(s)
With this celebratory Winter Concert, the Augustana Symphony Orchestra features the winners of the Student Concerto Competition and Orchestral Composition Competition.
In addition, the orchestra offers Leopold Stokowski's explosive transcription of Johann Sebastian Bach's "Toccata and Fugue in D minor," BWV 565, originally composed for organ. Stokowski takes a work that already celebrated the varied and dramatic musical colors of the organ and recasts it through the Technicolor lens of the symphonic orchestra.
Community Orchestra Reading Night: Symphony 'From the New World,' 7:30-9 p.m., April 16, 2020
Antonín Dvořák, Symphony No. 9 in B minor "From the New World"
Join the Augustana Symphony Orchestra for an evening of orchestral reading! Teachers and students, amateurs and professionals, parents and children, active and retired, music lovers. Ages 13 to 113 are welcome.
Spring concert: Life Cycles, 7 p.m., May 9, 2020
Giacomo Puccini, "Capriccio Sinfonico"
Samuel Barber, "Essay No. 1"
Richard Wagner, "Siegfried Idyll" (Augustana Chamber Orchestra)
Jennifer Higdon, "blue cathedral"
The Augustana Symphony Orchestra and Augustana Chamber Orchestra present a program of orchestral music that evokes major stages of human life.
Giacomo Puccini primarily is known as an operatic composer but the "Capriccio sinfonico" is one of his very few works for the symphony orchestra. Written as a project during his final year at the Milan Conservatory, this Capriccio shows us Puccini in his youth, full of energy, ideas bursting forth in the form of both rambunctious exuberance and adolescent emotionality. Tunes from this work would most famously reappear at the opening of his romantic opera "La Bohéme" as the leitmotif for the young men who introduce the story.
Samuel Barber's extensive composition for the voice often translated into his instrumental music, highlighting extended, cantabile melodies, even when performed by the instruments of the symphony orchestra. Barber wrote three essays for orchestra and this trio of works represent three stages of his compositional development. In many ways, his "First Essay for Orchestra" helped put Barber on the map of serious composers when it was premiered by Arturo Toscanini and the NBC Symphony Orchestra, and it marked one of his first mature compositions.
Richard Wagner — again a major contributor to the world of opera — wrote his small scale "Siegfried Idyll" as a gift to his wife, Cosima, and performed it for her on the morning of her birthday in 1870. This intimate work includes references to German tunes, depictions of the countryside, and music that would find its way into the composer's epic "Der Ring des Nibelungen" in the form of the love music between Siegfried and Brünnhilde.
Jennifer Higdon writes of her work "blue cathedral": "Blue…like the sky. Where all possibilities soar. Cathedrals…a place of thought, growth, spiritual expression…serving as a symbolic doorway in to and out of this world. Blue represents all potential and the progression of journeys. Cathedrals represent a place of beginnings, endings, solitude, fellowship, contemplation, knowledge and growth." She wrote the work in honor of her younger brother who had recently passed away and wishes for this piece to represent " the expression of the individual and the group… our inner travels and the places our souls carry us, the lessons we learn, and the growth we experience."
For questions regarding the Augustana Orchestra program, please contact: Dr. Daniel Chetel.
See the Augustana Symphony Orchestra on Facebook.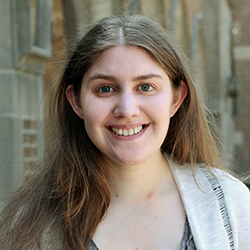 More Than I Imagined
•
Kathryn Krajewski
"A peak experience was going on tour with the Augustana Symphonic Orchestra. I was able to play the same concert multiple times in different venues with my friends. Being able to replay the same program multiple times allowed the orchestra to develop these pieces even more, and being able to hear the evolution of the way we played at each concert was truly exciting. "
Read More