Olof Olsson (1841-1900)
Third President of Augustana College, 1891-1899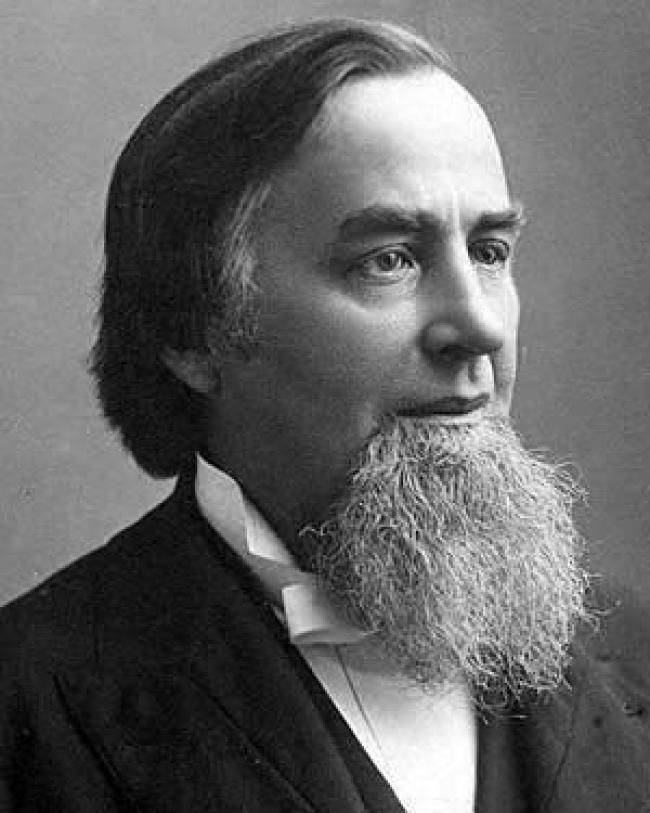 Born in Karlskoga in the province of Värmland in 1841, Olof Olsson studied theology at Uppsala University and was ordained in the Church of Sweden. In 1869, he immigrated to Kansas with a small group of pietistic Swedes.
Happily ministering to his congregation, Olsson was a reluctant recruit to the faculty of the Theological Seminary in 1876. Trained also as an organist, Olsson brought an interest in music and theology to the college. One of his first acts as a faculty member was to lead the first tour of an Augustana musical organization: In 1877, Olsson took his group of musicians to visit the Kansas congregation he had left behind.
Thus, two traits of Olsson's emerged early in his association with Augustana: his ability to connect to the people of the Synod and his belief in music as an important element of religious experience.

To restore his fragile health, Professor Olsson took a curative leave in Europe where he visited historical Lutheran sites and attended concerts. On April 4, 1879, he heard a performance of G.F. Handel's Messiah in London and at that moment determined to form an oratorio society in Rock Island that would perform the same work. A little more than a year later, a small oratorio society made up of faculty, students, and community members sang portions of Messiah, thereby launching a tradition that continues to this day.
In 1891, three years after he resigned as professor, Olsson was called to the presidency of Augustana College. Reluctant though he may have been to assume strenuous administrative duties, Olsson faced his new assignment with optimism and determination. The problems were many: insufficient financial support, exacerbated by competition from new and growing conference schools in the Synod, varying standards of teaching, and pressures to expand and liberalize the curriculum by offering electives.
Olsson addressed these challenges. He oversaw the revision of the curriculum, which, while emphasizing the original plan of teaching the classics, language, history, religion, science, and mathematics, now offered two tracks, either a classical or a scientific, plus an opportunity to choose a small number of electives. Olsson maintained close relationships with the people of the Synod, welcoming the attendance of students from the local community; led the effort to strengthen athletics by building a gymnasium; introduced the first in a series of library publications; and, above all, encouraged the growth of literary societies and of music.
In 1893, at the Jubilee celebration of the Diet of Uppsala, the University of Uppsala awarded honorary degrees for the first time to Swedish Americans — C.A. Swensson, president of Bethany College in Lindsborg, Kansas, and Olof Olsson. This distinction was a fitting tribute to Olsson who touched the people of the Augustana Synod and promoted music for the glory of God.