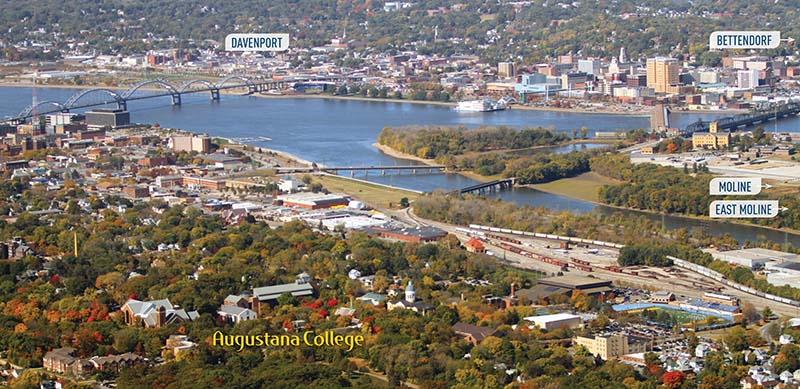 The Quad Cities: vibrant, large, diverse
It's impossible to give a complete picture of life here in a few hundred words, so we picked four things you might not know about the Quad Cities area.
It's bigger than you thought.
The Quad Cities is a six-county, bi-state region that's home to 470,000 people. The four small cities that form the core of the metropolitan area (Davenport and Bettendorf, Iowa, Moline and Rock Island, Illinois) have about 225,000 people.
We're about an hour east of Iowa City, home to the University of Iowa, and 21/2 hours west of Chicago. All told, there are about 37,000,000 people within 300 miles of campus.
There are seven colleges and universities in town, with 40 within a 90-mile radius.
The area has received a lot of awards lately:
• Best Metropolitan Areas for Millennials
• Top 10 U.S. Cities with the Shortest Commute to Work
• No. 1 Minor League Sports Market in the Nation
• Best Minor League ballpark in America
• America's Best Winter Festivals to Blast Away the Winter Blahs
• 10 Happiest Cities in Illinois
It's economically vibrant.
The Quad Cities is home to Fortune 500 corporations such John Deere & Company, 3M and Arconic (formerly Alcoa), along with the Rock Island Arsenal, a major military installation, and two large regional health systems. These chief employers are joined by 30,000 additional businesses, creating a robust and growing economy.
Unemployment and the cost-of-living are low. Unemployment in Scott County, representing the Iowa side of the river, is about 2.6 percent (fall 2018), Rock Island County is a bit higher. Rock Island made the list of the nation's "25 Most Affordable Housing Markets, a ranking released by 24/7 Wall Street. Niche.com ranks Davenport as #16 among the cities with the lowest cost-of-living in America.
It's culturally vibrant.
Niche.com begins its profile with the note, "In Davenport there are a lot of bars and parks. Many families and young professionals live in Davenport and residents tend to have moderate political views. The public schools in Davenport are above average."
That's not normally where we start in talking about the community, but it's true and a signal of the vibrance of the social life.
The region's defining feature is the Mississippi River, which passes through the heart of the cities. Mississippi River Traveler ranked ours as the second best riverfront along the Mississippi. That provides a focus for music festivals (blues, jazz, and pops), cultural activities and the conversion of many old industrial and commercial buildings into modern loft apartments within a few blocks of the river.
And about the "a lot of bars" part: We're home to 10 micro-breweries or brew pubs (including one combination bakery / microbrewery, Baked Beer and Bread), a winery (Wide River), a distillery (Mississippi River Distilling), and a lot of venues for live music and socializing, from the bluesy Redstone Room to the often raucous Triple Crown Whisky Bar and Raccoon Motel.
Into indie music? You're in luck. Codfish Hollow — it's an actual barn in the middle of a farm — has a huge and joyful cult following as a place for live music.
It welcomes a diverse array of people and experiences.
The Safewise housing site concludes that Quad Cities residents "are able to enjoy a quality of life that blends the best of its deep historical roots with modern conveniences and amenities." It welcomes a diverse array of people and experiences.
The Quad Cities is a vibrant and diverse community with both a large native Latino/Hispanic, black and Asian communities and a large number of international residents and visitors.
The area has a total population of about 470,000; of those, 37,000 are Latino/Hispanic residents. They are integral to our community and well-represented in organizations ranging from LULAC, Viva Quad Cities and the Quad Cities Hispanic Chamber of Commerce, to the school boards and city councils in the region. The QC Hispanic Chamber of Commerce, with more than 180 members and an active program agenda, was recognized as one of America's three best (2018).
An additional 30,000 residents are African-American, complemented by large South and East Asian communities. There's a large, active LQBTQ community whose community engagement is expressed through Quad Citians Affirming Diversity. Davenport was recognized as one of the five cities in the U.S. with the strongest record for affirming LGBTQ citizens.
The organizers of the Quad Cities Multicultural Festival note that there are 44 languages spoken in the city of East Moline alone.
The Quad Cities hosts a major Army installation (the Rock Island Arsenal) and is home to the John Deere world quarters and seven colleges and universities. There are, as a result, a large number of international visitors to the region. Those include visiting students and scholars (for example, 18 percent of Augustana's entering class are international students), government officials and business executives. The area is used to hosting international visitors, and is well-equipped to do so.
Augustana's faculty and professionals are among the leaders in expanding perspectives and opportunities here.