News
Visiting the incredible Ruth Robinson '39 Hanna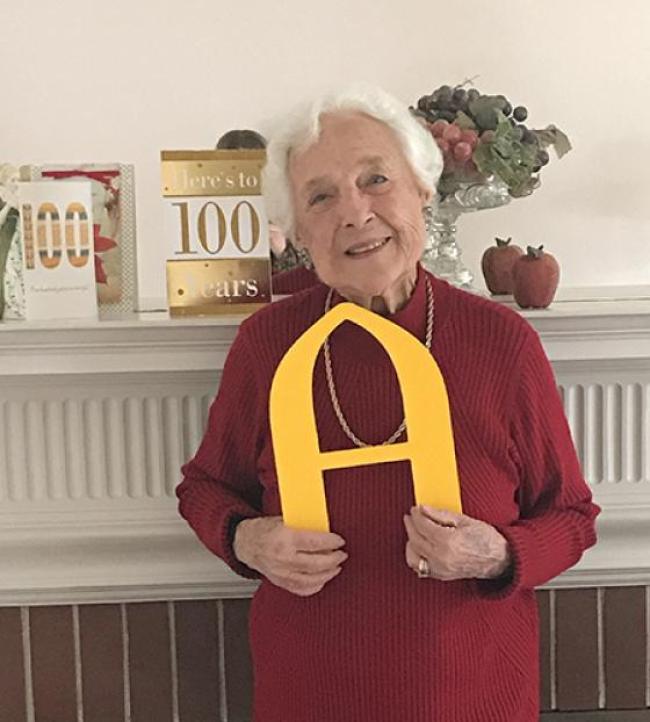 By Kelly Read '02 Noack, director of alumni relations
I was a new employee the first time I met Ruth Robinson Hanna on campus celebrating the 70th reunion of the Class of 1939. I was immediately struck by her energy and zest for life at 91-plus years. She shared with me that day that she likes to return to campus and run up the 45 Old Main steps, to remind herself that she is not old.
On January 10, my colleague Kathleen Bentler and I visited with Ruth at her home in Wilmette, Ill., to celebrate her 100th birthday and update her on the college. As we pulled up the driveway of her two-story home, we saw three huge balloons floating in the window, signs of her birthday celebration. After greeting us, Ruth proudly showed us her many gifts, including 145 cards and a framed picture of Old Main. 
Born and raised in Rock Island, Ruth attended Audubon Grade School, Washington Junior High and Rock Island High School. At Augustana she majored in speech pathology and psychology, and was president of the Kappa Epsilon sorority, Vi-Queen and vice president of her class. She was involved in Rockety-I, Alpha Psi Omega, theatre and debate, among many other activities.  
After graduation, Ruth taught for two years at Augie before attending Northwestern University. She married an attorney, John Hanna, and went on to a 28-year career as a book reviewer and performance artist, which allowed her a flexible schedule while her three children were growing up. 
Now, at 100, Ruth is busy with Bible studies and book clubs with millennials, daily outings with friends and family, and monthly meetings at Northwestern. She hopes to attend next week's Winter in the Windy City and plans to return to campus in 2019 for her 80th reunion. 
What is her secret to living a long and happy life? "Breathe in and eat out," she replies.
Ruth's love for Augustana has not diminished in the 79 years since her graduation. The framed picture of Old Main is one of her favorite gifts, and it captures the way the building looked when she was a student. She continues to be a loyal supporter of the college, giving back to the institution that she feels gave her so much.
Ruth says some of her fondest memories are from daily chapel at Augustana, a time that brought everyone together to be inspired. She feels she had the best of what education can offer at Augustana, and she is proud of how academically strong the school has remained.  
Visiting with Ruth gave us a glimpse of Augustana's past, and a chance to see that while much has changed over the past 80 years, so much has remained the same—most importantly, Augustana's mission. The visit also reminded us of the love our alumni share for the college, and the important work of our office to continue building relationships with alumni from all generations.