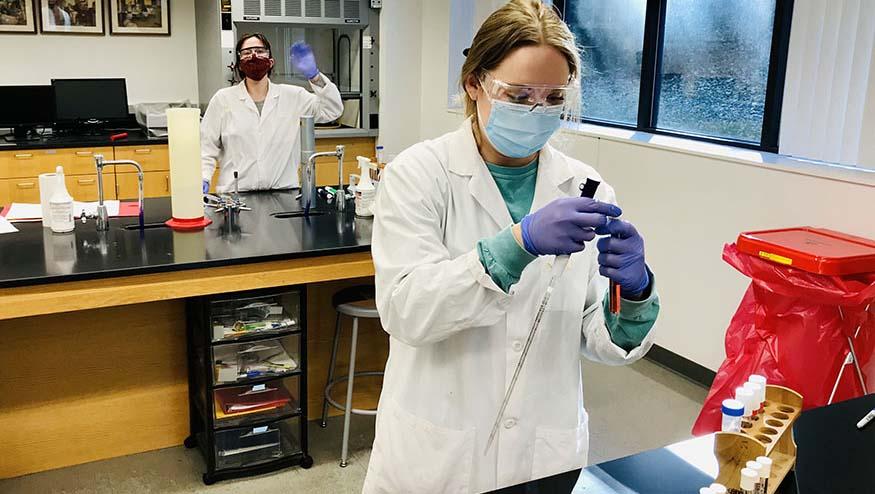 News
Vikings Took Care: How Augustana stayed together
On Nov. 25, a collective sigh of relief washed across the Augustana campus.
As students left for Thanksgiving break and then finish to the semester virtually, the college met the goal it set last summer: Give them the chance to study on campus despite the pandemic.
How Augustana succeeded
Extensive planning, community accountability, an innovative spirit, and students' desire to learn in-person. 
When classes shifted online in March, President Steve Bahls assembled faculty and staff to create the Augustana Strong committee, led by Dean of Students Dr. Wesley Brooks. 
Members from every division across campus collaborated to create a COVID-19 Ready to Return report. Following public health guidance, the report provided the guidelines andthe  expectations needed to provide a robust, in-person learning experience — one that Augustana is known for. 
"I continue to be amazed at the commitment of the Augustana Strong Task Force with 19 members working collaboratively for the past eight months, and our work continues," said Dean Brooks, chair of Augustana Strong. 
"Through dozens of meetings, drafting policies, scenario planning, and focusing on a quality in-person experience with alternative options, the work of Augustana Strong along with so many other faculty and staff across campus, positioned Augustana to co-exist with COVID-19 this fall and beyond." 
Students were given the opportunity to participate in distance learning for the fall semester. Only 241 students opted to learn from home; many international students were unable to return to the U.S. because of travel restrictions. 
Expectations were high for the campus community: Hold yourself 100% accountable, hold each other 100% accountable and we may be able to coexist with COVID-19.  
Senior Kassidy Belcher had her concerns. "I didn't know if we would be able to pull it off. I didn't know if we would stay open until Thanksgiving."
Fellow senior, Autumn Peele, shared the worry, "Going into my senior year, all I wanted was to be able to spend a little more time with the friends I've made lifelong connections with. I thought Augustana was going to end up being another statistic no matter what precautions were put in place."
Her friends even wagered how long they would be together. 
Vikings Take Care
The team in Communications and Marketing was tasked with bringing the campus community up to speed. Through the Vikings Take Care campaign, community members encouraged thoughtful decision-making, respect for each other, and desire to stay on campus together.
Daily Campus Updates hit inboxes to provide continued communication; more than 100 have been sent. Signs were posted across campus as reminders of physical distance, mask expectations, adjusted traffic flow and proper hand hygiene. 
Before move-in, students were encouraged to practice strict physical distancing and many opted to receive a test in their home communities. Once on campus, they were given an Augustana Strong box containing three masks, a thermometer, a face shield and a water bottle. Boxes  also were sent home to distance learners.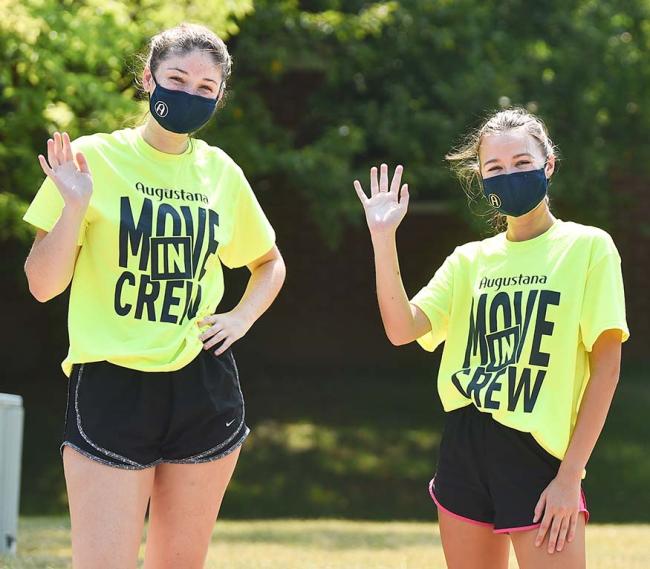 With everything in place by the end of August, campus was full of students, energy, and a healthy dose of worry. Many campuses across the nation had opened in the weeks before with excitement only to immediately retreat into lockdown once normal activities resumed. That didn't happen at Augustana.
"With our academic calendar and our start date a week to 14 days later than many other institutions, Augustana was fortunate to observe the experiences of others and we made slight adjustments to increase our likelihood for success," said Dean Brooks. 
"But, the best laid plans are only as good as the actions of those who live those plans out, and our campus community, led in large part by students, responded to our COVID-19 response plan, held themselves and one another accountable, and seemed to understand that we were all in this historic situation together," said Dean Brooks. 
Regular use of self-service temperature check stations, daily symptom reporting through the Campus Clear mobile app, and using gallons of hand sanitizer became the norm. Masks were mandated throughout campus and the community readily accepted.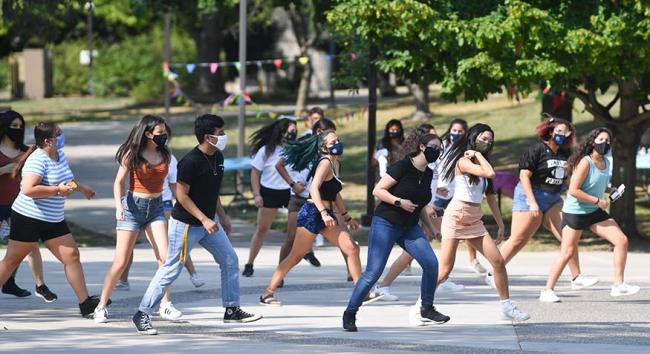 Testing and more testing
Augustana conducted weekly surveillance testing in the PepsiCo center and provided symptomatic testing at the on campus clinic. Surveillance testing provided an insight to the movement of COVID on campus by testing a group of 300 community members. 
The sports information director, Dave Wrath, used his skill set and adapted it to coordinate 4,409 COVID-19 tests of students and staff from Aug. 25 through Nov. 20. There were 49 positive results. When a positive test result was received, the contact tracing team stepped in. 
The contact tracing team consists of four team leaders, each with three to four members from departments across campus. The contact tracing teams set out to identify and notify any close contacts to better track and stop the spread of COVID-19.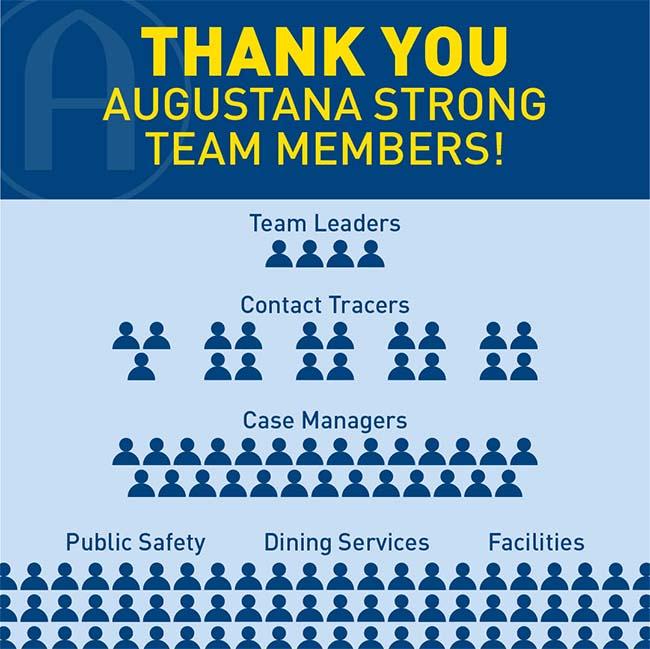 Positive and suspected positive cases were identified and moved to quarantine or isolation housing. Case managers cared for the well-being of the quarantined students. The team assisted with meal delivery, necessities, and the mental health needs of students isolated from the campus and their friends. The team included members from across the Augustana campus, including Jane Easter Bahls, wife of President Steve Bahls. 
Dining Services provided grab-and-go meals allowing students to eat without risk of close contact. Dining spaces were outfitted with Plexiglass screens between seats to allow students to eat with friends. 
The Facilities Services team worked overtime to ensure common areas were disinfected frequently and worked to resupply hand sanitizer across campus. 
Public Safety and Police were often the first point of contact for positive cases and assisted students moving into quarantine or isolation housing. There was never a positive case among Public Safety officers. 
Activities modify, but continue
With so many guidelines, expectations, and rules, students worried the energy on campus might grow tired. The teams in Student Life provided physically distant and COVID-friendly weekend options. From an in-person Welcome Weekend for first-year students and weekly musicians, magicians, hypnotists, and comedians, the students had choices. 
The college's athletic conference, the College Conference of Illinois and Wisconsin, opted to suspend all athletic competition for the fall season. Augustana teams were permitted to continue practicing with masks and physical distancing in place. 
The show also went on for theatre performances and music ensembles that were permitted to continue.
 "I'm very grateful our activities were allowed to continue, because I got to be part of a production. The student director's last production was canceled in the spring," said sophomore Lauren Clarke. "We still got the chance to perform."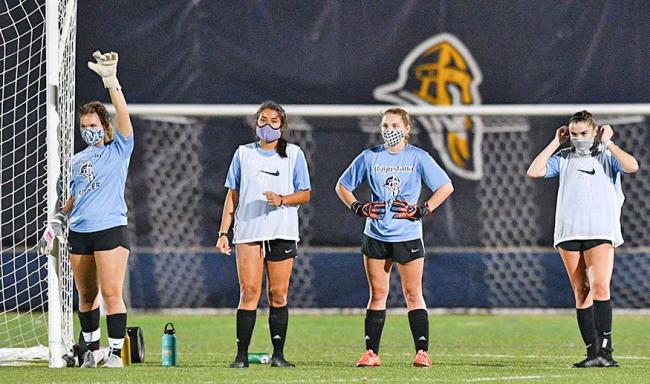 The final stretch
The college raised the COVID alert level from a level two to level three on Nov. 6 after a slight rise in positive cases. The change did not impact classes but guidance around social and athletic activities discouraged close contact and off-campus interactions. 
On Nov. 20, the college offered free COVID testing before students went home for the Thanksgiving holiday and remainder of the fall semester. After testing, students were encouraged to isolate as much as possible to preserve the results. Of the nearly 700 tested, 20 positive tests were returned. 
Thanks to students following Dean Brooks' recommendations to minimize close contacts in the weeks leading up to the holiday, contact tracers only had to notify a small number of close contacts.
"Thanksgiving is a time to be grateful. My sincerest thanks go to our students, faculty and staff who set a shared goal of coexisting responsibly with COVID," said President Steve Bahls. "There is no substitute for the benefits of face-to-face instruction in a residential environment. 
He said the college experience is much more than simply attending classes. 
"It's about personal growth, resilience and developing close relationships with classmates," he said. "We want that experience for every Augustana student and remain committed to it. I am pleased that the Augustana community pulled together to ensure that our students had a high-quality on-campus experience this fall."
The current plan is to resume in-person learning during the college's J-term starting in January.
"Students, faculty and staff, truly our entire community, rallied around our expectations, complied and executed the plan. Our students and all members of our Augustana community deserve a standing ovation. Everyone has earned that! They exceeded our expectations," said Dean Brooks.