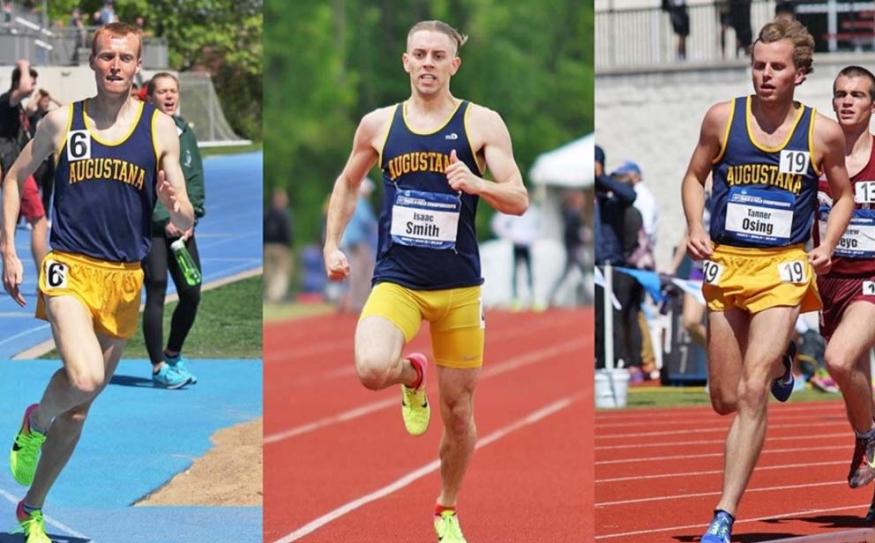 News
Three in track are Academic All-Americans
Three members of the Augustana men's track and field team were named Academic All-Americans today.
Seniors Isaac Smith and Tanner Osing and junior Mitchell Johnson were recognized, moving  Augustana's all-time total number of Academic All-Americans to 170. 
The Vikings rank seventh in the nation in number of Academic All-Americans and are third among NCAA Division III schools.
 
Smith graduated in May with a chemistry degree and a 3.45 grade point average. An Academic All-American a year ago, he repeats this year as a first-team honoree. 
He capped a remarkable career by placing sixth in the open 400 (:47.69) and anchoring the 4x400 relay to sixth place at the NCAA Division III National Championships in Geneva, Ohio on May 27. He finished his career as a 10-time All-American and he owns a national championship as a member of the 2015 Viking indoor 4x400 relay.
 
Smith won a total of eight CCIW titles during his career and was named Track Athlete of the Meet at the conference indoor championships each of the last two years. A 2017 Augustana team captain, he is also a member of school record 4x200 relays both indoors and outdoors.
 
Osing carries a 3.46 grade point average with a public health major and plans on returning to Augustana in 2018 to exhaust his final year of outdoor track eligibility.  He was a second-team selection on the Academic All-America team.
 
A team captain and MVP this past fall; Osing is a two-time top ten finisher in the CCIW, taking eighth in 2015 and seventh in 2016. He also competed at the national meet both years, narrowly missing All-America status with respective finishes of 43rd and 42nd.
 
In track, Osing finished third in the nation in the indoor 3000 this year and owns school records in the event both indoors and outdoors. This spring, he also took down the outdoor 5000-meter school mark held by the great Ambo Bati. Osing's 14:16.76 at the Drake Relays bettered Bati's time by nearly five seconds. 
He won CCIW indoor championships this year in the 3000 and led off the distance medley relay. Outdoors, he won 5000 and 1500-meter titles at the CCIW meet, helping the Vikings claim their second straight team championship. He will be competing in the 5000 at nationals.
Johnson carries a 4.0 GPA with majors in applied mathematics and business administration with a concentration on finance. He finished 10th at this year's CCIW Cross Country Championships and was elected an Augustana captain for the 2017 season. 
He was selected as the program's Most Valuable Freshman in 2014 and the Most Improved Runner in 2015, when he finished 156th at the NCAA Division III Championships.
 
In track, Johnson anchored this year's CCIW champion distance medley relay indoors and was an individual champion in the mile at Monmouth's Midwest Invitational. Like Osing, he was a second-team Academic All-America pick this spring.
The College Sports Information Directors of America has chosen Academic All-Americans in Divisions I, II, and III of the National Collegiate Athletic Association and NAIA since 1952.