News
Theatre continues to receive national recognition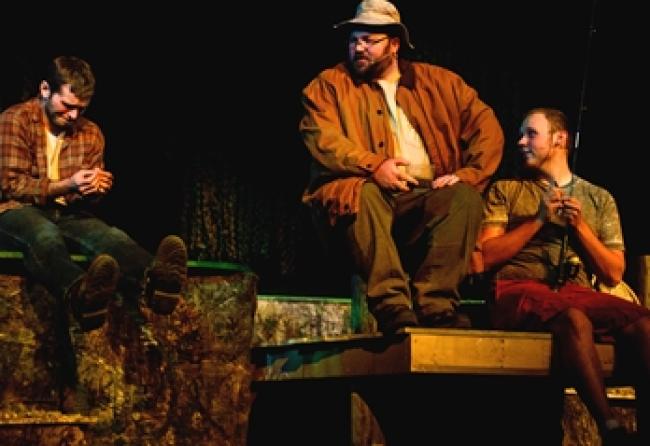 Months after the performance of "A Green River" at the Kennedy Center American College Theatre Festival (KCACTF), Augustana College's theatre program continues to receive national recognition.
Most recently, Keenan Odenkirk '18 of Oro Valley, Ariz. was awarded Distinguished Performance by an Actor in a Supporting Role. Additionally, the Augustana Department of Theatre received a Certificate of Commendation for Ensemble Performance.
Three other actors received national awards earlier this year after the festival performance in January. Alan Taylor was awarded Distinguished Performance by an Actor in a Leading Role. Playwright Aaron Randolph III and Joshua Malone '14, were recognized with Distinguished Performance by an Actor in a Supporting Role.
"A Green River," written by Aaron Randolph III and directed by Phil McKinley '73, was featured in the Region III festival of KCACTF in January. Fifty-eight schools were invited to perform at the regional festivals. Of those, 24 productions were recognized at the national level.
Having received the invitation to the regional festival less than a month before the performance date, Augustana's cast, crew and set had to be reconstructed to prepare for the show. Some of the original cast members were unable to perform at the festival. This created a tight deadline for some students to learn a new role.
Aubrey Waddick '15 of Algonquin, Ill., stepped into her role days before the performance. "After just 16 intense hours of rehearsal, the cast performed the show for an audience of 1,200 at the Pabst Theatre," she said.
"Though learning the part was a daunting task, I never felt frightened," Waddick added. "I knew our entire team had the dedication and passion to create a beautiful experience, regardless of any obstacles. Working with Phil McKinley, a professional Broadway director, challenged me to grow in ways I never thought possible."
These awards and the invitation to perform at KCACTF build momentum for the changes ahead for the Augustana Department of Theatre.
Plans are in motion to transform the College Center into a state-of-the-art performance facility. Inspired by New York City's Off-Broadway venue New World Stages, the new theatre facility will include three performance spaces; this will allow the department to expand its season as well as its coursework.
"This facility will create more opportunities for students from all majors to be involved in theatre productions, both onstage and behind the scenes," said Jeff Coussens '80, chair of the theatre arts department who has taught and directed at Augustana since 1987.
The new theatre facility is the first phase of developing a "corner for the arts" on campus with the idea of continuing the renovations inside Bergendoff Hall for the music and art history departments.