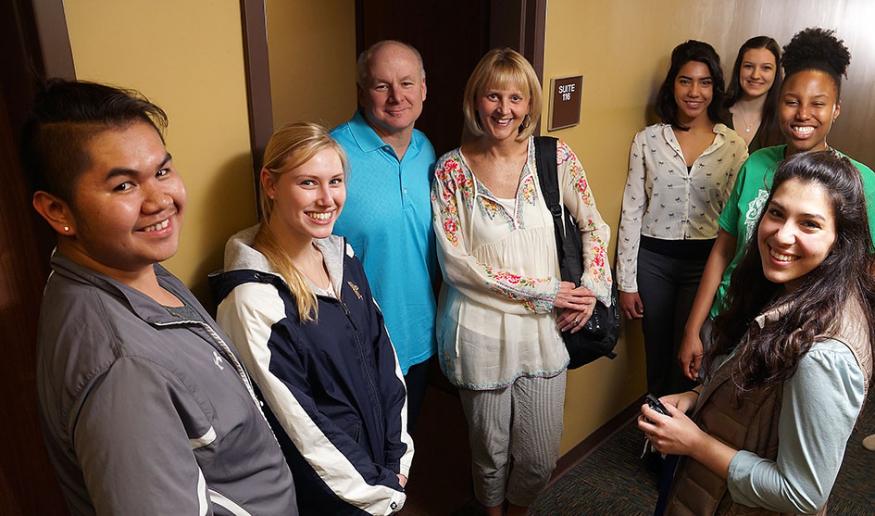 News
A taste of Hogwarts for Swanson Commons
"I honestly cannot even imagine what this is going to be like. One day I envision students hanging around the office and apartment all of the time; another day I envision students running away when they see me or my husband coming!" — Dr. Kathy Jakielski
The idea of a college professor moving into a student residence hall goes back to the origins of residential higher education in the Middle Ages, with places like Oxford and Cambridge universities in England. More recently, it came to life with author J.K. Rowling's Harry Potter books, where Hogwarts was a magical school where professors and students lived in the same building.
Augustana is among a number of colleges and universities that are testing the idea of bringing it back, with Dr. Kathy Jakielski launching the pilot program at Augustana this fall. 
By the time classes begin, she will be living in a two-bedroom apartment in Swanson Commons, along with her husband, David Yordy, a lead engineer at Alcoa Inc., a Fortune 500 company in the Quad Cities. The two of them will be just a step or two away from any concerns the students may have. Unlike faculty at Hogwarts, however, Dr. Jakielski has no intention of roaming the halls in academic robes, scolding students for being out of bed at night. Rather, she will be totally focused on the idea of helping students be successful, whether it's inside or outside the classroom, or whether it involves academics, social and cultural enrichment or choosing a career.
"As long as they don't see us as their parents, I think we'll have a chance of being good mentors," said Dr. Jakielski, who will continue to teach as well as serve as chair of the Department of Communication Sciences and Disorders, and chair of the Faculty Council. "Many students still are unsure of what they might major in, how to study for advanced courses, and how to access the help they need to be successful.
"I honestly cannot even imagine what this is going to be like. One day I envision students hanging around the office and apartment all of the time; another day I envision students running away when they see me or my husband coming!" — Dr. Kathy Jakielski, inaugural professor in residence
"We hope that getting to know one professor by living beside one will help make contact less mysterious or stressful. I will be offering different programs for second-year students throughout the year, all targeting how to be successful at Augustana."
Augustana is aiming the program primarily at second-year students, who occupy the wing at Swanson where Dr. Jakielski will live. Program elements will be shared at Erickson Residence Center, another home to second-year students. The idea is that many second-year students encounter more nuanced challenges as the focus shifts toward self-examination, declaring a major and ultimately career decisions. Dr. Jakielski describes the period as full of opportunity, especially in terms of interaction with faculty.
"I want to learn how college programming affects them, and all of the different programming that is offered," she said. "Augustana has such a wide array of student services. I hope to serve as a bridge—a bridge between me and my faculty colleagues, and another bridge between students and their faculty."
Dr. Jakielski was selected from among several faculty who expressed interest in "Faculty in Residence," according to Christopher Beyer, director of residential life. As a pilot project, Dr. Jakielski will take the position for one year, renewable up to three years. However, she already has expressed her interest in the extension, as has her husband, who is bringing all his life experience as an accomplished engineer.
"David is totally onboard with this adventure," she said. "The more he learned and the more we talked about it, the more interested he became. He is interested in being around young people who are trying to discern their vocational calling. He knows that the expectation is that I will have the heavy lifting to do, but he's ready to take on pieces that he can. He's a master gardener and has already started helping out with the planting of Augie Acres. He's looking forward to working on this project for the next several years. Once we get settled, we'll know more of what active role he can play on campus."
Their apartment in Swanson Commons will be buffered by an office that opens into the hallway, providing a bit more privacy. But students will be right across the hall, filling all the other rooms, and she expects to see a lot of them.
"Trying to think about the adventures we're about to have is impossible for us," Dr. Jakielski said. "I honestly cannot even imagine what this is going to be like. One day I envision students hanging around the office and apartment all of the time; another day I envision students running away when they see me or my husband coming!"
Beyer said he is thrilled to have Dr. Jakielski as the inaugural professor in residence.
"I was blown away by the enthusiasm and creativity she is bringing to this effort," he said. "As I spoke with her about this, I discovered that she has been casually entertaining a similar idea for a while. She has a vision. Our students are in for a treat."
Like Hogwarts? Well, Dr. Jakielski claims no magic powers, but she does confess a daring spirit. She is fond of Helen Keller's quote: "Life is either a daring adventure or nothing at all." As for the year ahead, she said, "Dare I also admit that I think it could be fun?"